200 People Were Killed In Syria The Day Bashar Al-Assad Was Re-Elected President
More than 200 people were killed in Syria on election day, according to the Syrian Observatory for Human rights.
To no one's surprise, Syrian President Bashar al-Assad won Tuesday's discredited presidential elections, held in the midst of a brutal civil war. Assad apparently won 88.7% of the vote against two nominal candidates, according to official figures.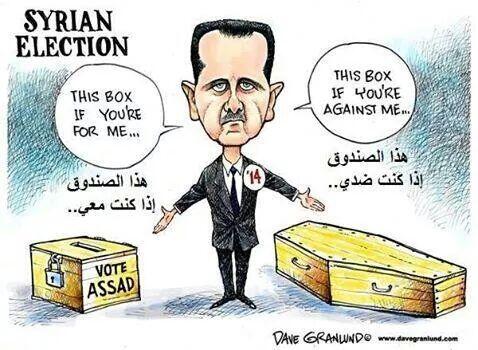 Voter turnout was 73.42% officials said, though millions of Syrians in rebel-held areas and those living as unregistered refugees did not qualify for the vote
As Assad Instagrammed himself voting on Tuesday, around 200 Syrians were killed that day, according to the Syrian Observatory for Human Rights.
Over 160,000 Syrians have been killed in the three-year long Syrian civll war, which has also displaced over nine million inside and outside Syria and left millions in severe need of basics like food, water, housing and health care.
Smile.