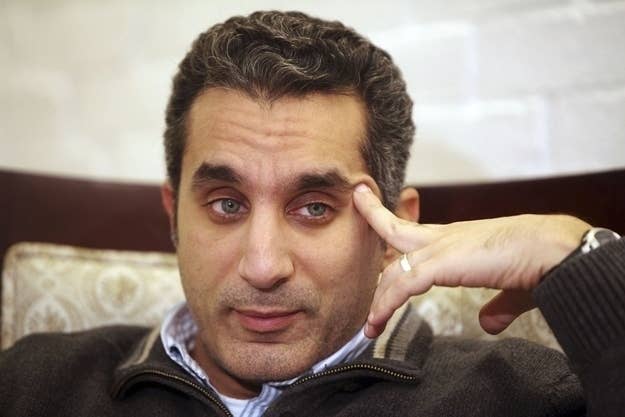 Bassem Youssef is now a vegan.
"When I eat raw is my best days," the Egyptian satirist said at his studio in downtown Cairo. "Last year, I didn't sleep well. I ate really, really bad. And I promised myself that this year it will be different."
As Egypt slides ever further from democracy, Youssef is a changed man in other ways too. The celebrated comic has cut down on his tweeting and is more careful of what he says. During a 45-minute-long interview with BuzzFeed, Youssef was clearly cautious, declining to answer a question on his five favorite things about Gen. Abdel-Fattah al-Sisi, Egypt's likely next president, and to discuss in depth the country's recent constitutional referendum.
Youssef is set to return to the airwaves this Friday, after the third season of his wildly popular late-night television show was abruptly cut three months ago. His fans immediately cried censorship. Media speculated when (and if) Youssef would return. Now, as he adjusts to Egypt's newest reality, Youssef is watching what he says. For a man whose brand has long been to say that he will never censor himself, it can't be an easy time to be in Egypt's public eye.
Egyptian news today often ranges from the absurd (a YouTube puppet accused of espionage) to the tragic (the mother reported her son to authorities for his political views) to the dangerously nonsensical (four Al Jazeera English journalists are in jail on terrorism charges). Youssef was quick to decry the state of Egypt's largely compliant media, and the poisonous atmosphere on social media that reflects the country's deepening with-or-against-us mentality.
"Now it's not just that you're afraid you're being spied on, it's getting your words out of context and put out there, and maybe even re-edited," Youssef said, referring to the case of several prominent Egyptian activists who last month had their phone calls recorded and broadcast on TV. "It's really ridiculous. And this happens with absolutely total passivity of the people who are in charge."
The ill will has bled onto Twitter too, where Youssef, a surgeon turned comedian, is one of Egypt's most popular public figures, with over 2.3 million followers. "It just became so provocative where every time you would write 'good morning' you would find people cursing at you," he said.
"Newspapers, and the media here, have nothing better to do but take a tweet and make some sort of article out of it. And sometimes they twist it and mislead it," he said. "So you know, I have my articles, I say my opinions. I will have my show hopefully back, I say my opinions. I really don't want to go through 140 character fights."
He appeared exasperated. "You cannot change someone's opinion in a whole article," Youssef said. "How can you change their opinion in 140 characters?"
Youssef plans to return to the airwaves on Feb. 7, three months after CBC, the broadcasting channel, unceremoniously kicked him off for being too critical of Sisi and the military. Youssef has since criticized CBC (which has a reputation for being close to Mubarak-era networks) for providing him a platform to mock Morsi but rescinding the same right when the military returned to power. Now Youssef is realistic about his unsteady prospects going forward. "It's full-on panic mode, full-on tension mode," he said. "And when people are tense and panicking they don't listen to logic, let alone humor… So maybe we'll end up not continuing. We don't know."
The show, called El Bernameg (The Program) and likened to Jon Stewart's The Daily Show, will air on MBC Misr, the Egypt affiliate of the Saudi-owned MBC media group. Youssef first launched the show on YouTube during the 2011 revolution that ousted Hosni Mubarak and quickly rose to online fame for his liberal and satirical act. With the old media rules of political correctness in flux, Youssef moved to network television for his next two seasons, which spanned the rule of the Supreme Council of Armed Forces (SCAF) and the presidency of Mohammed Morsi. He criticized each successive government through widely popular skits that ranged from dark comedic critiques of Egyptian talk shows to outlandish parodies of nationalist songs and personalities. Last year, around 30 million viewers in Arab countries tuned in for his show.
It hasn't been easy. One month before Youssef appeared on The Daily Show last April, Egypt's prosecutor general charged him with spreading false news and insulting the president and Islam. In July, Youssef cut short his second season of El Bernameg in the wake of Morsi's ouster and the military-backed interim government's violent crackdown on opposition. In October, he returned to air with much fanfare — only to have broadcasters pull his second episode minutes before it was expected to air.
Now, Youssef's comeback is being seen as a litmus test for how far criticism of political figures, in particular of Sisi, can go at a time when thousands of government opponents are in jail, journalists warn they are facing the worst police crackdown in years, and one wrong tweet or joke can lead to prison.
Youssef's increased cautiousness reflects the reality of a political satirist taking to the stage before an autocratic crowd: you have to pick your battles. On the subject of Sisi's expected presidential candidacy he said only, "I hope he doesn't run. I've said it multiple times. I think he's very good as a general. As they've said, it will be unfair to everybody else."
When asked what advice he had for satirists circumventing censorship, Youssef first joked that he was in no position to advise on the topic. "You just have to be smart," he said. "You have to always be funny. Don't wait or depend on an effect. At the end of the day, if you censor yourself too much for the sake of the public, you will lose yourself."
Youssef's return comes amid a sharp decline in political and media freedoms coupled with a rise in violence. More than 1,400 people have been killed in political violence since July, the majority due to excessive use of force by security forces, according to Amnesty International. The police and armed forces have arrested thousands of members of the Muslim Brotherhood, which the government banned in December and labeled a terrorist group. Thousands more journalists, academics, activists, and students have been assaulted, detained, or arrested, often without charges.
Alongside the crackdown, the military-backed government has instituted a "war on terror," calling on citizens to report their neighbors for suspicious behavior. Since September, several bombings and assassinations — attributed in the Egyptian media to Muslim Brotherhood "terrorists" but mainly claimed by the Sinai-based militant group Ansar Al Bayt Al Maqdis — have greatly scared and shocked the Egyptian public. Now, using certain politicized terms, even jokingly — such as calling Morsi's ouster a coup or the security forces disruption of the pro-Morsi sit-in at Rabaa Al Adaiyaa in August a massacre — can be grounds for arrest.
Youssef is stringent in his criticism of the government. "It's striking how [the interim government's] speech is very close to the Islamists when they were in power," Youssef said. "And I think this is the curse of being in power. When the Muslim Brotherhood were in power, you could see the cracks between their ideologies [in practice] and the perfect values that they proclaimed they had. The same thing is happening now. When you are in power there is a discrepancy between what you call for, and what actually happens. They have to find excuses for why they are like that. So they use words like war on terrorism, like conspiracies. It's like George W. Bush, one with a beard, one without."
Youssef also had harsh words for Egypt's elites, who have largely backed the military and its crackdown. Youssef said that the most striking development in the last few months had been how "the so-called proclaimed liberals" in Egypt "didn't rise for their so-called values." He continued, "For a whole year they said, 'human rights,' 'democracy' and whatever, and when they had the upper hand…"
Youssef's politics and satire have brought him at odds with family and friends, including his father and late mother, with whom Youssef stopped speaking about politics. Still, he said that he can understand the mindset that equates the military's crackdowns with the path to stability.
"People just want to go back to their bubble," he said. "But on the other side, can you blame them after they have seen the Muslim Brotherhood? They just don't want to deal with this anymore. They just want something that is sure and that will protect them. It's a cycle."
Youssef said he knew it would be far easier for him to remain off the air and to continue with his weekly opinion columns in the privately owned Al Shorouk newspaper. (The news site Al Arabiya republishes them in English.) In the months following Morsi's ouster, key independent and politically progressives voices in Egypt's media, including Youssef and popular TV journalist Yousri Fouda, suspended their shows and kept largely off the broadcast radar. In contrast, a slew of popular Egyptian literary figures and public intellectuals, like Alaa Al Aswany and Sonallah Ibrahim, came out publicly in support of the military leadership and against those who have criticized its trajectory.
In recent months, some have speculated that Youssef might leave Egypt. But Youssef remained adamant that he would never broadcast El Bernameg from anywhere else. "I will not leave Egypt," Youssef said. "I will not do this show from outside Egypt. I will not broadcast from a channel that is not under Egyptian laws." (Egyptian law has a specific set of restrictions for domestic broadcasts.)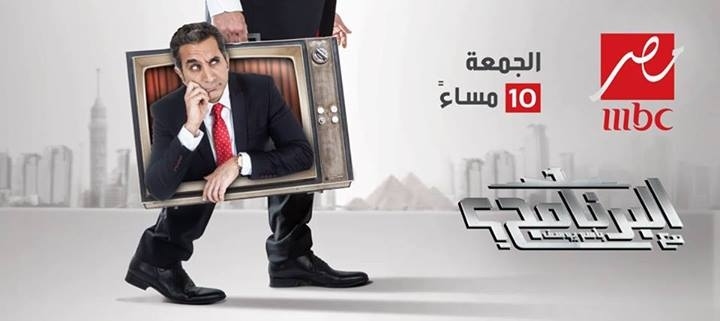 The first episode of his third season aired on Oct. 26, amid great expectation. Online commentators mocked the nearly 20 minutes of commercials that preceded the show — a sign that TV investors knew people were watching. Pro-military Egyptians and public figures immediately criticized the show for its criticism of the military's violence and Sisi mania. The left countered that the show, compared to previous Morsi coverage, had not taken its mockery of Sisi and the military-backed government far enough.
Despite the controversy, Youssef recalled it as his favorite episode. In a parody of Sisi's growing cult of personality, Youssef brought chocolates and cupcakes with the general's face on stage. "Do you have reconciliation cupcakes?" Youssef asked a cast member playing the baker in a reference to the now stopped process of political reconciliation with the Brotherhood. "No," the baker responded. "But we report [to the authorities] anyone who asks."
"If I go back in time I would not change a thing," he said. "It was a brilliant episode that set up the bar so high that I don't think we can actually reach it."
With months of material amassed, Youssef is now looking ahead to the future. "We are always in a position to present something new," Youssef said. "We want more sketches, more pundits, more musicals. For Jon [Stewart], he has a news parody show, so it's been more or less the same for 14 years. But here we are a news parody show, we are a late-night show, we are an entertainment show, we are everything. And there's no one else doing it, so we are obliged to give people everything. And its once a week so its a heavy meal that we have to fulfill."
When asked what Americans can do to better understand Egyptian politics, he responded with the trademark self-promotion of an entertainer.
"For the Americans, if you want to understand Egypt, you should watch the Basseem Youssef show," Youssef said. "This is the best way ever… And as you can see I am extremely amazingly modest."
And what advice did he have for Egyptians?
"For an Egyptian who deals with politics — don't," Youssef concluded. "It's just too frustrating."