RAMALLAH, West Bank — The US government has never been more openly aligned with Israel's, or more openly hostile to the provisional government still known as the Palestinian Authority, whose mission the Trump administration shuttered in Washington last month.
But in America's polarized politics, that Republican bear hug for Israel has presented an opportunity for Palestinians, and a new group is hoping to build a powerful Palestinian lobby out of new sympathy among Democrats.
Enter the US Palestinian Council, which launched in April and is aiming to lobby for the interests of Palestinian Americans and support like-minded candidates on Capitol Hill.
The handful of past attempts to establish a Palestine lobby have fizzled — particularly in comparison to groups like the American Israel Public Affairs Committee (AIPAC), which have dominated Middle East policymaking and provided pro-Israel talking points to hundreds of politicians.
But President Donald Trump's embrace of Israel's right-wing nationalist government has sparked a historic shift in the politics of the Israeli–Palestinian conflict in the US, escalating the erosion of a long-held bipartisan consensus of support for the Jewish state. The views of Democrats and independents alike are starting to shift, albeit still slightly and slowly, more in the Palestinians' favor and against the 50-year-old Israeli military occupation, creating new openings for Palestinian alliances and civil society.
Over the years, various attempts at creating a Palestinian-style AIPAC have proven ineffective, largely due to divisions and infighting among the still-stateless Palestinians and, compared to Israel, Palestine's second-tier status and financial weight in Washington. The lack of leadership at the top and the Trump administration's clear preference for the Israelis have led to a surge in attempts to drive change at a lower level, away from K Street and Capitol Hill — and the hope that creating new constituencies and allies now will pay off in the long run.
"People who are looking for a Palestine lobby would miss what's been happening on a civil society level," said Nadia Hijab, cofounder and former director of the US Campaign for Palestinian Rights, a coalition of hundreds of advocacy groups and one of the main players in the US conversation. "A lot of [human rights and advocacy] groups have contributed quite strongly in the shift we are seeing in the Democratic Party and Congress and American public."
For now, activists told BuzzFeed News, the final outcome of negotiations between the Israelis and Palestinians is not their concern: They're just looking to change the rules of the game.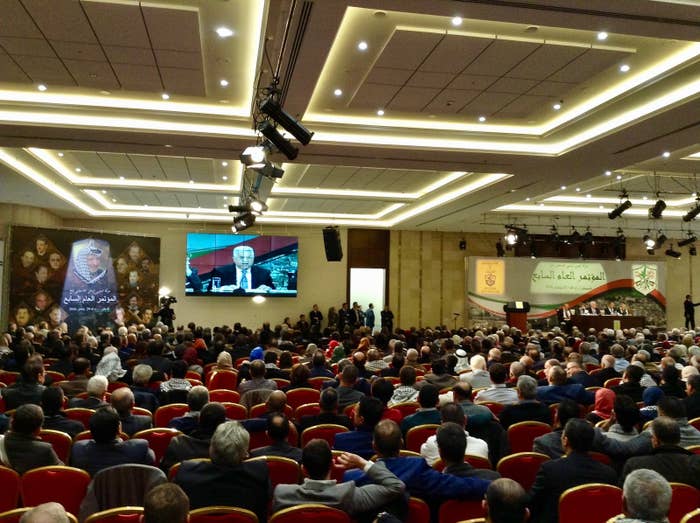 Hanna Hanania, 43, is the cofounder the new US Palestinian Council, the latest attempt to kickstart a lobby for Palestinians. A dentist originally from Ramallah, he has lived in Virginia for 25 years. Hanania told BuzzFeed News that now, on the one hand, is a disadvantageous time to start a new group because "dealing with the administration is very hard"; on the other hand, it is easier because "more Democrats are coming out supporting the Palestinian cause."

But while for years reiterating support for the two-state solution has been the norm in Washington, Hanania said his group is not taking a stance on it. "Palestinian American issues are our number one priority," he said, along with "human rights issues in general." One possible campaign, he said, would be opposing labeling US citizens born in Jerusalem as being born in Israel on their passports, as Republicans are lobbying for.
Still, Hanania's vision, established in April, is modest: a community-funded lobby pushing more Palestinian American causes and candidates. This year, Democrat Rashida Tlaib of Michigan won a tough primary that paved the way for her to be the first Muslim and Palestinian American woman to serve in Congress. (She's running unopposed in the general election.)
"Many of the lawmakers say they don't hear from us," Hanania said. "Many came to the conclusion that this [lobby] is the most effective way."
Several of the Palestinian rights activists interviewed, though, still had never heard of Hanania's organization, months after its launch.
In the meantime, the Trump administration has all but gone to war with the Palestinians this year, cutting aid to Palestinian refugee services and kicking out the Palestinian Authority's delegation to Washington. From its base in Ramallah, the Palestinian leadership — the semi-autonomous PA and the related Palestinian Liberation Organization (PLO) and Fatah Party — says it's nonetheless still building the support needed to achieve its decadeslong aim: ending the occupation of the West Bank, Gaza Strip, and East Jerusalem, and, in its place, establishing a Palestinian state alongside Israel. But, after decades of using the same playbook, Palestinians from the West Bank to Washington aren't holding their breath. Trump, for his part, has expressed support for both one- and two-state solutions.
Making things even more difficult, the formal Palestinian leadership has basically no advocacy presence on Capitol Hill. In 2017, Israel spent $6.7 million on lobbying, while the PA spent just $830,000, according to Al-Monitor.
"I think the Palestinians are in a situation now where there is no solution on the horizon," said Hijab. "And there is no political body that the Palestinians feel represents their national interests."
Trump says his strategy is to pressure the Palestinians back to a US-led peace process; the embattled Palestinian leadership, already facing a legitimacy crisis at home, counters that this just further proves they can't get a fair deal with Trump and his allies in Israel.
But Husam Zomlot, the PA's ambassador to the US until Trump's State Department closed down the office in early September, said it's too soon to dismiss the PA's importance, even as he called for the international community to replace the US as main negotiator.
"Only in the last few days I have received a flood of emails, text messages, calls, what have you, from many, many American leaders, representatives, heads of institutions, heads of churches, what have you, conveying their solidarity and dismay at what has been happening and saying this is not in their name," Zomlot told BuzzFeed News in late September from his new base in Ramallah.
"We see the building of a real alliance in the US, [which is] pro-peace and pro-Palestine," he said. "And we vow and we continue to build and double our efforts to actually engage the American people."
The now-closed Palestinian mission in the US, Zomlot said, had "adopted a very organized outreach campaign," with public relations officers and social media experts from the Palestinian American community as part of a "strategic decision from our president to actually engage the Americans."
That modest initiative began in 2017 and lasted until May 2018 — when the US moved its embassy from Tel Aviv to Jerusalem, Zomlot said.
Zomlot said that equally important "is the people-to-people work from here, from Palestine." Now from Ramallah, he said, he is advocating for more programs with US universities, churches, and politicians. Journalists working in Israel and the Palestinian territories are inundated with resources from Israeli groups and government bodies; in contrast, it's hard to get the average Palestinian official to call back.
Despite those initiatives, analysts told BuzzFeed News, Palestinian politics are still too fragmented, and the disparity between the resources of Palestinians versus Israelis still too wide for anything really effective to come from the paltry PA-led efforts.
"Washington has [historically] been pretty inhospitable to Palestinian lobbying efforts, particularly on Capitol Hill where the pro-Israel lobby has focused its efforts," said Khaled Elgindy, a former adviser and negotiator for the Palestinians now at the Brookings Institution in Washington. "There's a real stigma in American politics attached to Palestinian activism."
At the same time, the Palestinian Authority has been a hard sell because it can't claim to represent all Palestinians, said Elgindy. The PA, established in 1993 as part of the Oslo Peace Accords, was supposed to be an interim step toward a full-fledged, democratic government. Decades later, the Palestinians are split between the Fatah-dominated PA in the West Bank and Hamas, a group the US and Europe officially deem terrorists, controlling the besieged Gaza Strip.
Further complicating matters, the polarized Palestinian leadership is not only unpopular at home, but also among the other disparate Palestinian communities, including Palestinian citizens of Israel, residents of Jerusalem, and the diaspora, many of whom are still classified as descendants of refugees who fled or were expelled after Israel's founding in 1948.
During the Obama administration, as the PA became increasingly autocratic and the Israeli public shifted toward supporting the occupation and settlements, the US continued to try to salvage the stalled peace process. Now, rather than reform any of the long-standing issues, Trump's team is trying to forge its own way. Critics say that's only exasperating the problems and, in practice, just deferring to the Israeli side.
In Washington, a weakened PA now has to battle on several fronts as its claim to power — achieving a two-state solution through negotiations — is increasingly far off, while the Republican party, backed in part by evangelical Christians, has reverted to a zero-sum analysis where pro-Palestinian means anti-Israel, said Elgindy.
Any PA attempt to now prioritize Washington lobbying may be too little too late. Zomlot even tried, unsuccessfully, to court conservative thinkers in Washington as unlikely allies with an ear to the Trump administration. Palestine, said Elgindy, is also now less of a priority for Arab Americans consumed by the turmoil in places like Iraq, Syria, Yemen, and Egypt. They're also more focused on the rise in anti-Muslim and anti-immigrant sentiment in America, alongside Saudi Arabia and other Gulf countries' warming relations with Israel.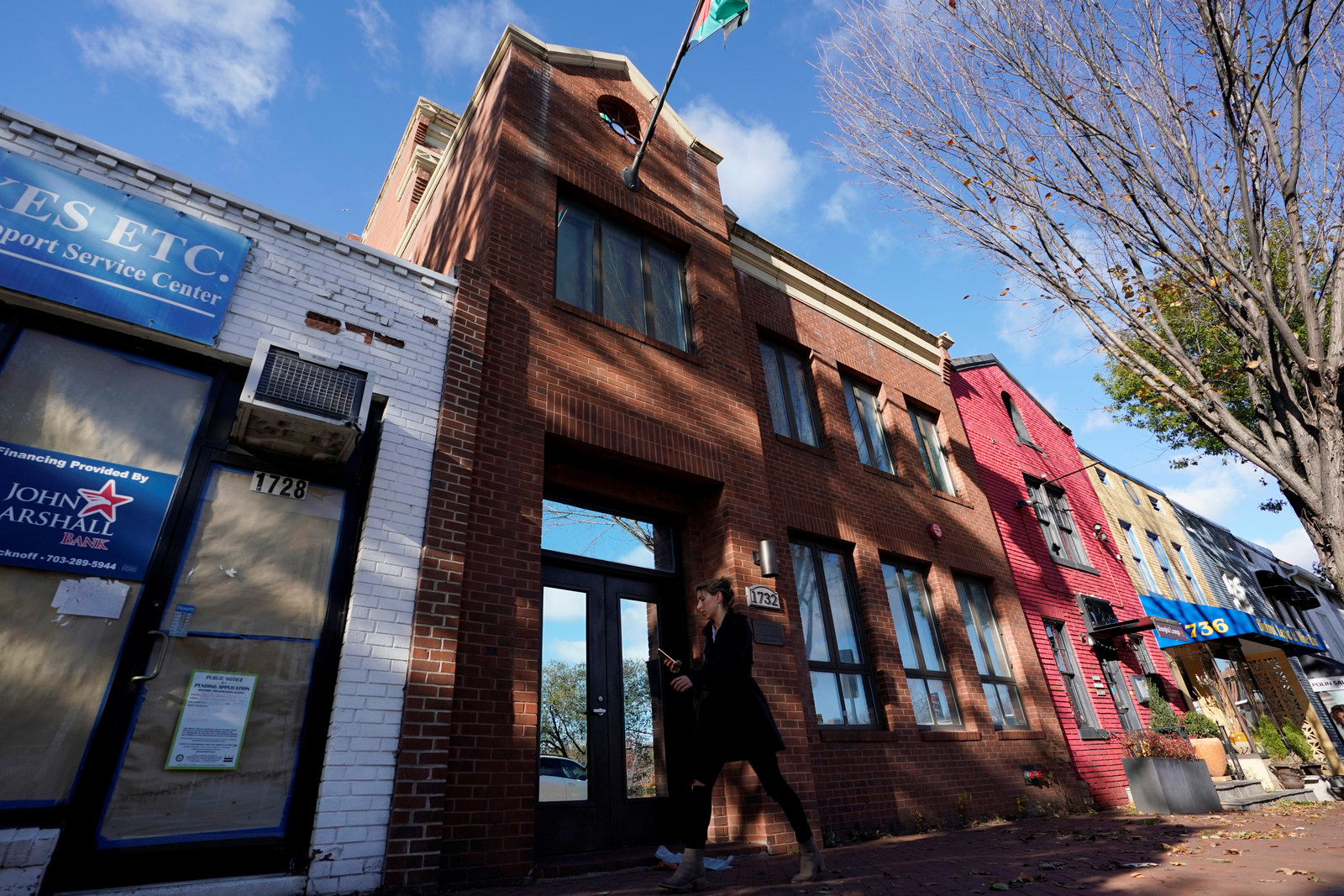 Other Palestinian activists told BuzzFeed News they are trying a different route: filling this vacuum with a rights-based approach while laying the groundwork and constituencies for policy change in a post-Trump era. The PA's messaging and actions, activists said, at times both helps and hurts this work.

There are a handful of legal, advocacy, and media groups, like the American Muslims for Palestine (AMP), the Institute for Middle East Understanding (IMEU), and Jewish Voice for Peace (JVP), now seizing the moment to push a Palestinian rights discourse: This, in turn, resonates with other movements, like Black Lives Matter, shaping activism on the left. These groups are largely not well financed and don't take a stance on a one- or two-state solution, or some other form of Palestinian representation. The pro-Israel community has in turn accused many of them of being anti-Israel.
"We are really trying to embed Palestine and Palestinian rights as part of a progressive discourse in American politics," said Yousef Munayyer, director of the US Campaign for Palestinian Rights. "The same principles of equality and fairness should be applied to Palestinians as well. They should not be forgotten."
Munayyer said that part of this strategy is to embrace the "diversity" within the Palestinian rights movement.
"What may work in one place may not in another," he said, explaining his organization's support of campaigns around US policy at the local, municipal, state, and federal levels.
One such campaign, he said, calls for ending police exchanges between America and Israel, in which law enforcement officers are sent to Israel for training with Israeli soldiers and counterterrorism units. Munayyer said this kind of campaign resonates with Americans worried about police tactics.
More widely known is the BDS movement, which calls for boycotts, sanctions on, and divesting from Israel and is modeled after the campaign against apartheid South Africa. In recent years, it's become the go-to means for Palestinian activism and lobbying from college campuses to statehouses. It's also created tensions with many Jews, who say the movement is rooted in anti-Semitism (which supporters deny). The Israeli government has in turn labeled BDS one of its biggest existential threats and banned supporters from entering the country. Some opponents of BDS, though, say the Israeli government is going too far: A Palestinian American student is currently detained in Israel's Ben Gurion Airport, appealing her deportation for having supported a boycott of an Israeli hummus company a few years ago. The PA has meanwhile endorsed but strategically kept its distance from the BDS movement.
Tangible changes based on these efforts have been slow to materialize. Last year, Democratic member of Congress Betty McCollum of Minnesota introduced a bill against Israel's military detention of children, the first-ever legislation in Congress to focus on Palestinian rights, said Munayyer. The bill has not been pushed forward for a vote.
Realistically, Munayyer said, bills like this will still only get support from a small group of Democrats. Still, he said, "this would not have been possible five years ago." The Trump administration has been a "clarifying moment" in which "people have increasingly started to realize that the situation on the ground is a problem that they cannot support," he said.
"We believe that change has to happen in the US before it can happen on the ground," he said. The question now, he concluded, is "how do you build today towards the steps that you need to take the day after the Trump administration."
CORRECTION
Husam Zomlot's name was misspelled in an earlier version of this post.
CORRECTION
The name of the Brookings Institution was misstated in an earlier version of this post.