JERUSALEM — Osama Abu Khalaf doesn't care what President Donald Trump says about the status of his home, the divided and disputed city of Jerusalem.
"It doesn't affect us East Jerusalemites," said the 27-year-old Palestinian office worker on Tuesday. He's among the 330,000 Palestinians who call the city their home, and is more concerned about how expensive city living is and his residency status than about the US president. Abu Khalaf was born and has lived all his life in the eastern part of Jerusalem.
"For 50 years we are under Israeli occupation," Abu Khalaf said, referring to Israel's annexation of East Jerusalem — along with its capture of the West Bank and Gaza Strip — as part of the 1967 Arab–Israeli War. Most of the international community, including the US until now, has rejected Israel's claims to the territory. But now Trump has recognized Jerusalem as Israel's capital, in an address on Wednesday that punted on the city's final borders and other decisions, and ordered the State Department to begin the process of relocating the US Embassy there from its current home in Tel Aviv.
"I live in Israel. I work here. I don't have another country… No Palestinian political parties represent me," Abu Khalaf said. "I just want my rights."
The city's Palestinian population have had to face their ambiguous status more directly in recent weeks than they have in years. In a manic lead-up, reminiscent of the president's time as a reality television host, Trump teased out his expected decision. But since the early 1990s, Palestinians have operated under the belief that East Jerusalem would become the capital of their future state.
For many of Jerusalem's Palestinians — fed up with Israeli occupation, what they see as an aging and corrupted Palestinian leadership, and a sense of abandonment by Arab countries, the US, and the international community — whatever Trump does won't significantly change their realities: They'll still live in a pressure cooker of a divided city, struggling to find ways to cope amid all the politicians trying to speak for them.
The unprecedented shift in policy — widely and warmly welcomed by both average Israeli citizens and Israel's extreme-right government — has sounded alarm bells across an already volatile Middle East, with Palestinian and other Arab and Muslim leaders threatening diplomatic backlashes, including an end to the peace process. Palestinian leaders have already called for three "Days of Rage" with protests in the streets beginning on Wednesday if Trump follows through on the announcement. In small demonstrations in Gaza Wednesday morning, Palestinians burned US flags — and many fear that the region's many grievances could combust around this issue. Since 2015, Israel has been battling a wave of "lone wolf" attacks by Palestinians and tensions around Jerusalem have often inflamed the violence. The State Department has issued warnings to US travelers and diplomats about potential violence in the coming days.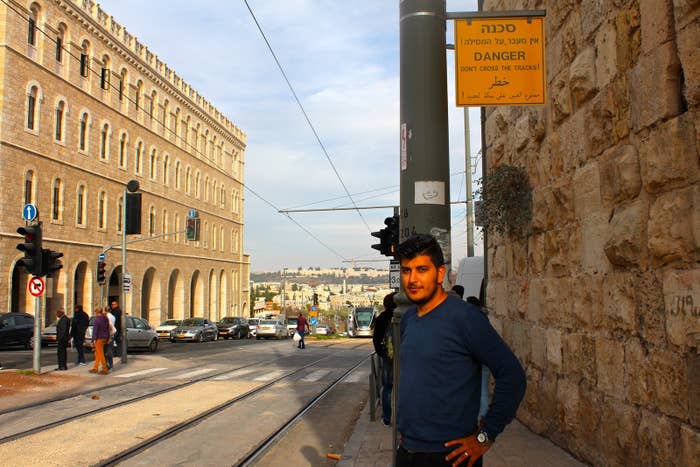 But it's the lack of progress that led Abu Khalaf to apply for Israeli citizenship, a move that — though highly taboo and controversial within Palestinian society — a rising number of East Jerusalem's marginalized and frustrated residents are making, seeing it as the best of the bad options they have. Israel has rejected his application (as it increasingly does for many), saying he didn't fit the law's criteria. Abu Khalaf has a lawyer and is persisting, though, because no matter whose capital it is, he says, he was born here and is here to stay.
It's a widely shared, though not widely aired, sentiment. "For us Palestinians, of course Jerusalem is our capital," said Yacout Alqam, 23, a petite teacher from the dilapidated Shuafat refugee camp. "But as you see, Israel is everywhere."
Trump's announcement "is not something new, it's expected," she said with an exasperated shrug as she walked to catch her bus home from work. "If Trump moved the embassy of course there would be chaos and protests against him. People wouldn't like it. But if he wants to, he will do it… And we will stay here 'til we die. We can't leave Jerusalem."
As it stands, the Palestinians in East Jerusalem, about 37% of the city's residents, aren't Israeli citizens — they have no passports and can't vote in national elections. Instead, they have permanent residency that provides other benefits like access to Israeli education and health care. While they can move around Israel freely, East Jerusalemites must prove that they continually live there or risk having their residency revoked. Around 80% of East Jerusalemites live under the poverty line, with unemployment high and the quality of schools and other city services low.
Residents consequently feel squeezed from all sides, particularly in the hotly contested, crowded, and conservative Old City, with Israeli paramilitary police patrolling the streets and social pressures urging them to stay put.
It's this reality that left many of the Palestinians who spoke with BuzzFeed News sure that while Trump may be changing the de jure status of the city, the de facto life on the ground won't change.
"The Israeli government is trying to strip the Palestinian culture of the city," said Izzeldin Bukhari, 32, a Palestinian activist and chef from the Old City. Trump's announcement would be nothing more than "the cherry on top" of the ongoing trend, he said.
"This act is not going to bring peace," Bukhari said. "The plan is more to inflame it and push buttons."
And, in Bukhari's eyes, his people's political leaders aren't doing much to make things better. This summer, tens of thousands of Palestinians took to the streets in Jerusalem for a week to protest threats to Palestinian sovereignty symbolized by Israel's installation of metal detectors at the al-Aqsa compound, one of Islam's holiest sites, after a deadly terror attack there killed two Israeli policemen. But it was religious figures leading the way — and not the two main political parties, Fatah and Hamas, or the semiautonomous Palestinian Authority, based in Ramallah and holding jurisdiction over Palestinians in only parts of the West Bank.
This also exemplified the alienation Jerusalemites feel from Palestinian President Mahmoud Abbas and the Western-backed PA, which under Israeli law cannot operate in the city. Palestinians lament the corrupt and autocratic leadership that now plagues the PA, which many see as just doing Israel's bidding and further entrenching the occupation, with the international community's backing.
"They only represent the elite group of political leaders," said Bukhari. "They really don't represent any Palestinians."
Abu Khalaf wants a government that represents him. But like many Palestinians (and Israelis), he isn't holding his breath for a two-state solution anymore. He thinks some kind of regional Palestinian self-rule like Catalonia in Spain or Wales in the United Kingdom is the most realistic now.
Whatever Trump's "ultimate deal" may offer — and whatever Israeli, Palestinian, and Arab leaders may offer in exchange — it likely won't represent his reality. He just wants to live normally in Jerusalem with his rights and opportunities, making use of whatever he can.