The U.S. Finished A Second Humanitarian Airdrop in Iraq Friday
The airdrop included food and water for stranded Yazidis in northern Iraq. It comes a day after Obama announced his intent to help Iraqis targeted by militants, and his authorization of air strikes.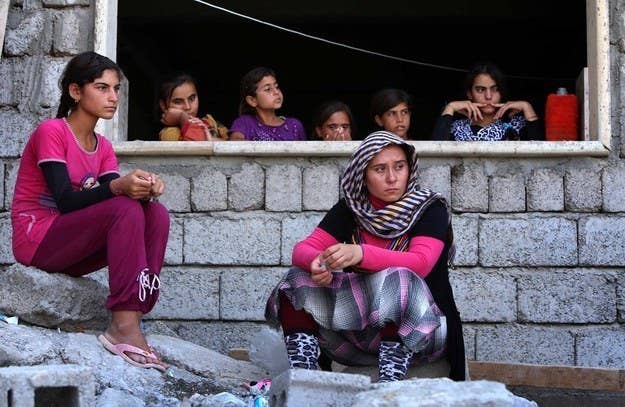 The U.S. completed a second humanitarian airdrop Friday to Iraqis stranded by ISIS militants.
Pentagon Press Secretary Rear Adm. John Kirby said the airdrop included meals and water. He also tweeted a video from the first airdrop, completed Thursday, showing supplies falling from a plane.
Other videos posted to the same YouTube account apparently showed U.S. air strikes on Friday.
UPDATED: 9:40 p.m., EDT —
President Obama announced Thursday night at the White House that he had authorized airdrops to stranded Yazidis who fled ISIS, as well as "targeted airstrikes if necessary." Obama said strikes will be used to protect American personnel and facilities in Erbil and Baghdad. The strikes will target ISIS convoys "should they move toward the city."
"Today America is coming to help," Obama said, adding that the U.S. has a mandate to help in light of requests from the Iraqi government and ISIS efforts to systematically destroy the Yazidi people.
Obama insisted that American troops would not be returning to Iraq and that the U.S. would not be dragged into another war in Iraq. Obama also said there "is no decision I take more seriously than the use of military force."
The U.S. has begun humanitarian airdrops into Iraq, CNN and ABC reported on Thursday. U.S. fighter jets reportedly were accompanying and protecting the humanitarian planes.
President Barack Obama was expected to issue a statement later in the day. He was reported to be considering ordering air strikes against ISIS or sending humanitarian supplies to aid thousands of ethnic minorities who had fled to the Kurdistan region in the wake of the militant group's advance.
An Iraqi official told CNN Thursday Iraqi air force planes had bombed ISIS locations and killed two leaders of the militant group. Iraqi and U.S. officials also had reportedly "discussed targets" Thursday for further strikes.
By around 5 p.m. Thursday, news outlets began reporting that local residents said bombs were dropping outside Irbil, the capital of Kurdistan. The New York Times, citing Kurdish sources, said they were U.S. forces; McClatchy said it was unclear.
The Pentagon's press secretary denied that the U.S. was behind the airstrikes:
The White House released this photo, showing Obama meeting with his national security team earlier in the day.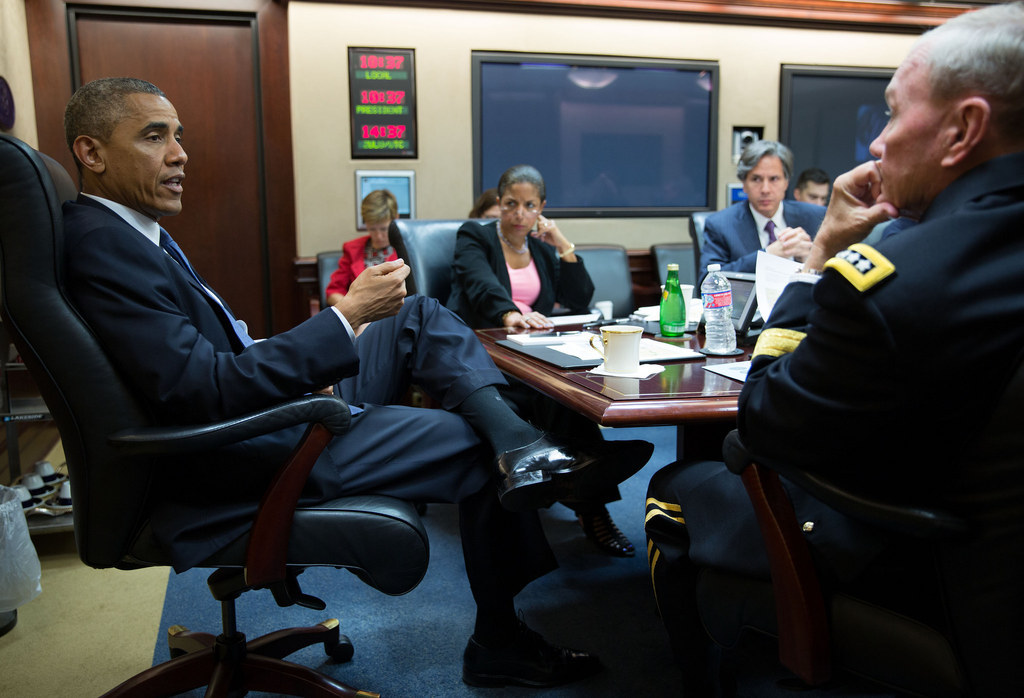 A senior administration official told The Washington Post that Obama was considering an airdrop of humanitarian goods and that a decision could come within hours.
Calling the situation a "humanitarian catastrophe," White House Press Spokesperson Josh Earnest told reporters Thursday that "any sort of military action that would be taken in Iraq would be very limited in scope and very specific to addressing a core American objective." Earnest added, "The other thing that we've been also very clear about is that any sort of American military action would have to be closely tied to Iraqi political reforms that are long overdue." He repeatedly reiterated the administration's stance that there would be "no boots on the ground" in Iraq.
The Islamic State of Iraq and Syria (ISIS) has been advancing across northern Iraq since June. On Wednesday night, it captured Iraq's largest Christian town, Qaraqosh, as well as two other towns in Nineveh province, forcing tens of thousands of residents to flee north to semi-autonomous Kurdistan.
By Thursday, ISIS militants were on the outskirts of Irbil, the capital of Iraqi Kurdistan, a region that had remained largely calm as Iraq descended into violence following the U.S. overthrow of Saddam Hussein.
The group has been targeting Iraq's ethnic and religious minorities. Nearly 200,000 Yazidi have fled to Kurdistan and to the Sinjar mountains, where around 40,000 people are now trapped and facing starvation, according to the U.N. Forty children have already died. It has also been targeting Christians, giving both groups an ultimatum: flee, convert or die.
On Thursday, ISIS also claimed to have captured the Mosul dam, a strategic spot along the Tigris River.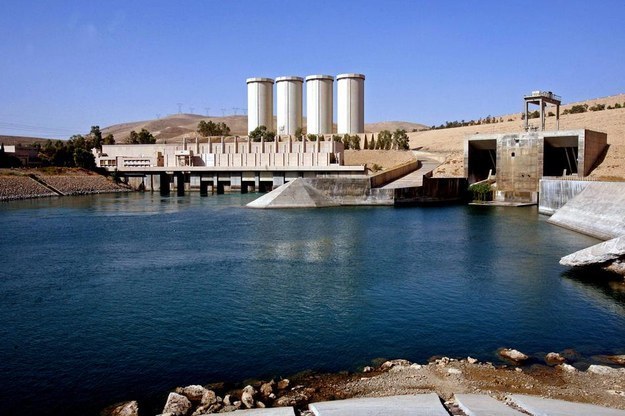 An employee at the dam confirmed the capture, Bloomberg News reported. There is concern that ISIS could destroy the dam to flood Mosul and create further chaos.
Kurdish troops, called Peshmerga, have taken up the fight against ISIS to protect the area — but are increasingly overstretched and under resourced.