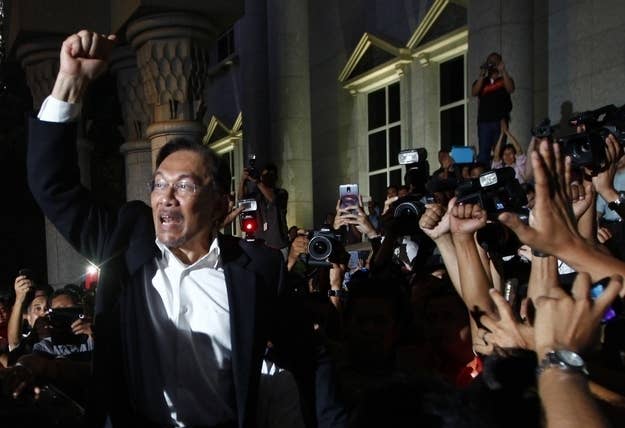 A Malaysian court overturned the acquittal of opposition leader Anwar Ibrahim on Friday and reinstated a five year jail term for for sodomy in the latest twist of decade-long court battle that Ibrahim has dismissed as politically motivated.
"This trial was all about knocking Anwar Ibrahim out of politics, pure and simple, and the government was prepared to jump through whatever hoops were necessary to make that happen," Phil Robertson of Human Rights Watch said in a statement. "It's a dark day for the Malaysia judiciary, which has shown today how hard it is to get a free and fair trial when political issues are in play."
Anwar, 66, a former finance minister and deputy prime minister, is considered the strongest challenger to the ruling party, which has ruled Malaysia since independence in 1957. If he loses his appeal, Anwar will have to relinquish his seat in parliament, and will be disqualified from contesting elections for five years after his release from jail. He is currently free on bail, pending appeal.
Anwar was first charged with sodomy and corruption charges in 1998. A lower court subsequently sentenced him to six years in jail for abuse of power, sparking massive street protests in his defense. In 2000, he was also found guilty of sodomy with his wife's driver, adding another nine years to his sentence. Malaysia's Supreme Court overturned the sodomy conviction in 2004, setting him free. Anwar then returned to politics, leading the opposition movement to strong performances in the 2008 and 2013 elections. Anwar accused Prime Minister Najib Razak government's of coordinating his conviction, and vowed to appeal Friday's ruling in the Supreme Court.
"It is a clear signal to the people of Malaysia that they [the government] are not interested in [the country's] economic malaise ... but they are interested in killing political opponents," Anwar told reporters after the sentencing.
Sodomy is a crime punishable with up to 20 years in jail in Malaysia, a majority Muslim country. Critics say the ruling party has used the sodomy charges as a pretext for silencing Anwar and scaring the opposition.
After the ruling, State Department spokeswoman Jen Psaki said that the United States had followed the trial closely.
"The decision to prosecute Mr. Anwar, and his trial, have raised a number of concerns regarding the rule of law and the independence of the court," said Psaki. "In this high-profile case, it is critical for Malaysia to apply the rule of law fairly, transparently and apolitically in order to promote confidence in Malaysia's democracy and judiciary."