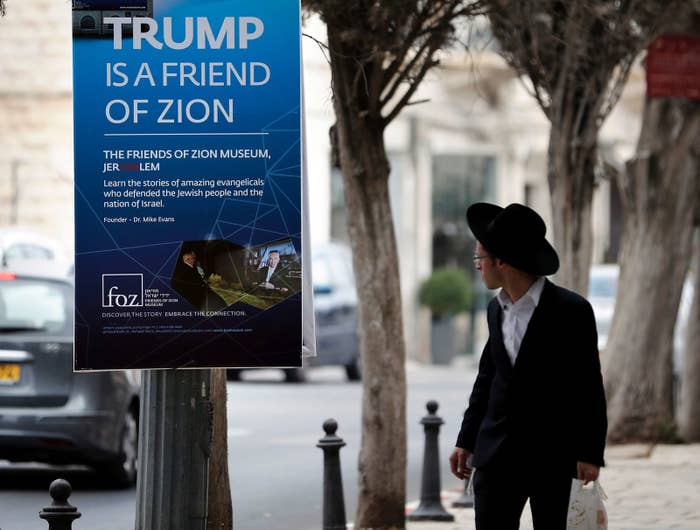 JERUSALEM — Before President Donald Trump announced nearly two weeks ago that the United States would move forward recognizing Jerusalem as Israel's capital, he was warned from almost all sides about the political chaos that the decision would unleash.
But two days later, while Palestinians faced off with Israeli soldiers in a "Friday of Rage" against the new US policy, about a 20-minute walk west, the Friends of Zion Museum buzzed with visitors awed by the interactive exhibits extolling evangelical Christians' support for Israel. Inside those walls, everything was going as planned.
"We are all bible-believers and we believe that this is the bible-land and that Jerusalem is the ancient capital of Israel back to the days of King David," Mike Evans, founder of the Friends of Zion Museum, told Reuters recently. Evans, a prominent Christian Zionist, was an early supporter of Trump and is now a member of the president's influential evangelical advisory board, a lifeline to a key section of Trump's base.
US evangelicals have long supported Israel, whose founding they see as the fulfillment of biblical prophecy. Their champion in the Trump administration is Vice President Mike Pence, who is scheduled to make a trip to Israel this week, in part to focus on the plight of Christians in the Middle East. Evans is set to join Pence on the trip — which Palestinian politicians and Arab Christian leaders will now boycott as part of the Jerusalem fallout. He'll also likely be met with continued protests in the streets from Palestinians that left hundreds injured on Friday.
But Israel's government and its far-right supporters have also recently become more adept at cultivating US evangelical support, as its agenda has become conveniently aligned with this powerful conservative lobby and voting bloc. That's translated into largely blanket support from the US's Christian Zionists for Israel's more religious-nationalist and regionally assertive agendas, from reshaping the peace process to bucking the United Nations to deepening ties with other Arab and African states. That's also set the stage for some seemingly strange bedfellows of convenience — for now.
Israelis widely cheered Trump's renewed pledge that the US would eventually move its embassy from Tel Aviv to Jerusalem, hailing it as a sign that the Jewish right to self-determination in Jerusalem was at last being recognized. But in the hours and days following Trump's announcement from a White House podium flanked by Christmas trees, another religious dimension held sway: Trump gave Israel his blessing because it benefited his powerful evangelical Christian base.
Dominant parts of American evangelicalism teach that the state of Israel is "the fulfillment of prophecy … which means that it could not be wrong in any way because it's doing God's work," said Dr. Diana Butler Bass, who studies the movement. Part of this prophetic teaching is that all Jews must move to biblical Israel with Jerusalem as its capital — and then convert to Christianity — in order for the Messiah to come.
That first part of the equation lines up well with the policies of Israeli Prime Minister Benjamin Netanyahu, whose extreme-right coalition is strongly supportive of Jewish settlements in East Jerusalem and the occupied West Bank, disputed territories with biblical ties that Israel captured in 1967 but that Palestinians also claim as part of their future state. These settlements are considered illegal under international law, but are thriving nonetheless.
Bass explained that these evangelicals see both Netanyahu and Trump as doing God's will in moving the world toward the end of days. "That they are both in power at the same time … heightens the prophetic expectation," she said.
But the second part of the equation sits very, very uncomfortably with many Jews. "There's a lot of anti-Semitism in all of this stuff," said Bass. She described the desire for the mass conversion of Jews not as an acceptance of Judaism as a theology or religious practice in its own right, but as "instruments" to reaching the prophesied Judgment Day. (Evangelicals deny that anti-Semitism comes into play during their work.)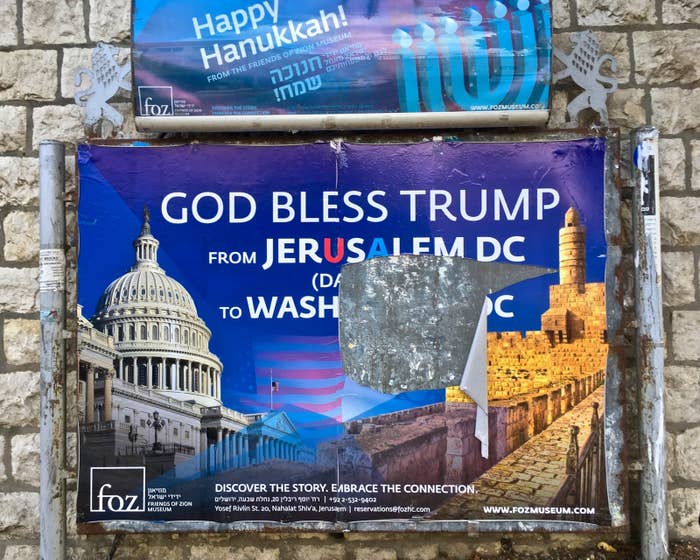 Knowing that many Israelis are turned off by proselytizing and missionary work, in part given Christian Europe's bloody history of anti-Semitism, in recent decades there's been a concerted effort to tone down the conversion part of the evangelical narrative toward Israel.
That's satisfied people like Chaim Silberstein, a leader in the Local Council of Beit El, a gated settlement of 7,000 people overlooking Ramallah, the Palestinian seat of government. Both the US ambassador to Israel, former Trump lawyer David Friedman, and Trump's son-in-law and senior White House adviser Jared Kushner have backed Beit El with money and political support.
"I believe with them completely that all the Jews should come to Israel until the Messiah comes," Silberstein said. "Perhaps the difference will be whether it's the first time or the second time," he joked — Judaism teaches that Messiah has yet to come to Earth, while Christians believe that Jesus played that role and awaits his return. "We'll just have to wait and see and then we will ask him," he said with a laugh. "Until then I'm happy we are coordinating about issues we both feel strongly about."
This view of US evangelicals as "the biggest pockets of support" for isolated and embattled Israel is part of why Josh Reinstein, an American-Israeli originally from Texas, founded the Knesset Christian Allies Caucus in 2004 to connect Christian leaders with Israeli parliamentary members. At present, the group has 17 members from across seven political parties.
Evangelical support has "emboldened Israel to get things done because we have such a broad support base worldwide," said Reinstein.
"Who's going to support Israel? Evangelicals. … And the [Trump] administration has taken support to a whole new level," Reinstein said.
Evan's Friends of Zion Museum hasn't been shy about its support for the president: Before President Trump's visit in May, the museum spent $100,000 on posters around Jerusalem proclaiming, "Trump is a Friend of Zion" and "Make Israel Great," Israel's Haaretz newspaper reported.
When the museum first opened in Jerusalem's City Center in 2015, it joined a small but strong base of politically active evangelical organizations in the city. For decades, these organizations have been bringing Christians over for pilgrimage tours and volunteer trips, as well as raising big money for charities in Israel and assisting Jews in making aliyah, a Hebrew term for immigrating to Israel. One of the largest philanthropic organizations in Israel raises money from American evangelical Christians. Others, based in the United States, send volunteers to Jewish settlements in the West Bank.
"Those organizations are certainly growing and they are making a difference," said leading Christian Zionist Reverend Johnnie Moore, the unofficial spokesperson for the around two dozen members of Trump's evangelical advisory board, made up of prominent and powerful politicians and clergy who now have "an open door" to the White House.
Before moving to Israel, David Parsons, now the vice president of the large International Christian Embassy of Jerusalem, drafted the initial bill that would eventually become the Jerusalem Embassy Act of 1995 as a DC lobbyist. If all goes according to plan, Trump will be the first president to enforce this law by moving the embassy from Tel Aviv.
But while previous Israeli leaders from across the political spectrum have welcomed evangelical support, a now more emboldened Netanyahu is unabashedly cashing in. Netanyahu, a strong Trump supporter, has championed Israel as the protector of Christian holy sites and leader in a fight against Islamic extremism and terrorism amid shifting regional alliances and unrest — rhetoric that resonates strongly with the evangelical base. This year, Israel organized its first-ever Christian Media Summit in Jerusalem, a subsidized conference intended to cultivate "good ambassadors for Israel."
Christian tourists and pilgrims also form a core of Israel's tourism industry, as they make the journey even when violence rises, and grassroots initiatives are seizing the PR possibilities.
Silberstein said he gives tours to Christian leaders to explain how Israeli settlement policies fit with evangelical "faith-based politics" in Jerusalem and what he calls Judea and Samaria, the government's biblical term for the West Bank. He won't work with people proselytizing, but also said that he's never had anyone try to convert him.
"We guide them through the geopolitics of the situation," Silberstein said. "A lot of evangelicals are guided by their faith and Bible, and we helping them by guiding them through the politics."
Study tours and trips to Israel have a big impact for Moore, a Trump advisory board member. "It's the experiences that we've had in the region that have informed our point of view," he said.
This in one way makes the US's lucrative and vocal evangelical advocacy groups, like Christians United for Israel (CUFI), even more important for Israel than its own lobbyists, as the former will ensure Israel has support throughout the government. But it's also a cautionary path as the US evangelical movement was actually not completely united in supporting Trump's position and timing — particularly young people.
A recent survey found a trend reminiscent of shifts within the US Jewish community: Young people, while still supportive of Israel, were less likely to be unconditionally so, compared with older demographics. The study found that 76% of those 65 and older indicated a "positive" view of Israel today, while only 58% of those 18–34 did. Sixty-six percent of millennial evangelicals also believe that Christians should do more to love and care for Palestinians, the study reported.
A generational shift in this relationship could down the line either push Israel to rethink its policies — or double down on its us-against-the-world mentality. For now, Netanyahu and his evangelical counterparts are betting that the alliance will remain on their side.
"Faith-based diplomacy has become the most important weapon in our diplomatic arsenal today," said Reinstein.