Israel Is Barring Amnesty International And Human Rights Watch From Investigating The Gaza War
"At this point we think there is something intentional," said an Amnesty International representative.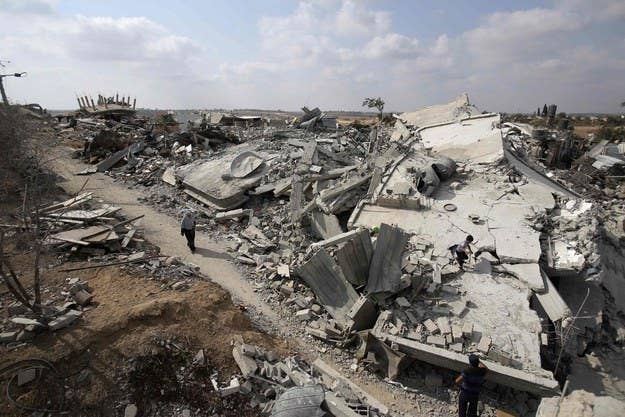 Israel has continued to deny researchers from Amnesty International and Human Rights Watch (HRW) entry to the Gaza Strip to investigate the ongoing violence, claiming that for several years now the international human rights groups have not met the country's criteria for entry, members of the groups said on Wednesday.
"At this point we think there is something intentional," Deborah Hyams of Amnesty International told BuzzFeed by phone from London on Monday. "It should not be an issue. If [Israel] wanted to facilitate our timely entry into the Gaza Strip they could have done so long before now."
The groups' inability to gain access to Gaza was initially reported by the Israeli newspaper Haaretz on Monday.
Neither one of the internationally-recognized human rights groups has been able to gain entry into Gaza over the last few years. Amnesty International last entered Gaza through it's Rafah Crossing with Egypt in November 2012, while HRW last entered Gaza in the winter of 2006, through it's Erez Crossing with Israel, according to a joint statement released by the groups Wednesday. Over the last year, both Egypt and Israel have tightened restrictions on entering and exiting the Gaza Strip. Between them the two countries control all border points with Gaza.
Over the last month, Amnesty and HRW have been applying to obtain permission to enter Gaza from Israel's Civil Administration, which controls the Israel-Gaza border. Both human rights groups wanted to position researchers and weapons experts on the ground in Gaza to monitor the latest round of fighting. The groups intend to publish reports assessing claims of human rights abuses committed by Hamas militants and Israeli forces, but needed researchers on the ground to conduct the necessary field interviews and assessments.
In justifying the refusals, the Civil Administration told Amnesty and HRW that the crossing between Israel and Gaza has been closed since the fighting began on July 8, and therefore no new permits were being offered, Ha'aretz reported. The Eretz crossing, however, has been open throughout much of the fighting, allowing journalists and U.N. workers access to the Gaza Strip.
Israel also told the groups they needed to be registered as humanitarian aid organizations with the Ministry of Social Affairs or the Ministry of Foreign Affairs to qualify for entry. Hyman said that international human rights organizations like Amnesty and HRW, however, do not meet Israel's criteria for registering as an organization with these ministries.
"At the very least it's a very convenient loophole they've created that is not keeping out humanitarian and aid organizations, not to say that they don't have problems, but that is keeping out the two leading human rights organizations [Amnesty and HRW]."
Both Amnesty and HRW have written reports critical of Israel's last two major offenses in Gaza in 2009 and 2012, and argued that both Hamas Israel committed war crimes. The Israeli government, among others, has accused Amnesty and HRW of being overly critical of Israel and not focusing enough on Hamas' repeated crimes.
Hyman defended her organization's repeated reports on Israeli violations. "They ask us, 'Why don't you publish on Hamas in Gaza?' And we've said, 'Well, facilitate our access to Gaza.'"
She added, "it's much harder for us to assess these claims when we are not on the ground. We think it's in everyone's interest, including Israel, to help us get in."
Last week, Egypt blocked HRW representatives from entering the country to present a new report accusing the Egyptian government and military of likely committing crimes against humanity during the violent disruption of protest camps in July and August, 2013.
In another incident, Israel's Justice Minister on Sunday temporarily suspended a ban by the National Service Association barring Israelis from volunteering with the Israeli human rights group, B'Tselem, as part of their national service that can replace army service. B'Tselem is one of Israel's most prominent critics regarding the Palestinian occupation.