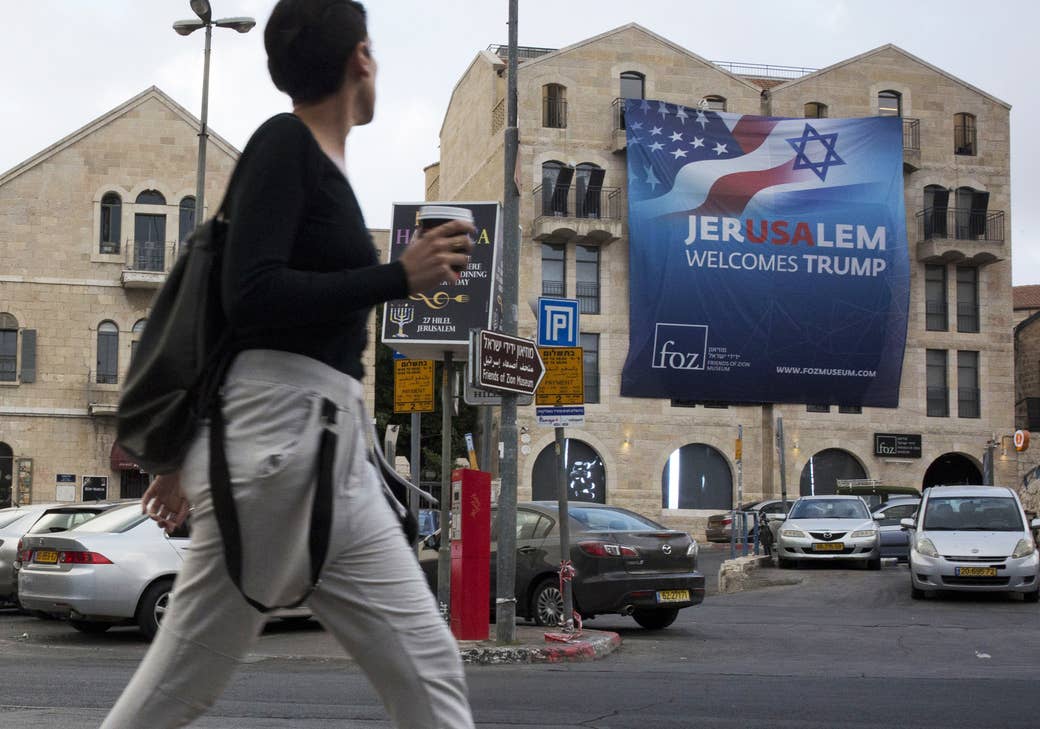 ASHKELON, Israel — Niran Dishi doesn't know anyone who doesn't love Donald Trump. Since he first saw Trump debating Secretary of State Hillary Clinton on television during the campaign last year, "all of my friends and all of my family love him," he said.

But what does he think about Trump's ties to the alt-right? Or the rise in anti-Semitism seen in the United States that some blame on Trump's campaigning style and advisers?
"No, I don't believe it," said Dishi, a 23-year-old Jewish Israeli construction worker from the south of the country. "They don't tell this to us… We've heard only good things about [Trump]. That's why we love him."
Dishi still reads Israel's leading newspaper, Yedioth Ahronoth, but now prefers its main competitor, Yisrael Hayom, a free daily funded by Sheldon Adelson, the casino mogul, GOP fundraiser, and ally of Israeli Prime Minister Benjamin Netanyahu. The paper, not unlike newer media players in the US, has entirely upended Israel's media market. Critics describe it as Netanyahu's mouthpiece, positive coverage of Trump included; it's portrayed the US president as almost Messiah-esque, even as the relationship between Netanyahu and Trump grows more strained.
"Most of the Israelis love him because he understands our problems with the Palestinians and he realizes we are not guilty in this conflict," Dishi said. "We hope and we think that he will help us, more than Obama."
At least, that's the Trump that many Israelis know, as the first day of his two-day visit to Israel came to a close on Monday.
"What matters in the world today is not policy, it's identity," Amit Segal, a reporter for Israel's Channel 2, told BuzzFeed News. "And people see Donald Trump as an extension of the right-wing in Israel because he's anti-media and anti-elite."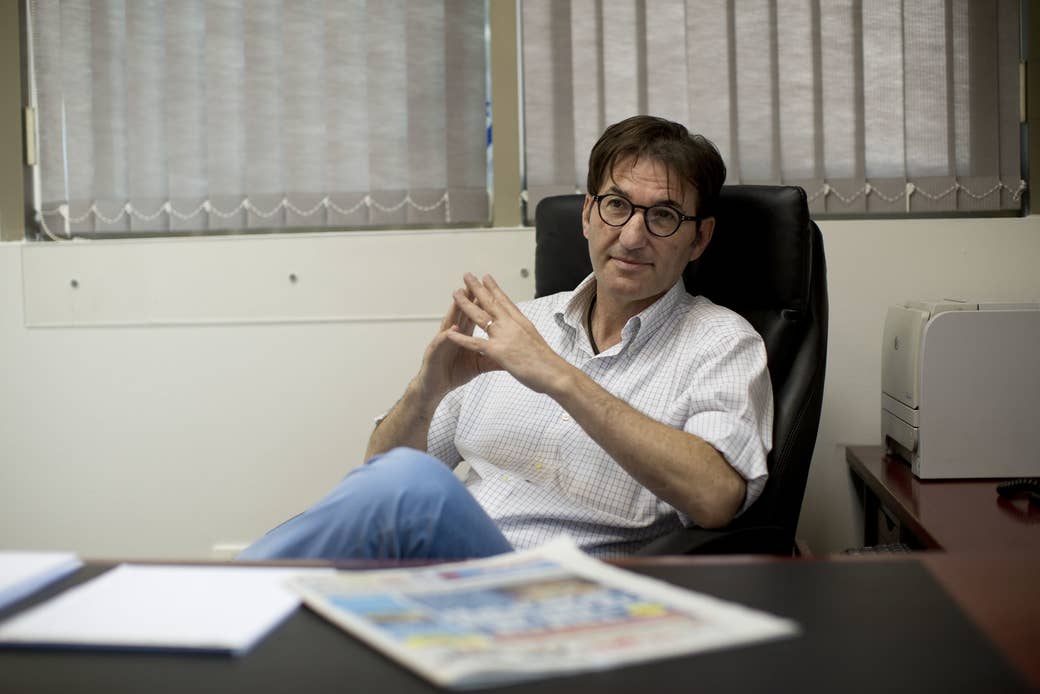 Boaz Bismuth, Yisreal Hayom's editor-in-chief, insists he's just reporting what he sees. "From day one [American media] needed all the to time to blame the Trump administration on everything," he told BuzzFeed News from his office in Tel Aviv, where the TV was tuned to Fox News for Trump's speech in Saudi Arabia.

Bismuth, who has dual French-Israeli citizenship, is a fast-talking 52-year-old who's reported from all around the Arab world for Israeli media. These days he's famous as Israel's biggest Trump fan.
Bismuth recently moved to the top post after his former boss resigned, reportedly forced out over coverage critical of Netanyahu and his wife. Bismuth has had several exclusive interviews with Trump, including one just before the Israel trip began. The newspaper's cover last weekend — a tense time for US and Israeli officials clashing over polices, mixed messaging, and logistics — showed a smiling Bismuth standing alongside the seated president in the Oval Office.
Yisrael Hayom is also adept at sidelining the Trump news that counters its narrative — a tactic the paper has honed positively covering Netanyahu, said media critic Oren Persico of the Seventh Eye, Israel's independent media watchdog.
Most of Israel's media, however, paints a different picture. The White House's decision not to mention the 6 million Jews killed in its Holocaust Remembrance Day statement — followed by press secretary Sean Spicer's denial that Nazi Germany gassed Jews — still stings. The news cycle just before the trip ran with reports angering Jewish Israelis: from Trump sharing intelligence allegedly relayed by an Israeli spy to Russia, to members of his administration clashing with Israel over the status of the Western Wall.
"Israelis aren't big fans of 'political correctness' and don't really care if someone makes the wrong statement, but hurting our intelligence is something that has real-world consequences," Amir Tibon, a leading Israeli journalist currently covering Washington, DC, for Haaretz, said in an email.
Still, Israelis generally don't follow American news that closely — nor are they likely to with today's crazed news cycle and Israel's own domestic concerns. And even when it's covered, Israeli media aren't well-regarded by their readers. The 2016 Israeli Democracy Index found that only 24% of Israelis trusted the media, down from 35.5% in 2015. Netanyahu, pulling the Trump Card, posts videos to his popular Facebook page blasting "fake news" and Israeli journalists criticizing him. (Netanyahu is currently under investigation in two corruption cases.)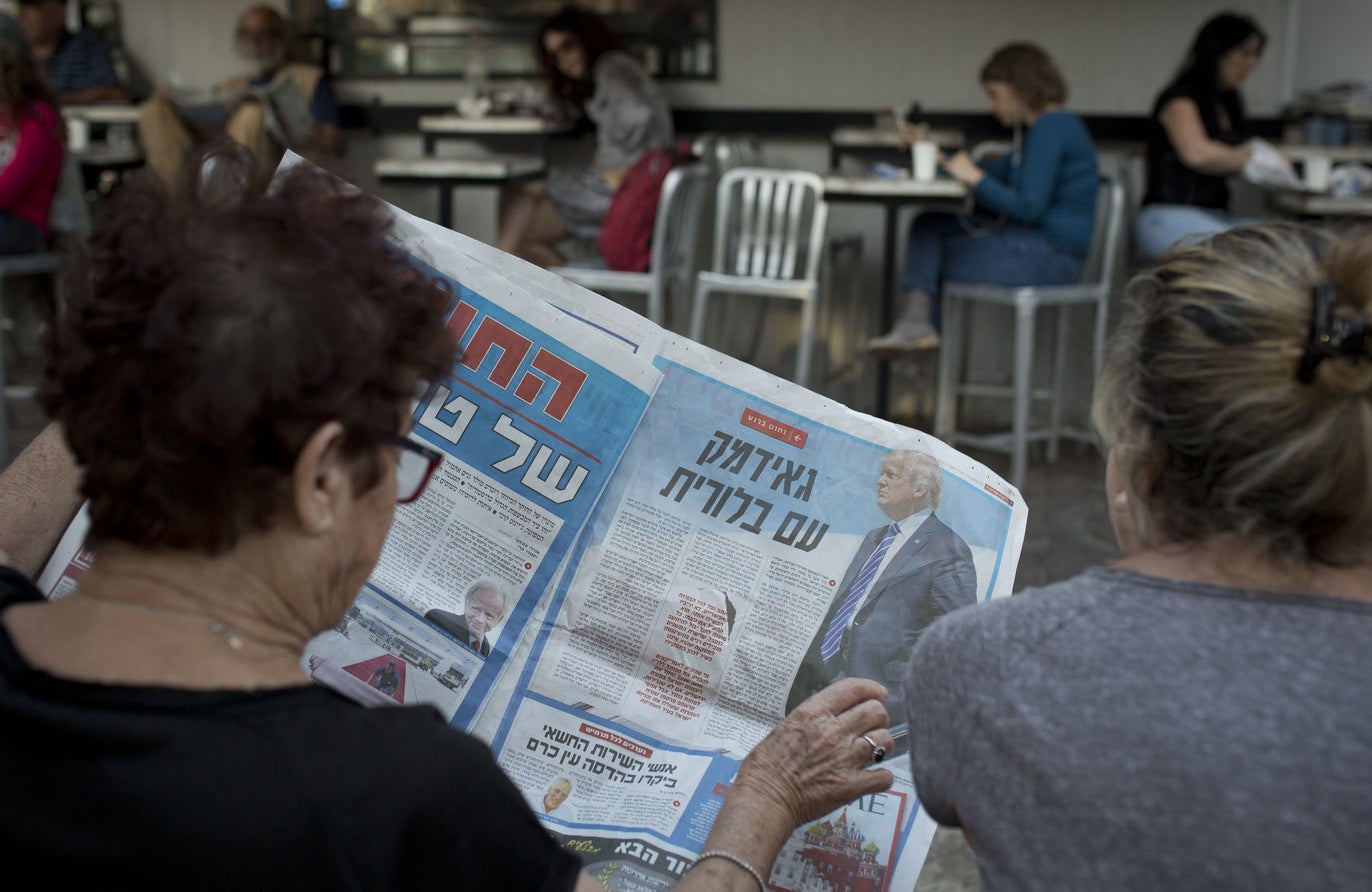 "I think Israelis have a sense that Trump in his gut feeling likes us, and that his strategic outlook (as far as there is one) is good for Israel and bad for Iran, so they are willing to forgive certain tactical disagreements," said Tibon.
Israel has the most right-wing coalition in its history, and leading politicians exalted Trump's election after eight years of Obama. Education Minister Naftali Bennet, Netanyahu's key competitor from the right, declared Trump "the most Zionist President in years" and boasted that "the era of the Palestinian state is dead."
Israel's embattled and marginalized left, meanwhile, offered their American counterparts words of support and guidance. (Palestinians with Israeli citizenship make up about 20% of the population, though their political muscle inside the Israeli government is almost negligent.)
At times the tone has hardened. But for Netanyahu, Bennet, and the Israeli right, it's all game for domestic politics, said Israeli journalist Tal Schneider, who covered the US election. Trump's repeated gaffes and unfulfilled promises don't play well for Netanyahu, providing an opening for Bennet, who heads the extreme Jewish Home party, to criticize the prime minister as not right-wing enough for today's politics.
The question now: At what point will what Trump says versus what he'll actually do affect the people reading Yisrael Hayom and other pro-Trump publications? A poll last week reported that only 56% of Jewish Israelis considered Trump's administration more pro-Israeli than Palestinian, down from 79% in January. Still, only 4% considered him more pro-Palestinian than Israeli. Israelis, it seems, are seeing themselves as stronger and better off under Team Trump, particularly compared to Obama.
Trump has said he wants to pursue an "ultimate deal" with the Palestinians to end decades of violence and occupation. He's also infamous for bankrupt promises. Netanyahu, moreover, prefers the status quo and "is a tactical artist in making sure nothing happens," Schneider says.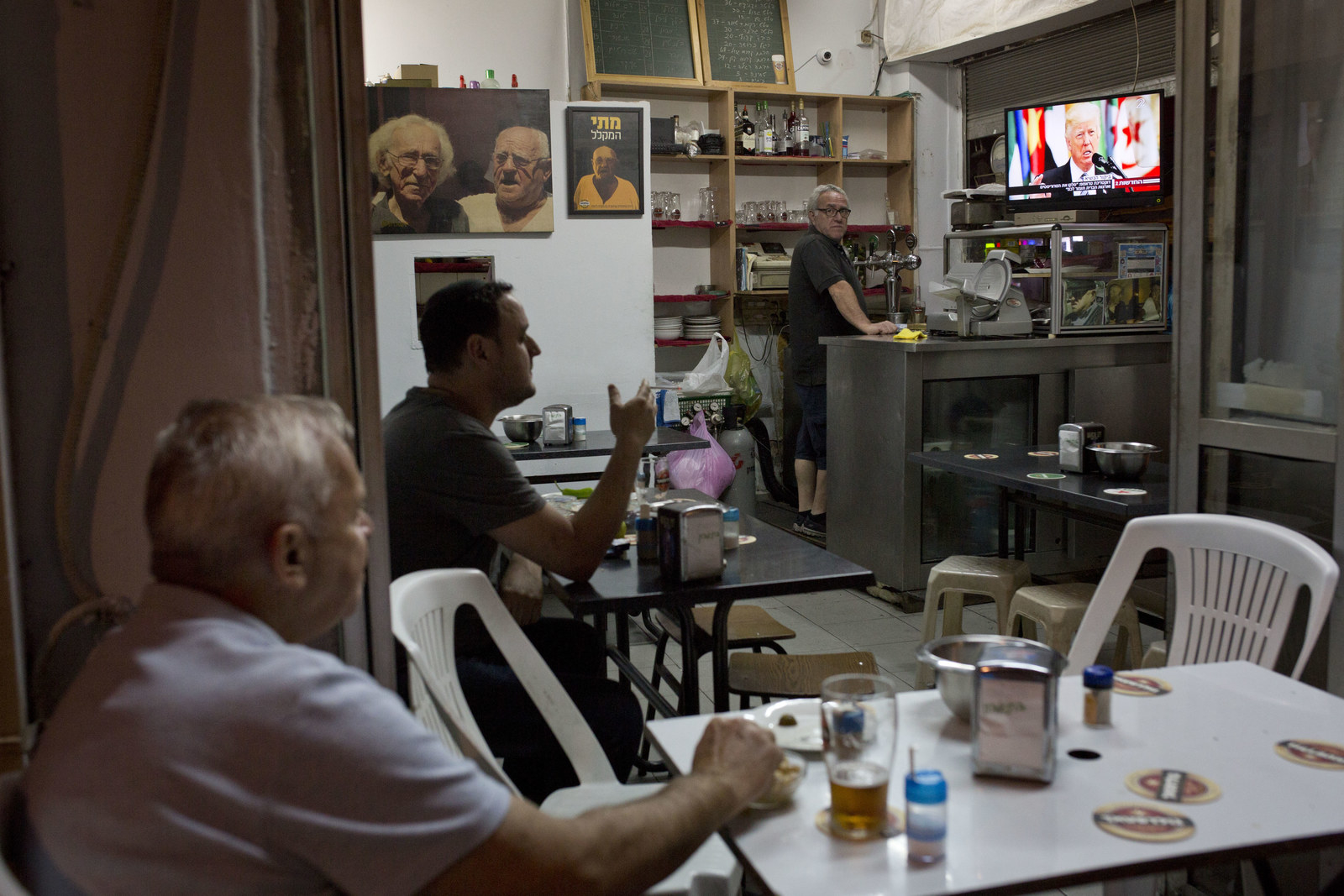 From the hilltops of the clean and manicured Bet El settlement in the West Bank, Chaim Silberstein is confident that the lines are already drawn in his favor, no matter what Trump says.
Silberstein is a leader in the Local Council for this religious settlement of 7,000 people overlooking Ramallah, the Palestinian seat of government. Bet El has been in part funded by America's new Ambassador to Israel David Friedman, who was the volunteer head of the American Friends of Bet El Institution, which advocates against Palestinian statehood. (Other funders have included Jared Kushner.)
Netanyahu's government and its allies clashed frequently with the Obama administration over the spread of Jewish settlements in the West Bank, a position that their supporters hope will change under Trump.
"My expectations are of him [Trump] are as a wild card but I am more optimistic with him than the Obama administration because there are people in the administration that we can talk with," said Silberstein, citing Friedman and Kushner. Bet El runs the pro-settlement media outlet Arutz Sheva, for which Friedman has been a columnist.
Trump also joined several former presidents when he said he'd move the US Embassy to West Jerusalem, a potential coup for the Israeli government eager to assert its sovereignty over the disputed and divided city. (Currently all foreign embassies are in Tel Aviv.)
That he hasn't yet is disappointing to Silberstein, but again it doesn't change his opinion, as he maintains Trump wants to and will move the embassy in the future — with the right guidance.
"If President Trump tries to make us do things that are against Israel's interest, I don't think it will be because he doesn't like us, but because he's making a mistake," Silberstein insisted. "And that's the main difference from Obama."