Indian TV Channel Says Video Shows How Hamas Fires Rockets
India's NDTV released a rare video of what they describe as Hamas militants assembling and firing a rocket from a densely populated area.
India's NDTV released a video Tuesday that they say shows Hamas militants assembling and firing a rocket from right outside their hotel window in a densely populated area in Gaza.
Israel has repeatedly charged Hamas with using civilian areas as cover for firing rockets into Israel, in violation of international law. Hamas has repeatedly denied the allegations and charged Israel with violating international law by indiscriminately targeting civilians. The four-week war between Israel and Hamas in Gaza has left more than 1,800 Palestinians, mainly civilians, and 65 Israelis dead, more casualties than in the previous two wars in 2012 and 2009.
NDTV's news staff reported that this blue tent first appeared outside their hotel window on Monday. Then three men began to connect wires to what NDTV speculated was a hidden rocket launcher. Later that day, the men removed the tent and left the area.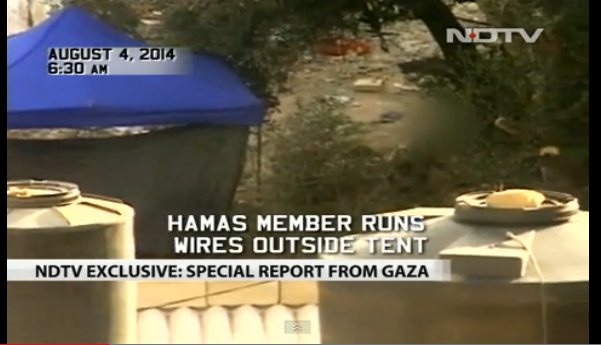 The next day NDTV's staff captured what they claimed to be a rocket being fired from the area outside their hotel window where the blue tent had been the day before. The exact moment of the rocket's launch is not captured in the available film.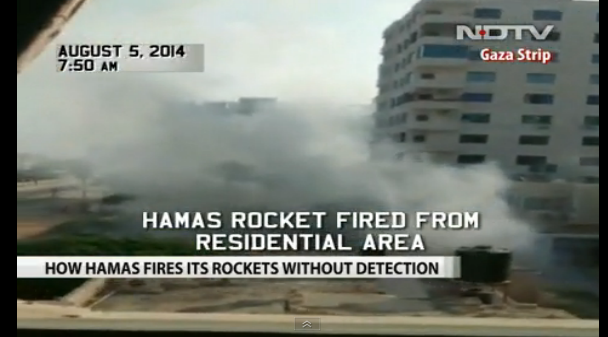 Many have questioned why journalists have been unable to photograph or follow Hamas attacks in Gaza. Award winning New York Times photographer Tyler Hicks described the situation he faced reporting in Gaza in a blog post published Tuesday:
"This is a war fought largely behind the scenes. Hamas fighters are not able to expose themselves. If they were to even step a foot on the street they would be spotted by an Israeli drone and immediately blown up. We don't see those fighters. They are operating out of buildings and homes and at night...

...If we had access to them, we would be photographing them. I never saw a single device for launching the rockets to Israel. It's as if they don't exist."