Indian Editor Accused Of Assaulting Female Colleague In An Elevator
In the latest claims of sexual assault to rock the India, a female journalist has accused the editor-in-chief of one of India's leading investigative magazines of sexually assaulting her twice in a hotel elevator earlier this month.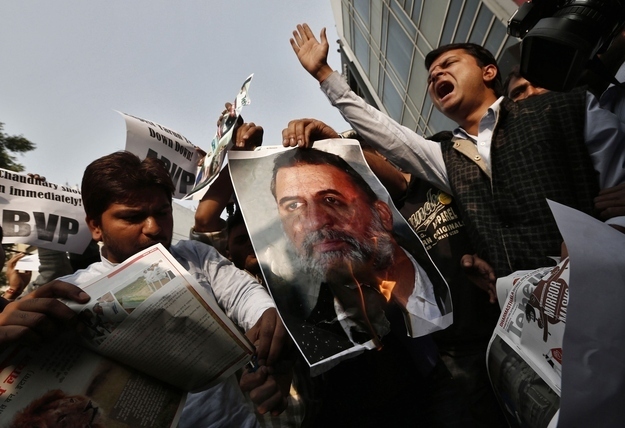 A police complaint was filed on Friday against the editor-in-chief of a popular Indian newsweekly amid accusations that he sexually assaulted one of his journalists in a Goa hotel.
The victim, whose identity has not been disclosed, did not file a formal police report against the editor, Tarun Tejpal of Tehelka magazine, but described the incident in an email to a superior. The email was then leaked to the media.
The victim alleged that Tejpal assaulted her twice in a hotel elevator on Nov. 7 and 8 during a conference in the Indian state of Goa. The BBC reported that an unidentified confidante of the victim told the Indian NDTV news channel, "The act happened continuously over a period of time... and despite the girl pleading that she is almost the age of his daughter... she pleaded 'please don't do this'... her 'no' was not accepted... it happened once and it happened the next day."
After the allegations surfaced, Tehelka's managing editor, Shoma Chaudhary, put Tejpel on a sixth month vacation. Tejpal has denied the allegations and says he is being framed by "political forces."
Yet, according to Indian news reports, Tejpel reportedly recently sent the victim a message apologizing "unconditionally for the shameful lapse of judgement that led me to attempt a sexual liaison with you," and urging her to remain at Tehelka. The victim has reportedly refused to accept his apology.
Tehelka has a reputation as being a tough critic of the Bharatiya Janata Party (BJP), one of India's two main political parties, and is a leading magazine for investigations, including reports on sexual assault . On Twitter, users criticized it for its hypocrisy, and chided Chaudhary, who is a woman, for siding with Tejpal and furthering the media circus surrounding the case. Others expressed their outrage at the rampancy of sexual assault in India — where a women is reportedly raped every 20 minutes — and the persisting gender inequalities in Indian journalism.
This latest assault allegation has enraged many Indians, who have turned to #TehelkaSexScandal and #ShameOnTehekla to debate the case.







The case is still ongoing. Tejpal has not yet been formally charged or arrested. Tomorrow, a police team from Goa is due to arrive in New Delhi to question Tejpal.