Image Of Woman Allegedly Beaten By Police At Muslim Brotherhood Protest Raises Anger And Speculation
In a day of clashes, three people were killed and 265 arrested, according to Egyptian authorities.
This image of a woman in a red hijab allegedly being beaten by Egyptian police forces at a pro-Muslim Brotherhood rally in Cairo's Nasr City neighborhood has ignited shock, anger, and speculation on social media.

The source of the image has not been officially verified. Activists say that it came from a Facebook page that has since been taken down.

As the image of the beaten woman circulated, some claimed that the woman had been photoshopped in, posting this photo as evidence. Egypt is notorious for the spread of misinformation.
In response, journalists and Muslim Brotherhood sources posted this series of frames in support of the first image.
Some noted that the new image was reminiscent of the woman known as "the blue bra girl," who was photographed being stripped and beaten by Egyptian police during a protest in 2011.

Egypt has a history of police brutality against female protesters. In 2008, thugs were allegedly sent to assault anti-government female protestors. In 2011, military police subjected female demonstrators to virginity tests.
The photograph emerged as clashes broke out across Egypt between security forces and supporters of the Muslim Brotherhood and ousted President Mohammed Morsi, leaving three dead and another 265 arrested, according to Egyptian authorities.
The violence followed a Dec. 25 declaration by Egypt's military-backed government that designated the Muslim Brotherhood a terrorist group. Under anti-terrorism laws, participants in Brotherhood protests now face five years in prison, and group leaders can be sentenced to death. In statements released after the decree, the Ministry of Interior clarified that "even women" would be subject to the harsher penalties.

Friday is a popular protest day in Egypt. But today's pro-Brotherhood marches came after the new decree, carrying the heaviest potential risk since the group's initial legalization following the 2011 ouster of former president Hosni Mubarak.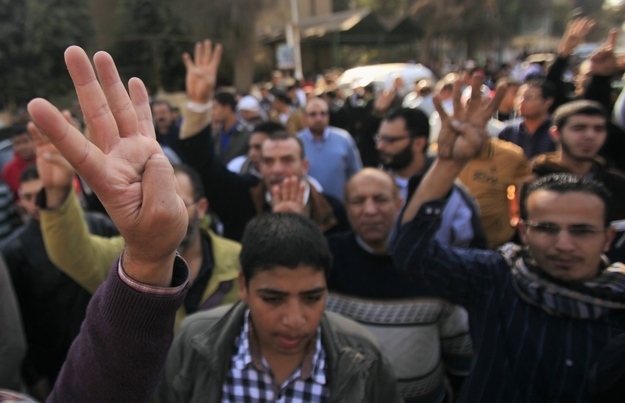 Clashes broke out at Al Azhar University in Cairo, where one student was killed. Protestors also clashed with police firing tear gas and water cannons in several other cities across the country.



Egyptian politics have become increasingly polarized along pro- and anti-military lines following the ouster of president in Morsi in July, and a subsequent military crackdown on the Islamist and secular-liberal opposition in the months since. Earlier this month, Egypt enacted a harsh anti-protest law that provides up to the three years in prison for participation in unsanctioned protests.
Update: Dec. 28, 12:13 p.m. ET: A student at Egypt's main Islamic university was killed today during protests at the school that threatened to disrupt midterms, the AP reports.
In addition to the student's death at eastern Cairo's Al-Azhar campus, an administration building was set on fire and students fled from their exam rooms.
There have been frequent clashes at the school in recent weeks, with professors and officials accusing the protesting students, who support ousted President Morsi, of blocking classroom entrances and harassing other students.