The headlines of Tuesday's Ugandan tabloids vehemently backed the country's new anti-LGBT law, claiming to expose the names and faces of LGBT Ugandans.
Ugandan President Yoweri Museveni signed the bill into law on Monday after months of wavering. This headline is from 2010, shortly before the Ugandan parliament first proposed the law.
Under the new legislation, homosexual conduct can be punished with up to a lifetime in prison.
Here is one of the stories published Tuesday:
Radio France International interviewed Red Pepper's News Editor, Ben Byarabaha. He justified his list by staying that the names published were of known LGBT sympathizers who had spoken at conferences.
"Do you think you are likely to sell more copies with this list of sympathizers or less copies?" RFI asked. "More copies," Byarabaha responded.
Headlines like these are a recurring theme in Ugandan's notoriously corrupt and sensationalist media. Critics say the strong anti-LGBT rhetoric in tabloids like the Red Pepper and Rolling Stone is also a commercial ploy to increase readership.
In January 2011, a prominent Ugandan LGBT activist, David Kato, was beaten to death weeks after a newspaper published an article listing the names and addresses of gay Ugandans under the headline "Hang Them."
East Africa's most popular newspaper, the Nairobi-based Daily Nation, however, reported on the Ugandan headlines with critical context.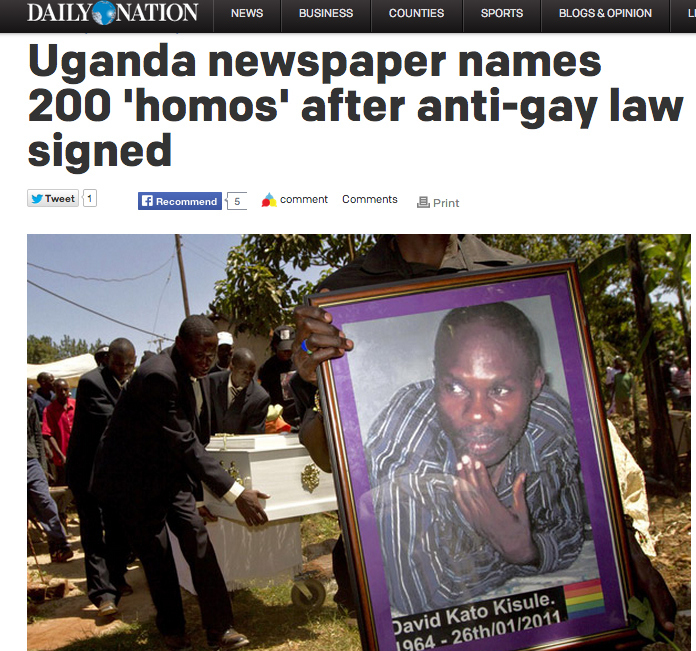 Anti-LGBT sentiment is on the rise in many parts of Africa, where leaders often equate anti-LGBT and anti-Western rhetoric in a ploy for popular support.