Gunmen Attack Luxury Hotel In Kabul
The Serena Hotel is frequented by journalists, United Nations staff, and Afghan and foreign officials. UPDATE: Nine civilians have been reported killed, including two children, four foreign nationals, and a Kabul-based journalist for Agence France-Presse (AFP).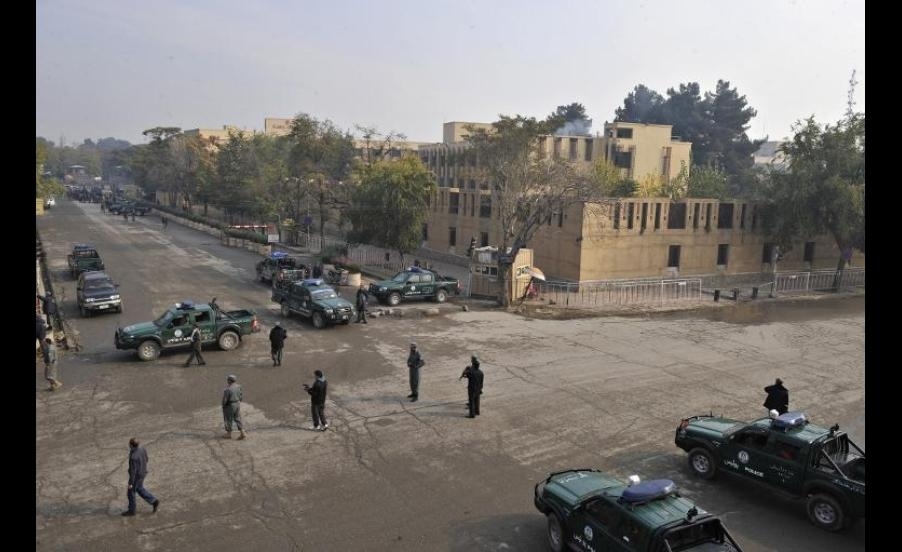 Updated: March 21, 11:05 a.m., ET:
Four teenage gunmen attacked Kabul's Serena Hotel, a luxury hotel frequented by foreigners and dignitaries in Afghanistan's capital, Thursday night, March 20, killing nine civilians, including two children, four foreign nationals, and a Kabul-based journalist for Agence France-Presse (AFP). The Taliban has claimed responsibility for the attack, in which the four armed assailants also died. Initial news reports claimed that no staff or guest members were wounded.
Among the dead was Sardar Ahmad, a 40-year-old journalist in AFP's Kabul bureau, who was killed along with his wife and two of their three children. The third child is undergoing emergency treatment for wounded sustained in the attack, the AFP reported. AFP editor-in-chief Phil Chetwynd called Sarfar's death "an unspeakable tragedy."
"Sardar was not only among the very finest journalists in Afghanistan, but also a wonderfully optimistic and engaging personality," Chetwynd said. "He has been the pillar of our bureau for the past decade and a great friend to many AFP colleagues."
The gunmen entered the heavily fortified hotel by hiding the pistols in their socks. Interior Ministry spokesman Sediq Sediqqi told reporters. Two hotel guards were also wounded. Staff and hotel guests took refuge in the basement during the three-hour standoff. The Taliban said the attack was targeting foreign guests and Afghan dignitaries taking part in celebrations for Nowruz, the Persian new year, according to the AP. The Wall Street Journal reported that the gunmen began firing in the restaurant, where Afghan and foreign officials often gather. Soon after the attack began Afghan special forces entered the hotel, which security forces also surrounded, according to the BBC.
The Serena Hotel is considered one of the safest spots in Kabul, which in recent months has experienced a spike in violence, particularly toward Westerners. The hotel is a common gathering point for journalists, United Nations staff, and political dignitaries in Kabul, many of whom are in the capital for Afghanistan's upcoming presidential elections. Insurgents have vowed to disrupt the elections, and have issued statements warning that westerners will be targeted.
The Serena Hotel is now heavily fortified with several layers of security and searches following a 2008 attack when Taliban gunmen stormed the hotel, killing eight. The Taliban also fired rockets at the hotel in 2009 and 2010.
Earlier on Thursday, seven Taliban fighters raided a police base in the eastern city of Jalalabad, killing themselves as well as 10 Afghan policemen and one civilian.
On March 11, two gunmen in Kabul shot and killed Swedish journalist Nils Horner in broad daylight. Horner was the first foreign journalist killed in Afghanistan since 2011. A Taliban splinter group reportedly claimed responsibility.