Even A Twitter Ban Couldn't Stop #GenevaTalks From Trending In Iran
Iranian diplomats announced news of the historic Iran nuclear deal via Twitter — which is technically banned in Iran. Users, nonetheless, took to social media to share their reactions with the English-speaking world.
Twitter is technically banned in Iran — but #IranTalks and #GenevaTalks were trending in the hours after yesterday's historic nuclear deal.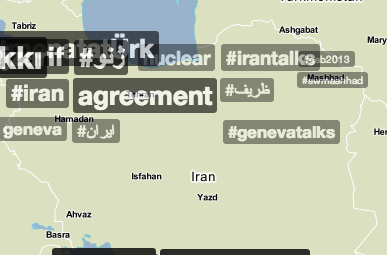 "This is how we spent last night."

Many expressed their excitement.

Few western journalists are allowed in Iran, making Twitter a pivotal aggregator of street views for the English-speaking public.



Others online trolled Iranian Foreign Minister Javed Zarif to make their voices heard.

Meanwhile, Iranian media coverage was also a topic of conversation.
When Iranian Foreign Minister Javad Zarif returned to Tehran from Geneva on Sunday, Iranians gathered en masse to cheer — and document — his return.


Amid the impassioned reactions, Iranians also shared their sentiments via satire.

The irony was also not lost that in Iran, Twitter diplomacy can still only go so far.