Yesterday, many Egyptians were elated when TIME announced that General Abdel Fattah El Sisi — who ousted Egypt's first democratically elected President and oversaw violent crackdowns on opposition — had won the Person of the Year reader's choice poll.
Long live #Egypt... #Sisi #Army #ThePeople
In his first "election" as Egypt's leader, Sisi received almost 600,000 votes, or 26.6% of the online total. His top competitors — Turkish Prime Minister Recep Tayyip Erdogan (an Islamist-leaning leader who oversaw a violent crackdown on the Gezi park protests in May) and Miley Cyrus (no introduction needed) — followed with 206.% and 16.3% of the vote, respectively.
Many others on the Internet, however, were not only appalled at the outcome, but also frustrated with the poll's domestic politicization.
The Egyptian state and privately-owned media, which are notorious for recycling government misinformation, were quick to cover the story with a positive Sisi spin.
They also confused Sisi's success in the magazine's online POY reader's poll with the official POY designation, which TIME will announce separately on December 11.
Since the military-backed ouster of Mohammed Morsi on July 3, General El Sisi's popularity has soared. Egyptian politics have polarized along pro- and anti-Morsi lines, leaving little room for opposition in a country long-ruled by authoritarian leaders.
A story on December 3 in the state-owned Al Ahram newspaper is a telling example of how the TIME poll was used to vilify Sisi's opposition — in this case the Muslim Brotherhood — and justify human rights abuses.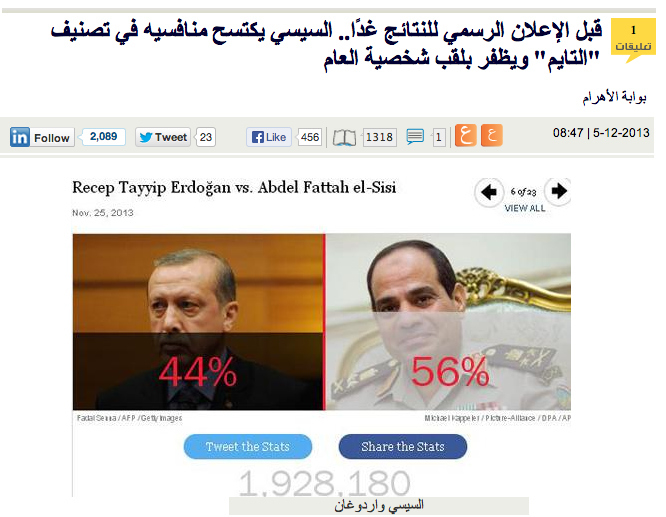 The article used the poll to justify Sisi's legitimacy and to vilify the Muslim Brotherhood as against Egypt's interests: "It seems that Egyptians are enthusiastically leading the campaigns to vote for Sisi on TIME and other social media sites, whereas the Muslim Brotherhood in and outside of Egypt are supporting Turkey's Prime Minister Tayyip Erdogan." The article continued to claim that Morsi had been a candidate in the beginning, but "the non-Brotherhood Egyptians" voted against Morsi and prevented him from participating. (Morsi was a runner-up in last year's reader's POY poll. Human Rights Watch lawyer and women's rights advocate Heba Morayef was also in the running this year for top 100 people.)
Many on Egypt's vibrant Twitter sphere responded to the politicized hysteria with typical snark.



Others noted that controversial figures — like Hitler — had also attained this designation in the past. "You say Sisi is in Time Magazine. Well, look."
Commentators also called into question the poll's larger utility.

As TIME readers await to see who the magazine will choose as the official 2013 POY, Egyptians have another question in mind: Will Sisi next run for President?