Ebola Is Likely The U.N.'s "Greatest Peacetime Challenge," World Health Organization Says
The United Nations Security Council held a first-ever emergency session on Ebola on Thursday.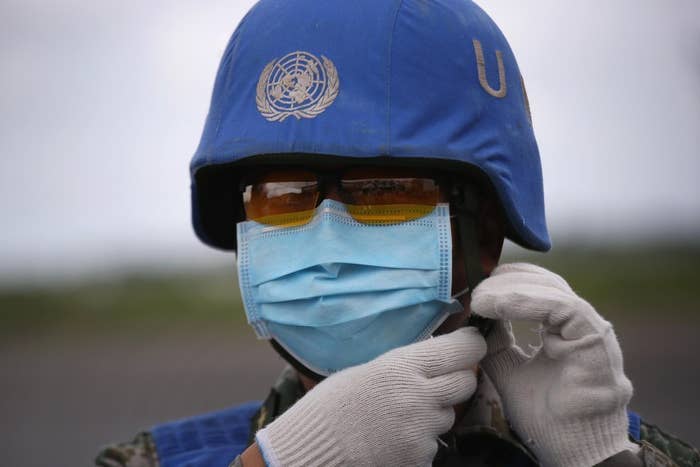 The United Nations Security Council (UNSC) declared Ebola a "threat to international peace and security" in an unprecedented emergency meeting on the disease's deadly outbreak in West Africa on Thursday.
"This is likely the greatest peacetime challenge that the United Nations and its agencies have ever faced," World Health Organization Director General Margaret Chan told the council. "None of us experienced in containing outbreaks has ever seen, in our lifetimes, an emergency on this scale, with this degree of suffering, and with this magnitude of cascading consequences."
Watch Chan's speech here.
The 15-member body also unanimously passed a resolution that calls on states to lift general travel and border restrictions that adversely undermine the abilities of Ebola-affected countries to respond to the disease's outbreak.
The meeting marked the first time the UNSC ever held an emergency meeting to discuss a public health crisis, and only the council's second-ever meeting on a public health issue.
Ebola has infected more than 5,300 people and killed more than 2,500, according to WHO figures, with Guinea, Sierra Leone, and Liberia suffering the greatest casualty rates. As the disease began to cross borders and spread into densely-populated urban centers, many criticized both WHO and the governments of affected countries for not initially taking the disease's spread seriously enough.
On Tuesday, the White House announced that it would send 3,000 military personnel, equipped with medicine and healthcare tools, to the infected region. The U.S. and other Western countries have pledged to provide physical and material support to countries struggling to control Ebola — though Thursday's meeting emphasized just how great a global scare the diseased posed.
"This is not just an outbreak," Chan told the UNSC. "This is not just a public health crisis. This is a social crisis, a humanitarian crisis, crisis, an economic crisis, and a threat to national security well beyond the outbreak zones."