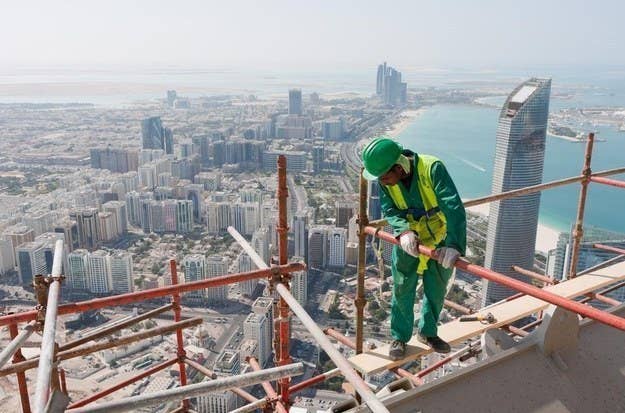 Professors and students at New York University have raised serious concerns over a potential conflict of interest between a member of its Board of Trustees and the companies tasked with looking into the mistreatment of workers at its controversial campus in Abu Dhabi.
NYU has promised to conduct a transparent and independent investigation into allegations of worker abuse, but some have doubts that this will be possible.
"The whole thing is smellier than a cesspit," NYU history professor Rebecca Karl told BuzzFeed.
Controversy erupted May 19, when the New York Times reported that construction workers building NYU's Abu Dhabi (NYUAD) campus were subject to widespread mistreatment — from withheld pay and passports to squalid living conditions — despite the university's claim that it had systems in place to make sure labor standards were high. NYU President John Sexton issued a rare, immediate apology to workers and promised a thorough and transparent investigation.
This week attention turned to NYU's Board of Trustees — and questions over the connections between one member, Emirati-born business man Khaldoon Khalifa Al Mubarak, and the institutions charged with monitoring NYUAD's labor conduct. Al Mubarak is chairman of Abu Dhabi's government-run Mubadala Development Company — responsible for building NYUAD's campus — and affiliated with Tamkeen, the Abu Dhabi agency hired to monitor the NYU project's commitment to worker rights. At the same time, Al Mubarak is well-connected with the Abu Dhabi government and serves as policy advisor to the country's crown prince, The Chronicle of Higher Education reported Thursday.
NYU has defended Al Mubarak's independence and denied his connections pose any conflict of interest.
Critics, however, allege that NYU and the oil-rich Abu Dhabi government have not done enough to ensure fair labor standards — and are concerned that they have given no further details about the shape and scope of the forthcoming investigation.
"The whole point of our presence there was to pioneer a certain kind of conduct," NYU Professor Andrew Ross said. "We have a responsibility, even more so now, to be part of the solution going forward."
The Abu Dhabi government funds students at NYUAD and financed the new main campus on the luxurious Saadiyat Island, where the Guggenheim and Louvre, among others, are also building branches. Al Mubarak was reportedly an influential figure behind NYU President John Sexton's decision to develop NYUAD, the region's only liberal arts institution.
NYU English professor John Archer told BuzzFeed that he and other colleagues found Al Mubarak's connections to companies that both carried out and monitored NYUAD's project "very distressing." He added, "I think due diligence was not taken to prevent these conflict of interests."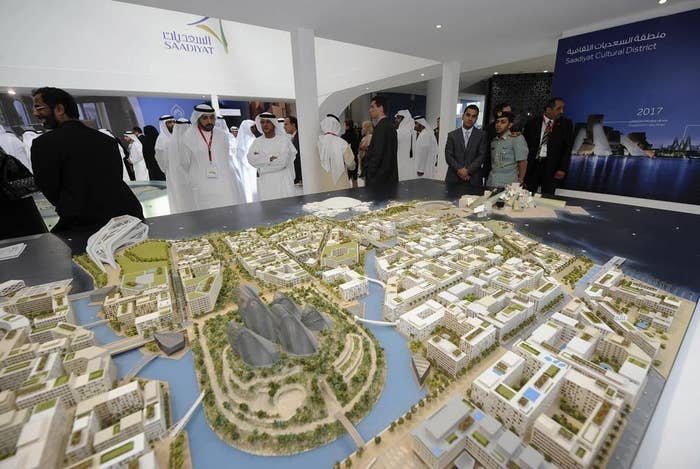 The Times article was the latest in a string of human rights and media reports documenting the systematic mistreatment of largely South Asian migrant workers in Abu Dhabi, and the Gulf more generally, where political and media freedoms are tightly restricted and basic labor rights like collective action are outlawed. On May 20, the UAE refused to print and distribute that day's issue of the International New York Times because it found the article on the abuse of workers at NYUAD "too sensitive for local publication."
NYU declined BuzzFeed's request for further details regarding its pledge to investigate conditions at the Abu Dhabi-financed campus. "We and our partners have committed to looking into the matters raised in the Times' article," NYU's John Beckman told BuzzFeed in an email. "I don't have specifics about the investigation at this point, but will be sharing them publicly when I do."
In 2009, NYUAD issued a "Statement of Shared Values" outlining its commitment to labor standards, and in 2010, NYUAD appointed the firm Mott MacDonald to monitor and audit compliance. Mott McDonald, however, is also contracted with the Abu Dhabi government and activists say that, like Tamkeen, these connections call into question the integrity of its role as an independent monitor.
In March, members of the labor activist group Gulf Labor traveled to Abu Dhabi to visit the camps. Like the Times (and others like The Guardian and Human Rights Watch before them), Gulf Labor interviewed migrant workers involved with these projects and documented systematic violations of worker rights not reported in Mott MacDonald and Tamkeen's reports.
The Coalition of Fair Labor, which comprises students and professors at NYU, along with other groups like Gulf Labor, has called on the university to hire an independent, third-party organization to carry out the investigation. The task of finding one, however, is a difficult: The lines between private and government business are blurry in the Gulf, where a few key players and networks dominate both the economy and politics. Archer suggested that independent NGOs, or international groups like the International Trade Union Confederation or the UN's International Labor Organization, could be used.
"If it's an internal organization, we simply can't trust that it will be independent," Archer said.
The controversy has divided faculty at NYU and NYUAD. On May 25, former president Bill Clinton addressed the labor abuse issue in his speech to NYUAD's first graduating class. On Wednesday, NYU's faculty senate held an emergency meeting to discuss a coordinated response. That same day, 50 of NYUAD's approximately 200 professors published a letter on The Chronicle of Higher Education expressing their support for NYUAD and its pledge to investigate. The Coalition for Fair Labor at NYU has started a petition calling on NYU to be more active in preventing abuse.
"NYU laid out its principles and failed to live up to them," Professor Rebecca Karl of NYU said. "This is not just a PR discursive war. Actual people have been harmed, and continue to be harmed in this process. And that is not a position that a university should be in."