CNN has pulled correspondent Diana Magnay from covering the Israeli-Palestinian conflict and reassigned her to Moscow on Friday, a day after she tweeted — and then deleted — that Israelis threatening her and cheering at the bombing of Gaza were "scum."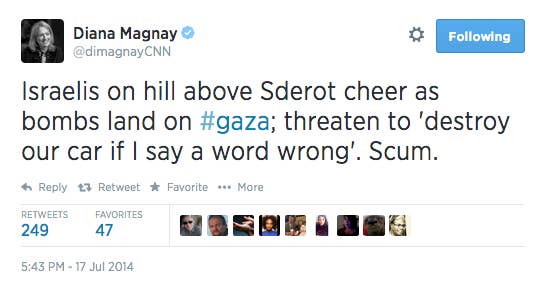 Magnay's tweet was retweeted over 240 times before she deleted it, as first reported by BuzzFeed. News of the delete soon went viral.
On Friday, CNN issued an apology to anyone offended by Magnay's choice of words.
"After being threatened and harassed before and during a liveshot, Diana reacted angrily on Twitter," a CNN spokeswoman told BuzzFeed by email. "She deeply regrets the language used, which was aimed directly at those who had been targeting our crew."
On Thursday, NBC also removed award-winning war correspondent Ayman Mohyeldin from covering Gaza, a day after Mohyeldin live-tweeted as an Israeli strike killed four children near his hotel in Gaza and posted — and then deleted — a tweet critical of the U.S. State Department's response. An NBC official told The Intercept that Mohyeldin's removal was based on security considerations. NBC has not responded to BuzzFeed's request for comment.