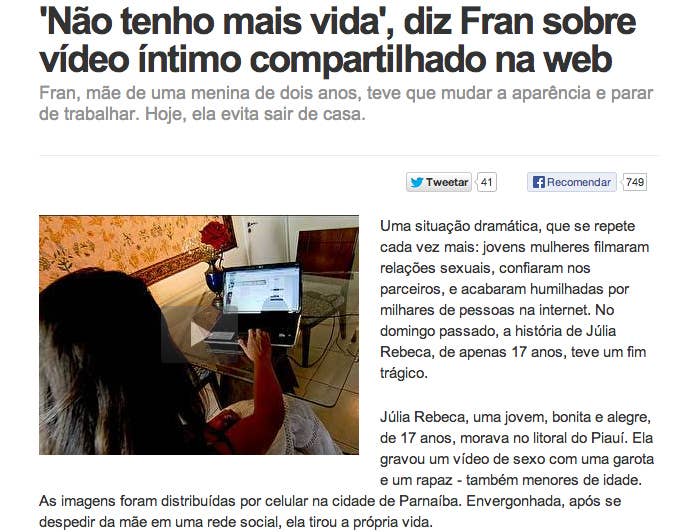 The suicide of a 17-year-old Brazilian woman who was reportedly the victim of revenge porn has sparked an outrage in Brazil, where incidents like these are reportedly on the rise. The girl, Julia Rebecca from the coastal city of Piauí, allegedly hung herself on Nov. 10, after a sex tape of her with a male and female, also minors, was posted online. Police are investigating who released the recording.
Brazilian media described Rebecca as cheerful and studious and a fan of Miley Cyrus. Her family reported that in the weeks before her suicide she had grown increasingly reclusive and depressed after the video was posted online. The night of her suicide she tweeted several suicidal comments apologizing to her parents.
"I'm scared but I think this goodbye is forever."

"I love you, I'm sorry for not being the perfect daughter but I tried, I'm sorry I'm sorry I love you so much."

"It's soon that everything will end."

In the wake of Rebecca's death, Brazilian media have emphasized that hers was not an isolated incident. Last week popular Brazilian TV show called Fantastico aired a segment sharing the stories of other victims of revenge porn and relationship abuse.
In another incident, Thamiris Sato, a 21-year-old University of São Paulo student reportedly chose to publicize her personal struggle after hearing Rebecca's story. Sato alleges that her ex-boyfriend spread nude pictures of her online and threatened to kill her. She said she contemplated committing suicide and had to take a leave of absence from classes because of psychological distress due to her anger and humiliation.
"After private video was published online, teen committed suicide."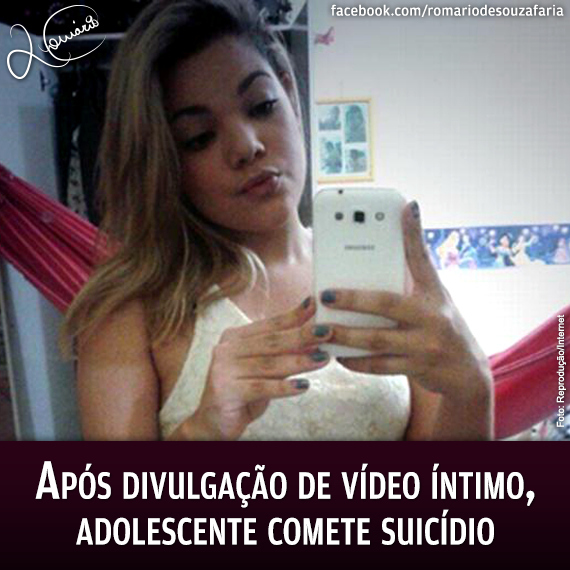 Activists hope that the increased media attention and public pressure will spur politicians to act. A draft bill in the Brazilian parliament proposed in October would outlaw the disclosure of any material containing nude scenes, sex, or obscene acts without the victim's permission. Violators would be punished with a fine and up to three years in prison.
According to an online survey, 90% of Brazilians polled would vote yes for the bill as of Wednesday. Broken down by gender, 98% of the women who took the poll voted yes, compared to 85% of the men.
The bill was proposed by Romario de Souza Faria, known just as Romario to most Brazilians, who is a former soccer star turned politician. Romario has gained political prominence for championing often-taboo issues. His support for the criminalization of revenge porn has increased the campaign's public visibility and credibility. In public statements Romario has stressed that victims of revenge porn are not to blame, despite the prevailing social stigma against women involved.