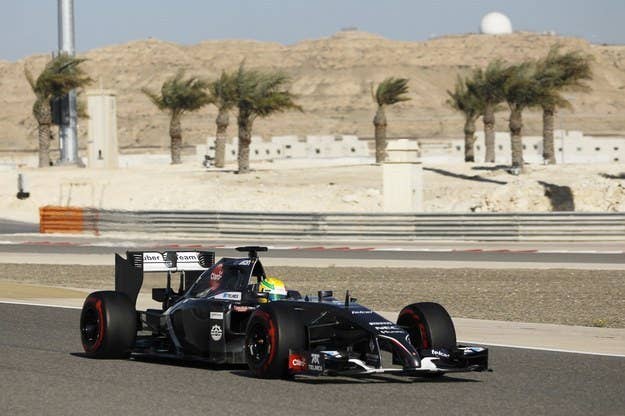 Bahraini human rights activists have called for a boycott of the Formula One competition set to start in Bahrain next week, alleging that the annual Grand Prix auto race leads to increased human rights violations in Bahrain and legitimizes the Gulf kingdom's crackdown on pro-democracy protestors.
"There is an environment of fear," Maryam al-Khawaja of the Bahraini Center for Human Rights told BuzzFeed from exile in England. "The amount of repression that happens — is it really worth to have this race?"
The Persian Gulf Kingdom of Bahrain canceled the Formula One race in 2011 after pro-democracy protests erupted that February. Bahrain — 3.5 times the size of Washington, D.C., and with a population of 1.3 million — is also a strategic asset for the U.S. military which bases its fifth naval fleet on the tiny island.
At the height of the Arab spring, protesters, including many from Bahrain's long-marginalized Shiite majority, united to demand democracy and government accountability. In response to the unrest, the government, aided by Saudi Arabia and masked by low media coverage, initiated a brutal crackdown: Close to 50 people were killed, hundreds injured, hundreds more arrests and tried in military courts, and more than 4,000 protestors expelled from their jobs or from university, according to Amnesty International. In the three years since 2011, the kingdom has continued to violently suppress dissent by arresting, detaining, spying on, and even torturing citizens, often on the basis of a sweeping anti-terrorism law.
The Grand Prix race returned to Bahrain in 2012 and 2013 — but activists claimed it did so at the expense of Bahraini human rights. The kingdom forbids international journalists covering Formula One from reporting on protests; during the 2012 race, it deported two journalists from Britain's Channel 4 for doing so. Human rights groups have also documented an escalation in violence and arbitrary arrests preceding and during the 2012 and 2013 races. In 2012, police fatally shot anti-government activist Salah Abbas Habib Musa amid anti-Formula One protests. In 2013, Bahraini activist Rihanna al-Mousawi was arrested by the Formula One race track, allegedly forced by police to strip naked during interrogations, and later sentenced to five years in jail. The BCHR estimates that 122 people have since died from protest related incidents, and more than 1,300 arrested.
Al-Khawaja said she sees no sign that this year the Bahraini government and people will act differently. In recent weeks, Bahraini protesters have taken to the streets, shouting, "No to the F1 of blood," and "Your F1 race is being held over our blood." Police have responded with arrests and house raids. "They [the Bahraini government] want to display the image of business as usual," al-Khawaja said, adding, "It's not like those who are arrested are just let out when the race ends."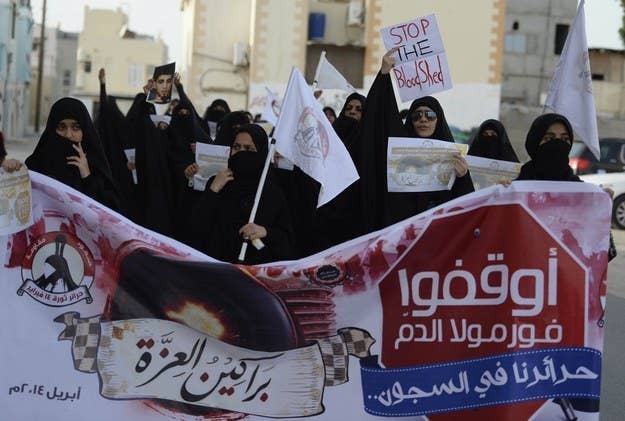 In January, a group of Bahraini NGOs, including Al Khawaja's BCHR, sent a letter to FIA President Jean Todt, urging him to suspend the 2014 Grand Prix race in Bahrain until the FIA Ethics Committee could investigate the race's impact on the country's human rights situation. In a response dated March 10 and obtained by BuzzFeed, Todt declined the request, writing that the FIA "has no legitimate right to become embroiled in the internal affairs of any sovereign state. Political questions must be addressed by the appropriate political bodies, not sporting ones."
Al-Khawaja dismissed this line of reasoning. She criticized the U.S., U.K., and other Western governments for largely ignoring Bahrain's plight in order to preserve their economic and political relations with Gulf Cooperation Companies (GCC), which are largely supportive of the Bahraini regime. The Al Khalifa family has ruled Bahrain for decades, and is also considered a key U.S. ally because of its proximity to Iran and good relations with Saudi Arabia.
The Formula One competition consists of 19 races, each hosted by a different country and organized overall by British-based International Federation of Automobiles (FIA). Formula One is more popularly watched by Brits and other Europeans, but a wide range of companies invest in the highly lucrative race. Formula One's revenues have risen 31.7% in five years to $1.6 billion, according to British journalist Christian Sylt, who covers Formula One. The race's business model is comprised of a complex network of largely long-term contracts, with revenues coming from a combination of race hosting fees, television broadcasting rights, and trackside advertising and hospitality rates. Bahrain's cancellation of the 2011 Grand Prix led to a $43.7 million drop in revenue, Sylt told BuzzFeed, citing numbers from the F1 Group, which owns the event's commercial rights.
Formula One finances have also not been without controversy. Chief Executive and British billionaire Bernie Ecclestone, who each year earns millions from the race, has faced corruption charges in Germany (not directly Formula One related). Bahraini activists also allege, but cannot document, that the Bahraini government inappropriately profits from hosting Formula One because it bought up much of the capital Manama's prime real estate, including the Formula One track, at artificially low prices.
But the human rights protests remain the main challenge to Bahrain's prestige event.
On March 20, Americans for Democracy and Human Rights in Bahrain (ADHRB) filed a complaint with the Organization for Economic Cooperation and Development (OECD) against Formula One's U.K.-based management, teams, and sponsors on the basis that "defendant organizations have not mitigated the human rights impact caused by holding the Formula One Grand Prix race in the country." In addition, the activists have sent letters to U.K. parliamentarians, as well as to racers and companies sponsoring the competition, asking them to reconsider their participation.
In the response letters obtained by BuzzFeed, all the respondents refused, citing preexisting FIA contracts. "However, we do not believe that it is appropriate or effective for corporations to sue sports as a platform to influence the policies of sovereign governments," U.S.-based General Electric wrote in a letter dated March 12. "Social and political issues among nations should be resolved by governments and their people through that nation's political process."
In March, ADHRB did successfully convince the British band Magic Drum to publicly turn down an invitation from the Bahraini government to play at Formula One. Instead, the band played a show at an event held by the Bahrain Institute for Rights and Democracy (BIRD), dedicating a song to the movement.
Those calling for a boycott have also joined forces with the Committee to Protect Journalists (CPJ), Reporters Without Borders (RSF), and IFEX to campaign for freedom of expression for all. "Every year in Bahrain we see the same circles happening," said Jason Stern of CPJ. "Whatever happens in Bahrain should be covered freely whether there's a race or not."
In this vein, the human and media rights groups are preparing a thunderclap campaign, in which they will unleash a "social media flashmob" of tweets calling for freedom for expression in Bahrain to coincide with the start of the first Grand Prix race on April 6. Stern told BuzzFeed that the campaign as of March 2 had reached 242 supporters, with the potential to reach 2.7 million viewers, or twice Bahrain's population.
Still, Sayed Alwadaei of the BCHR said that, three years in, he was disappointed how the U.K., U.S., and other Western government continued to ignore the Bahraini cause in order to preserve their economic interests and regional relations with Bahrain's neighbors. As the race approaches, however, Alwadaei said he remained convinced that part of the struggle now was to keep building alliances to harness later. "If we continue to see the same violations [in 2014] that occurred in 2012 and 2013, then I think our position will be strengthened that we called for the right thing," he said.