Bahrain Holds Forum Lauding Social Media While Violently Suppressing Twitter And Facebook Critics
Activists say that glaringly missing from the forum's agenda is discussion of the dozens of Bahraini bloggers and Twitter users imprisoned for criticizing the government online.
The Persian Gulf Kingdom of Bahrain has kicked off a two-day business forum on responsible social media use — but off the agenda is discussion of Bahrain's repeated repression of social media users and its violent crackdown of pro-democracy protestors.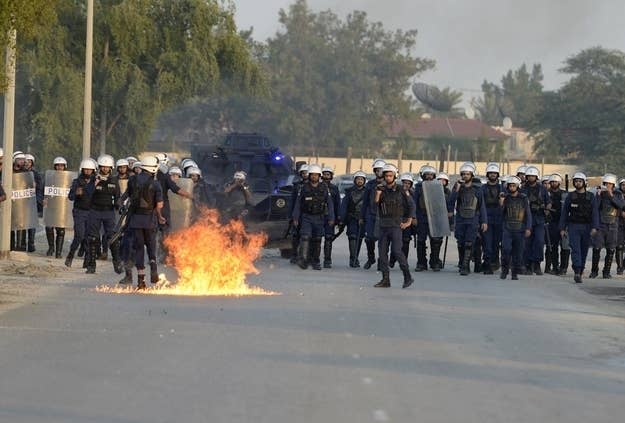 The two-day Social Media Masters conference began today at the high-end Movenpic Hotel in Manama, Bahrain's capital. The forum is organized by the Social Media Club, and held under the patronage of Bahrain's Minister of State for Communication Affairs Shaikh Fawaz Mohammed Ali Khalifa, reported the club's website. Bahrain convened a similar forum last year.
The conference is intended to address the increasing prevalence of social media in Bahrain by bringing together leaders and industry experts to discuss strategies for improving social media and business integration, according to the Social Media Club's website. Panelists include experts from the U.S., Canada, the UK, and the Netherlands, while TedX speaker Patrick Schwerdtfeger, whose YouTube feed describes him as "America's most inspiring Social Media speaker," was the event's keynote speaker. Internet penetration is high in Bahrain; according to their government, Bahrain, a country of just 1.3 million people, has over 260,000 Twitter users, 514,000 users on Facebook, 120,000 Instagram users and 160,000 on LinkedIn.
For Bahrain watchers, however, the forum had an Orwellian feel. Freedom House has repeatedly labeled Bahrain's media environment as "Not Free," while Foreign Policy named it one of the ten worst countries for journalists in 2013.
"I believe the government's main goal [of the conference] is just to whitewash their image," Bahraini blogger and digital activist Ali Abdulemam told BuzzFeed by phone from the UK, where he has sought asylum. "They don't believe in free social media."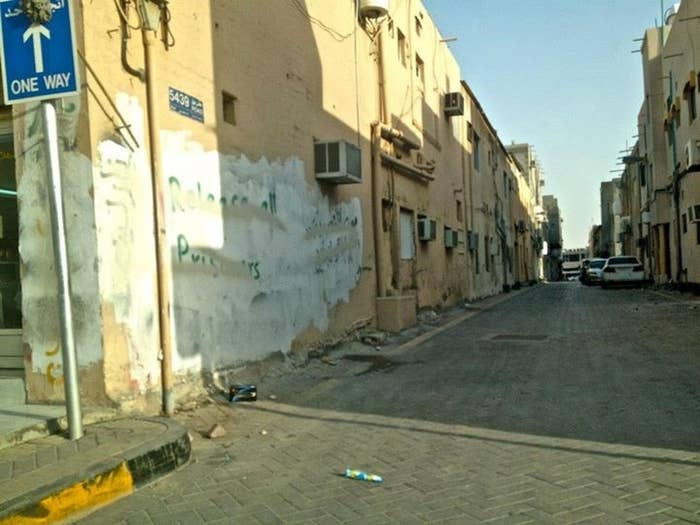 At the forum Social Media Awards will also be presented to select corporate, government, and individual accounts. Criteria for winning include "responsible, ethical, innovative, non-derogatory and credible content" on Facebook, Twitter, and Instagram, according to Gulf News.
"Government entities and the private sector cannot overlook the significance of social media in the communications sector and we aim for the Awards to encourage and promote responsible social media use," the Minister of Communications said, according to Gulf News.
As of Tuesday, further information about the awards had not been published on the event's website.
Attendees publicized the event on Twitter using #SSMF13 — but pro-democracy activists criticized the government for continuing to censor journalists and repress citizens who criticize it on Facebook and Twitter.
Bahrain is about 3.5 times the size of Washington D.C. and has a population of 1.3 million, many of whom are foreign workers and not Bahraini citizens. The island, ruled by the Al Khalifa family, is considered a key US ally due to its proximity to Iran and because it houses the U.S. Navy Fifth Fleet.
The island erupted in a pro-democracy uprising in February 2011 during the height of the Arab Spring. Bahrain's long-marginalized Shia majority joined forces with Sunni protestors to demand democracy and government accountability. After months of unrest, the Bahraini government, aided by Saudi Arabia and masked by low media coverage, initiated a brutal crackdown. Since 2011, small-scale protests have persisted while the kingdom has continued to suppress all political dissent by arresting, detaining, and sometimes torturing citizens, including doctors and nurses who treat the injured.
To bypass the state's tight media control, activists have taken to social media to share videos of protests on Facebook and news of arrests and imprisonments via Twitter. But as Bahraini activists have grown increasingly tech-savvy, so has the government. Coupled with laws that criminalize free speech — such as outlawing criticism of the King — Bahrainis have often been left shouting in the dark. The wrong tweet or Facebook "like" could lead to arrest, or worse, say Bahraini activists.
During the height of unrest in 2011, the government used online crowd sourcing to identify and shame citizens pictured at protests. Now activists are increasingly watchful of government spyware and online censorship, according to Abdulemam. While many activists use VPNs and other software to encrypt information on laptops and mobiles, the Bahraini government continues to censor dissent through its control of the country's communication and Internet exchanges. Activists also allege that the government attains spyware from European companies.
"We are calling on the speakers to stand up for those in Bahrain who have been put in jail or detained for using twitter to criticize the government," Amnesty International's Bahrain expert Sunjeev Bery told BuzzFeed. "The international community has a responsibility not to put surveillance technology in the hands of those who will put citizens in jail for exercising their human rights."
Bahraini activists in and out of Bahrain have organized several online campaigns, including a recent call for countries to stop selling tear gas to Bahrain. The abuses, however, continue.
In May 2013, five men were sentenced to a year in prison for insulting the King on Twitter. In August, Bahraini blogger Mohammad Hassan Sudayf and photographer Hussain Hubail were reportedly arrested and tortured, in part for critical tweets.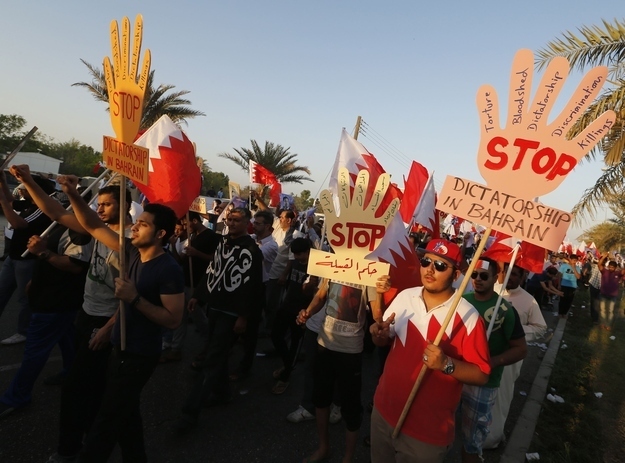 Nabeel Rajab, a prominent human rights activist, has been jailed since November 2012 for taking part in an anti-government protest. He had previously been arrested several times for Twitter comments.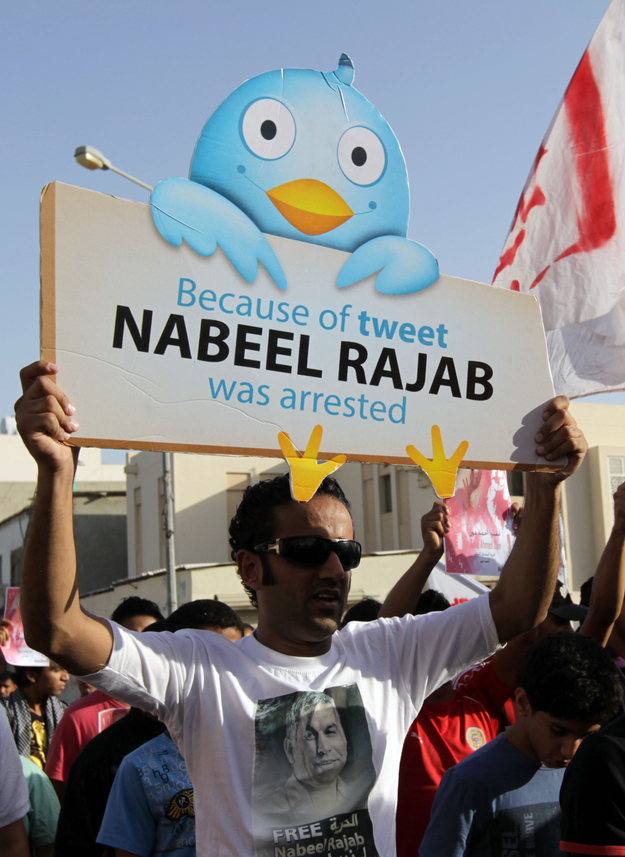 Last may, Abdulemam, who became known as the "Bahraini blogger," was smuggled out of Bahrain to the UK. He had been tortured, and sentenced to 15 years in prison for his political activities and criticism of the Al Khalifa regime on his blog.
Whatever the lessons learned at this week's social media conference, Bahraini activists will no doubt continue to retool their social media use to address government advances.