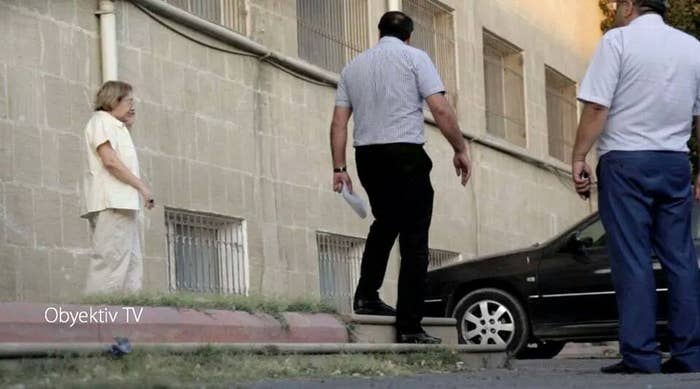 Activists in Azerbaijan are calling for the release of leading human rights defender Leyla Yunus, after Azeri police arrested Leyla and her husband, Arif, on what appear to be fabricated charges of espionage and fraud on Wednesday.
"Leyla has helped so many people," Khadija Imsayil, Azerbaijan's leading investigative journalist, told BuzzFeed. "She's one of the most outspoken human rights defenders. She's basically the front line. In silencing her, the government has hoped to achieve the silencing of human rights issues.
Leyla Yunus and her husband are both in their 60s, and have remained prominent critics of President Ilham Aliyev and his government, despite the many risks.
Aliyev rules energy-rich Azerbaijan with an iron fist, repeatedly harassing and imprisoning critics of the regime on unfounded charges. In the past two years, Human Rights Watch has recorded over 40 cases of political activists, bloggers, and human rights defenders being imprisoned on or threatened with bogus criminal charges. Despite Aliyev's well-documented abuses, in May, Azerbaijan took on the rotating chairmanship of the Committee of Ministers of the Council of Europe, Europe's foremost human rights body. Azerbaijan recently launched an expensive lobbying campaign in the U.S., and is now one of the top 10 foreign spenders.
"It's very difficult to achieve something with legal means in this country," said Imsayil, criticizing the West's silence and continued acceptance of Azerbaijan in international bodies like the Council of Europe. "Still we don't see much outrage among people because people are scared in this country."
Azeri authorities have charged Leyla and Arif Yunus with treason and fraud, including the misuse of foreign grant money and spying for the secret service of neighboring Armenia, with whom Azerbaijan has terrible relations. The charges against Leyla Yunus are the more serious of the two.
"It's very clear that these [kinds of charges] are politically motivated against people that are critical of the government," said HRW researcher Giorgi Gogia. "This is a very concerted effort."
Leyla Yunus is the director of the Institute for Peace and Democracy, a human rights group that fights against corruption, politically motivated legal cases, violence against women, and illegal house evictions. Recently she started working with other human rights defenders to create a list of Azeri political prisoners. The week before her arrest she organized a press conference to call for a boycott of the first ever European Games sporting event, scheduled to be held in the capital Baku in 2015, because of the regime's corruption and human rights violations. The day before her arrest Leyla sent an open letter to the Azeri President criticizing the arrests of youth activists, entitled "What Are You Afraid of, Mr. President?"
Azeri security officials detained Leyla Yunus at about 11:45 a.m. on July 30 as she left her home in Baku to attend a conference at a partner organization, according to her husband. Shortly afterward, plain clothed police came to harass Arif Yunus at the couple's home. By 1 p.m. Arif Yunus decided to turn himself in to the general prosecutor's office, HRW reported.
After six hours of intense interrogations, authorities sent Leyla Yunus to jail for three months as she awaits trial, and released Arif Yunus under house arrest because he suffers from heart problems. Leyla Yunus also suffers from acute diabetes and activists worry that she will not receive adequate care. In 2009, opposition editor Novruzali Mamedov died in prison in Baku because of lack of proper medical care after being sentenced to 10 years for alleged espionage and inciting hatred.
U.S. State Department Deputy Spokesperson Marie Harf spoke out against the Yunus' ordeal in a statement Thursday, calling the charges "deeply concerning and represent a further restriction on peaceful civil society activities in Azerbaijan."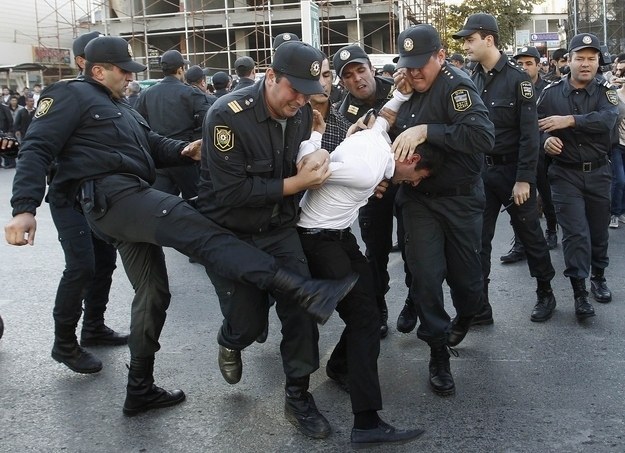 Azeri authorities have frequently targeted the couple before. On April 28, airport police blocked the couple from flying out of the country, confiscated their passports, interrogated them, and searched their homes. After the 24-hour ordeal Arif Yunus was hospitalized with hypertension. In August 2011, authorities without warning demolished a building owned by Leyla Yunus that housed the Institute for Peace and Democracy, as well as two other human rights groups. Authorities claimed the demolition was part of a government redevelopment project, of which Yunus was a vocal critic, HRW reported.
"They [the government] are trying to push international limits," Gogia said.
Since 2011, Gogia noted that the government has also been more actively cracking down on social media activism. A new law enacted in 2014 allows for up to three years imprisonment for Internet defamation, a vague term that the regime has exploited for political purposes. Other recent legislative changes have made a nearly impossible for NGOs to independently work, among other restrictions on freedom of expression.
"There is a need for a speedy reaction form the world for what has happened," said Imsayil, noting that venues like the European Court for Human Rights were slow to act. "So far we are still waiting."