Anti-Semitic Rhetoric And Attacks On The Rise In Europe
France. Germany. Britain. Netherlands. Belgium.
Jewish communities in Europe are warning of a disturbing rise in anti-Semitism at protests against Israel's military campaign in Gaza, sparking fears of a resurgence of acts of anti-Semitism.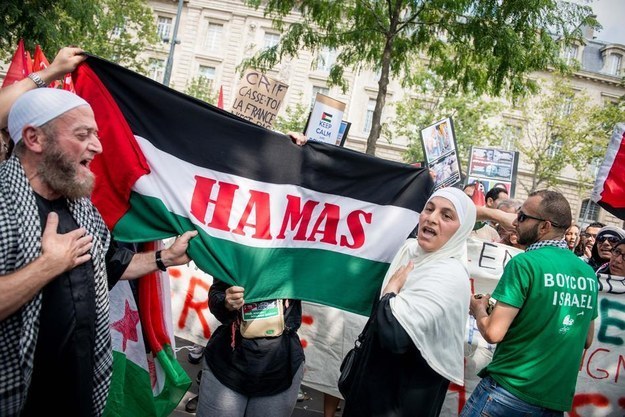 Israel launched a military campaign in the Gaza Strip on July 8 that has killed more than 1,000 Palestinians, mostly civilians, and nearly 40 Israelis, mainly soldiers. Since then, protests against Israel and the bloodshed in Gaza have been held in cities across Europe. While the majority of the pro-Palestinian protests have been peaceful and have drawn a diverse crowd — from leftist Europeans to people of Middle Eastern origins to everyone in between — there have been increasing incidents of violent rhetoric and physical assault.
Analysts say the incidents of anti-Semitism at protests across Europe are not just about extreme reactions to Israel and Gaza, but also to localized pressures, like immigration, unemployment, and growing far-right nationalist movements, as well as a long-standing precedent of scapegoating Jews and other minorities during times of crisis. The pro-Palestinian protests pool heavily from people of North African and Middle East descent, many of whom themselves face political and economic marginalization in European countries, most notably France.
Over the weekend in France, Toulouse police arrested a man who threw three firebombs and stones at the city's Jewish community center, Espace du Judaisme.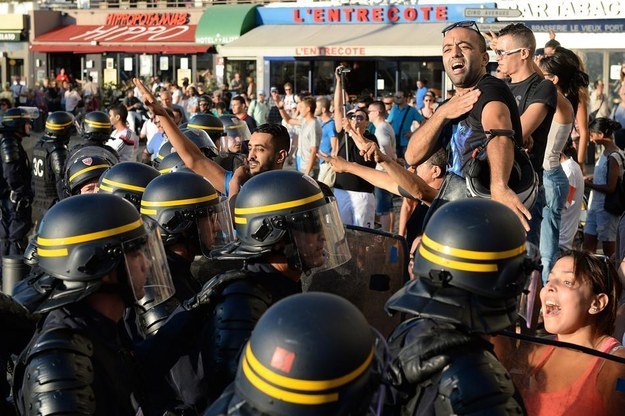 Jewish leaders in France have warned that anti-Semitic attacks and rhetoric are again on the rise in France; over the last decade, incidents of anti-Semitism have risen during times of major conflict between the Israelis and Palestinians, according to the French Interior Ministry. France has both the largest Muslim and Jewish communities in Europe.
Last week, assailants attacked a popular kosher restaurant in a historically Jewish area of Paris, according to the Jerusalem Post. On July 14, about 200 pro-Palestinian supporters tried to storm two synagogues in France after an anti-Israel protest, the day after another failed firebombing of a synagogue near Paris. The attack in Toulouse — where in 2012 a gunman killed three children and a teacher at a Jewish day school — occurred soon after 4,000 people marched against Israel in Paris on on Saturday. The rally concluded with about 200–300 youths clashing with police, according to AFP.
Saturday's protest was held despite a recent decision by the Interior Ministry to ban some pro-Palestinian demonstrations in the capital, and several other cities. The French interior minister has justified the selective banning of protests to keep order after a series of riots and to prevent potential outbreaks of anti-Semitic violence, according to AFP. Critics have called the ban an infringement of political freedoms and ineffective in practice.
Germany has also witnessed a wave of pro-Palestinian protests — and anti-Jewish language among some protesters.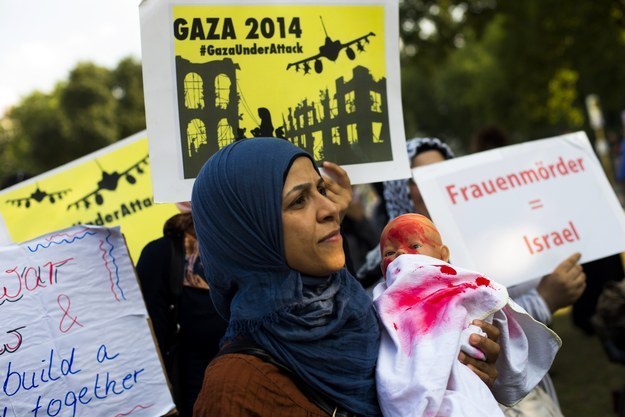 On Thursday, German TV captured demonstrators in Berlin threatening violence against against Jews, according to Haaretz. The next day, Berlin police deployed about 1,000 officers to monitor a protest against Israel's military campaign in Gaza, according to the Wall Street Journal. Shouts of "Death to the Jews" and "Hamas, Jews to the gas" have been heard at rallies, the Times of Israel reported.
"It's sad that some people can't control themselves, but most people here and the organizers can," Ugur Soyuk, a 20-year-old student at the Berlin protest on Friday, told the Wall Street Journal.
Germany has very strict laws regulating hate speech, and in particular anti-Semitic rhetoric, enacted after the Holocaust. The recent rise in anti-Semitic rhetoric has unnerved many in Germany, with political leaders and the media speaking out against the increase in violent anti-Jewish sentiments.
British police have recorded more than 100 instances of anti-Jewish hate crimes since the start of the latest fighting between Israel and Hamas in Gaza, according to British Sunday Times.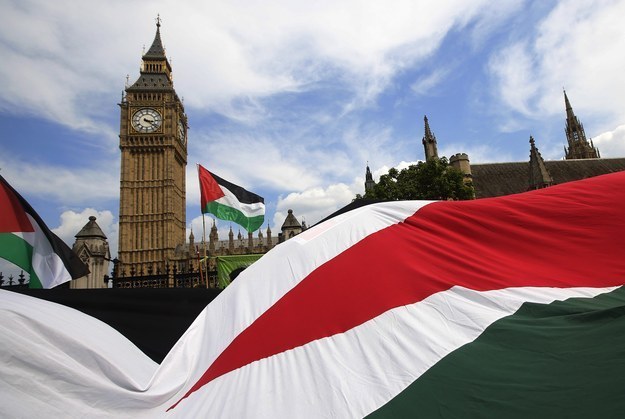 Over the weekend, 45,000 people protested in London against Israel's military campaign in Gaza. Among the largely peaceful protesters, police recorded incidents of anti-Semitic violence, such as calls to attack Jews on Facebook and several reported assaults targeting Jews in the streets, according to the Independent.
Meanwhile in Norway, police have advised two Jewish museums to temporary close and dispersed a pro-Israel rally in Copenhagen citing safety concerns, Haaretz reported. In the Belgian city of Antwerp on July 16, around 500 people attended a pro-Palestinian protest where one speaker shouted "Death to the Jews" in Arabic through a loudspeaker, according to Haaretz. At protests in the Netherlands, swatsikas and black jihadi flags were seen flying, according to The Daily Beast. Protesters are calling for more demonstrations as the conflict in Gaza continues.