Anger Is Growing At Prime Minister's Mishandling Of Turkey's Coal Mine Disaster
Did Erdogan go so far as to punch a protester?
Protests continued Friday against Turkish Prime Minister Recep Tayyip Erdogan's handling of a coal mining explosion in the western town of Soma that killed close to 300 people, in the country's worst-ever industrial accident.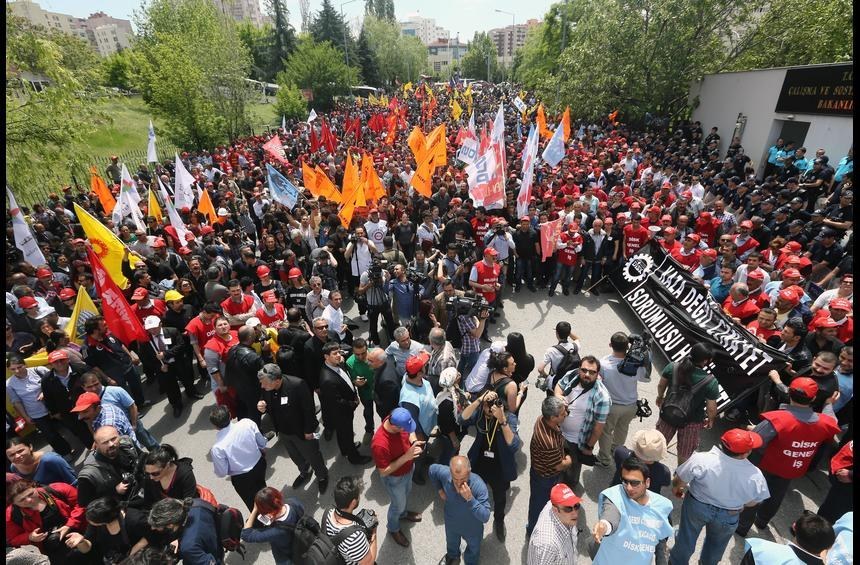 Thousands of protesters and mourners marched through Soma, with many calling for Erdogan's resignation. Some shouted, "People of Soma, show your solidarity with the miners!" the BBC reported.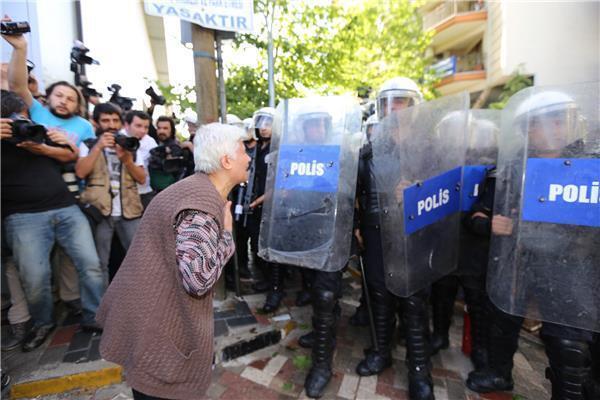 Police responded with water cannons and tear gas.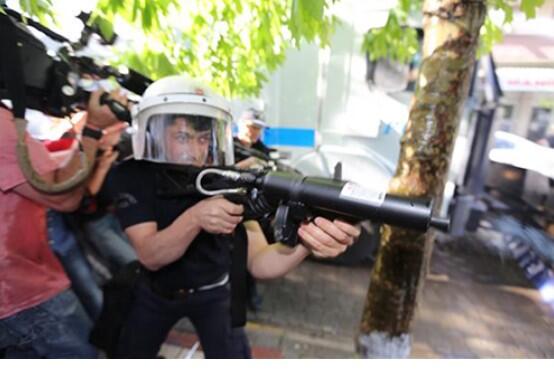 Protests began on Wednesday, when Erdogan visited Soma and told mourners these kinds of accidents were a natural part of the mining business. Soma's mine is state-owned and passed a safety exam in March, raising concerns about regulations.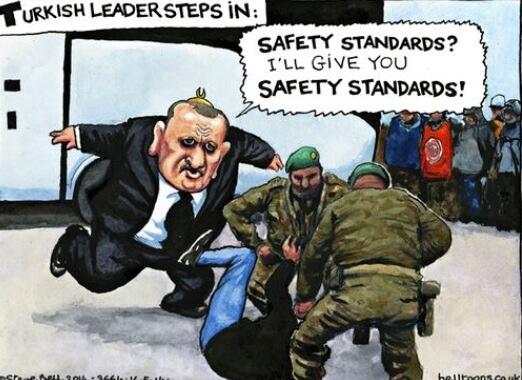 Despite Erdogan's heavy-handed crackdowns on dissent and opposition, the prime minister's ruling Justice and Development Party (AKP) has continued to remain popular in much of Turkey, even winning the majority of votes in municipal elections in March. Erdogan's opposition so far has largely drawn support from urban centers like Istanbul and Ankara; the Soma protests, however, could prove to be a turning point if dissatisfaction continues to spread to working class communities outside of major cities, the AKP's traditional strongholds.
Erdogan's image as insensitive to Soma's suffering only grew after an adviser, Yusuf Yerkel, was captured in a series of photographs on Wednesday kicking a protestor who had already been detained by police in Soma. By Friday, Yerkel defended the kicks, and argued that he was attacked first and acted in self-defense, despite the fact that the images show the contrary.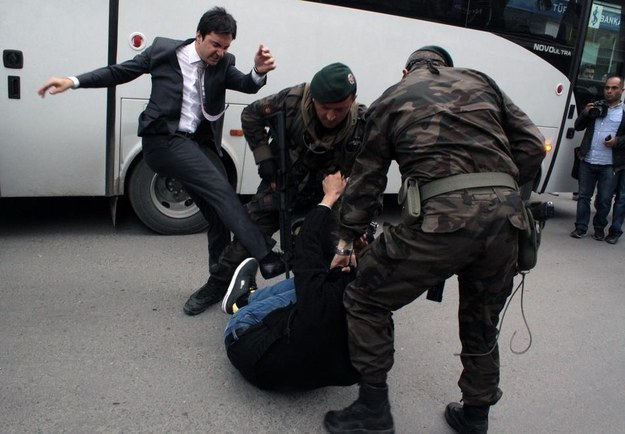 Disputed footage has circulated on social media that some insist shows Erdogan slapping a protestor while in Soma on Wednesday, after protestors surrounded him during his visit.
The footage is hard to decipher. Two videos from two different angles show Erdogan entering a supermarket in Soma, surrounded by security and protesters. An altercation then occurs in which critics say Erdogan slapped one to two protesters.
At the start of one video, Erdogan reportedly can be heard signaling out one protester from the crowd and telling him, "Come and boo me here to my face," according to Turkey's Hurriyet Daily News. The unidentified protester then enters the supermarket, Erdogan and his security follow, and shortly afterwards a scuffle breaks out.
Another story in Turkey's daily Evrensel alleged that Erdogan punched a teenage girl inside the supermarket after she repeatedly shouted at him, "What is the murderer of my father doing here?" according to Hurriyet Daily News. Again, the footage does not clearly verify these claims.
Further complicating reports, one of the bystanders reportedly punched by Erdogan appeared on Turkish TV and admitted that he was punched by Erdogan — but said it was "involuntary" and he would take no legal action.
On Friday, Israeli media jumped into the mix and reported that in the same footage Erdogan can be heard shouting "Why are you running away, Israeli spawn?" a Turkish curse.
The continued speculation over the footage has fueled outrage among social media users.
The incident with Erdogan's aide made frontpages worldwide.
The situation was different in Turkey.