Activists In Uganda Prepare For Fallout Of Anti-LGBT Law
The world begins to react. But the U.S. has yet to detail what it will do.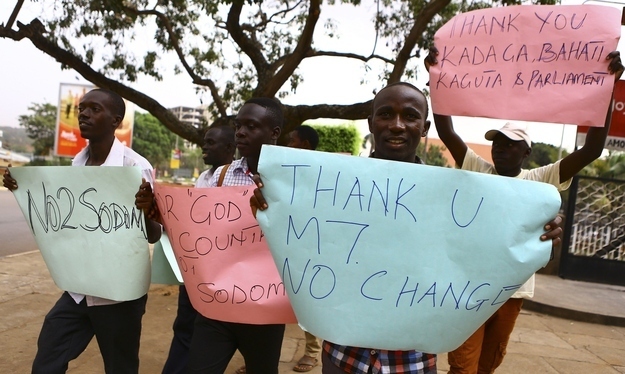 Ugandan LGBT activist Claire Byarygaba decided to lock her door and avoid work today after Uganda's president signed into law a harsh anti-gay bill that Western countries have strongly condemned and LGBT rights groups say calls for a review of Uganda's international agreements and aid programs.
"We are very worried about our safety," Byarygaba, who works at the Civil Society Coalition on Human Rights and Constitutional Law, told BuzzFeed by phone from Kampala. "It's one thing for people to threaten you, and it's another thing to have a law that discriminates against you and prosecutes you."
"The president has basically declared war with the West," she added.
In a televised ceremony on Monday, President Yoweri Museveni signed into law a controversial bill that imposes a lifetime jail sentence for homosexuality and criminalizes those who promote LGBT rights, among other measures.
The Ugandan parliament passed the law in December 2013 after considering several versions of the bill, which was first proposed in 2009. An earlier version made homosexuality punishable by death.
Museveni signed the bill after months of conflicting statements, as he appeared to waffle between signing the bill, which has wide political support in Uganda, or vetoing it, as the U.S. and other Western countries have demanded. Uganda already had some of the world's toughest LGBT restrictions, in place since colonial British rule, and the government often equates anti-LGBT and anti-Western rhetoric.
"Can somebody be homosexual simply by nature? The answer is no," Museveni told reporters as he signed the legislation. For a while, he had sought "scientific reviews" to investigate whether homosexuality was innate or a choice, arguing that the former did not "deserve" to be punished. Activists said it was another means of waffling.
Museveni warned critics on Monday. "I advise friends from the West not to make this an issue because if they make it an issue the more they will lose," he said. "This is social imperialism. To impose social values of one group on our society."
Human rights groups and world leaders from EU Foreign Affairs Representative Catherine Ashton to South African Archbishop Desmond Tutu harshly criticized the move. The White House issued a statement calling the bill a "step backward" for Ugandan human rights and said it complicated U.S.–Uganda relations. Secretary of State John Kerry called for an "internal review of our relationship with the Government of Uganda to ensure that all dimensions of our engagement, including assistance programs, uphold our anti-discrimination policies and principles and reflect our values."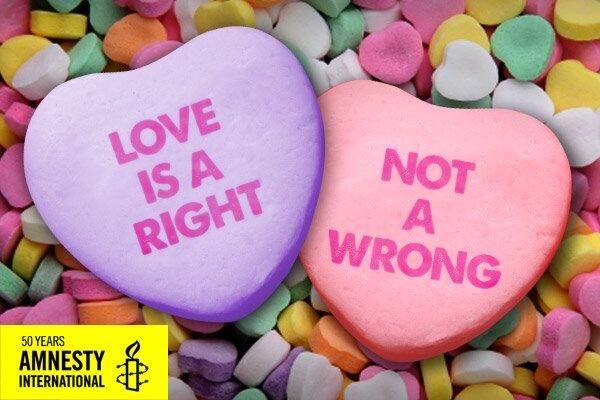 The U.S. provides more than $400 million in aid to Uganda each year, with much of it going directly to civil society groups. While U.S. rhetoric has been sharp, activists worry that if the U.S. decided to cut its aid, that could lead to the further scapegoating of LGBT activists, as well damage decades of investments in heath and human rights programs, in particular HIV prevention and care.
"We do not support aid cuts to Uganda because the same funds provide to everyday Ugandans," Byarygaba said. "At the same time, we can't stop or influence what governments decide to do. That is completely up to our partners in the west."
U.S. officials have not yet detailed a possible response.
Julie Dorf, senior adviser at the Council for Global Equality, a U.S. organization, called on the U.S. to act. "At this point, it is absolutely imperative that the U.S. government do something," Dorf said. "And I believe they will. We just don't know what yet."
Dorf and the Council have made several recommendations, including that the U.S. recall its ambassador to Uganda, impose visa restrictions on Ugandan public figures violating LGBT rights, and ensure that programs that receive aid for HIV prevention and care do not support an anti-LGBT agenda. Dorf called on the U.S. to reconsider its grants to certain Ugandan civil society groups, signaling out in particular the Interreligious Council of Uganda, which this year received millions of dollars in U.S. aid for HIV prevention programs, while simultaneously lobbying for the anti-gay bill's passage.
Denmark was the first country to announce on Monday that it would suspend direct budget support to the Ugandan government, to be followed by reconsideration of funds to civil society organizations. Austria and Norway have since called for similar reviews. U.K. Secretary of State William Hague condemned the legislation, but gave no indication that the U.K. would act similarly.
Boris Selun of the European Parliament's intergroup on LGBT rights, told BuzzFeed by phone from Brussels that while member states can suspend individual aid, there is no EU-wide plan to follow suit. Selun told BuzzFeed that the EU is considering Uganda's suspension from the Contonou Partnership Agreement (between the EU and 79 Caribbean, African, and Pacific countries), based on its violation of Article 96, which calls on all signatories to uphold basic human rights. The suspension would be largely symbolic, as the agreement is a mainly political and does not pertain to aid distribution, but according to Selun it would mean Uganda's exclusion from meetings and be the body's first use of Article 96 to revoke membership for LGBT-specific violations. Selun said he expected other countries to redirect funds from the Ugandan government to civil society organizations.
In the meantime, Byarygaba said that it was important for the international community to keep up the pressure on the Ugandan government over LGBT rights violations, as well as the country's larger context of repression.
"As activists we've sustained this fight since 2009, so this is a big blow for us in terms of all the work we've put," said Byarygaba. "We're quite proud of the work we've done. I fear that our work is going to be very much affected.
She added, "But the president's house is facing problems. It's not just an LGBT problem."