A Syrian Activist Might Have Witnessed The Failed U.S. Attempt To Rescue James Foley
"It is believed that those behind this attack are Jordanians and Americans," the activist wrote on Facebook.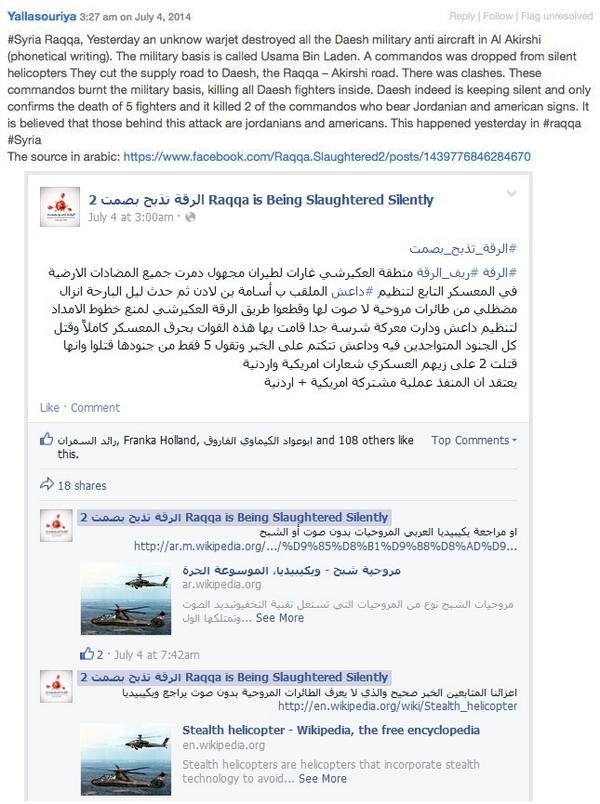 At 3 a.m. on July 4th, a Syrian activist reported on their Facebook page that U.S. and Jordanian war planes had attacked a suspected ISIS military base in al-Akershi, near Raqqa, the Islamic State of Iraq and Syria's (ISIS) self-proclaimed capital in eastern Syria.
The report shared by Abu Ibrahim Alrquaoui, translated into English the following day, may well be referring to the U.S's failed raid on ISIS militants, when they attempted to free kidnapped American citizens, including the journalist James Foley.
Officials have declined to comment exactly where and when the raid occurred, and whether Foley, who ISIS militants beheaded in a video released in Tuesday, was one of the captives they intended to free. U.S. officials have said ISIS may have held Foley near Raqqa.
What exactly occurred on July 3rd at the military camp in al-Akershi, also known as Sheikh Osama bin Laden camp — and whether there was any connection to the failed rescue attempt — remains unclear. Syrian activist @YallaSouriya confirmed to BuzzFeed that they had translated the text, but declined to say whether they were currently based in Syria or not.
Alrquaoui, who described himself as a coordinator of the anti-ISIS and anti-Assad campaign, "Raqqa is Being Slaughtered Silently," told BuzzFeed by Skype from Raqqa that a farmer friend of his from the area alerted him to news of the raid around 9 p.m. the night of July 3. His friend reported seeing silent helicopters, which neither of them had seen flying over Raqqa before. His friend also reported hearing commandos speaking a foreign language and having Jordanian and U.S. insignia.
Alrquaoui speculated that James Foley could have been a target of the raid, but he did not know for sure whether the American journalist had been among the foreigners ISIS was allegedly holding in Raqqa. He said it was known among local residents, however, that ISIS was keeping a group of foreigners, including Americans and the Turkish diplomats taken from Mosul, in an alleged ISIS prison on the base. Residents reported that ISIS moved the captives about 24-hours before the alleged attack, according to Alrquaoui.
The July 3rd raid killed five ISIS members, including two men of Tunisian origin, and wounded two others, according to an article published in the London-based al-Quds al-Arabi on July 4th. Jordanian officials denied any involvement in the alleged attack to al-Quds. The same article also cited an anonymous local witness who reported that the military forces who raided the camp were English speakers.
Another article published in the Syrian ARA News on July 6 with a Turkey dateline also reported on the attack. It cited anonymous local Raqqa activists as a source, though it was unclear if they were connected to @Raqqa_Sl's Facebook status.
Forces loyal to Syrian President Bashar al-Assad reportedly took credit for the July 4th raid, according to an unverified local report.