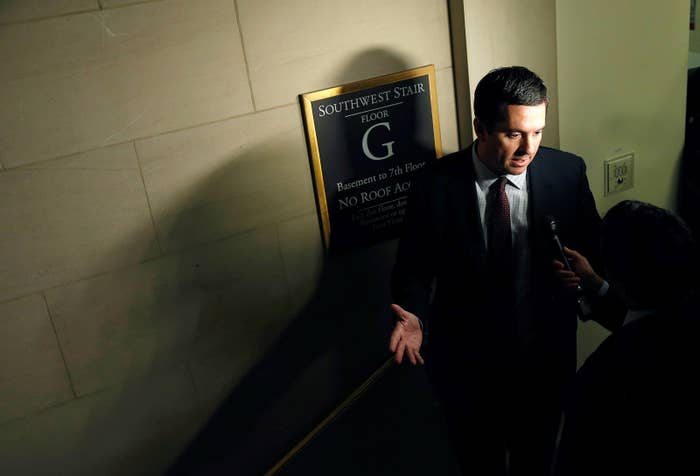 White House Press Secretary Sean Spicer — who previously said the idea of Trump administration aides giving House Intelligence Committee Chairman Devin Nunes info "doesn't pass smell test" — would not comment on a report that says two administration officials were involved in giving Nunes information that showed President Trump and his associates' communications were incidentally collected in foreign surveillance exercise by US intelligence agencies.

On Thursday, the New York Times cited anonymous current US officials saying that Ezra Cohen-Watnick, the senior director for intelligence at the National Security Council, and Michael Ellis, a lawyer who works on national security issues at the White House Counsel's Office who formerly worked on the staff of the House Intelligence Committee, assisted in disclosing the intelligence reports which Nunes then discussed with President Trump.

The Times report says that Cohen-Watnick, who was brought into the administration by Gen. Mike Flynn, former national security advisor, started reviewing "highly classified reports detailing the intercepted communications of foreign officials" after Trump tweeted that former President Obama had wiretapped him during the presidential campaign.
Nunes has come under fire for disclosing the intelligence to Trump while there is an open investigation into Russia's meddling in the 2016 presidential election.
At his daily press briefing on Thursday, Spicer said that he read the Times report but refused to comment on the story, saying that commenting "would be to validate certain things that I am not at liberty to do."
Pressed by reporters to comment on Nunes' trip to the White House to brief Trump, Spicer said, "If I start going down the path of confirming or denying one thing, we're going down a slippery slope"
When asked about a response to a question earlier this week about Nunes' trip to the White House to brief Trump when Spicer said he would look into it, the press secretary continued to push back.
"I said we would look into it," Spicer said on how Nunes got into the White House grounds. "I never said we would give you answers."
A spokesperson for Nunes also declined to confirm the Times report.
"As he's stated many times, Chairman Nunes will not confirm or deny speculation about his source's identity, and he will not respond to speculation from anonymous sources," Nunes' office said in response to an email from BuzzFeed News.
Following the revelation from the Times, Rep. Eric Swalwell, a Democrat on the House intelligence committee, renewed the call for Nunes to recuse himself from the committee's investigation.
"The House Intelligence committee must be independent, have credibility, and show progress to investigate Russia's attack on our election. It's time for Chairman Nunes to step aside from this investigation and for an independent commission to be created. If this report true, it reinforces why Chairman Nunes should be nowhere near this investigation," Swalwell told BuzzFeed News.
"In last ten days he has cancelled a public hearing on the investigation and has spent more time at the White House than working with committee members. This was an attack on our country. It's bigger than one person. And America needs this investigation back on track," Swalwell said.
In response to the report, Sen. Mark Warner, ranking member of the Senate intel committee, said that the situation surrounding Nunes get more "bizarre" every day.
"I can't make a judgment yet," Warner said.
A spokesperson for House Speaker Paul Ryan, who has been asked repeatedly whether he thought that Nunes should recuse himself, said: "The speaker doesn't know the source of the disclosure to Chairman Nunes. I'd refer you to the committee for more. As the speaker said this morning, the chairman has his full confidence."
House Intel Committee Ranking Member Adam Schiff expressed his concern with the way materials are being made available to the committee.