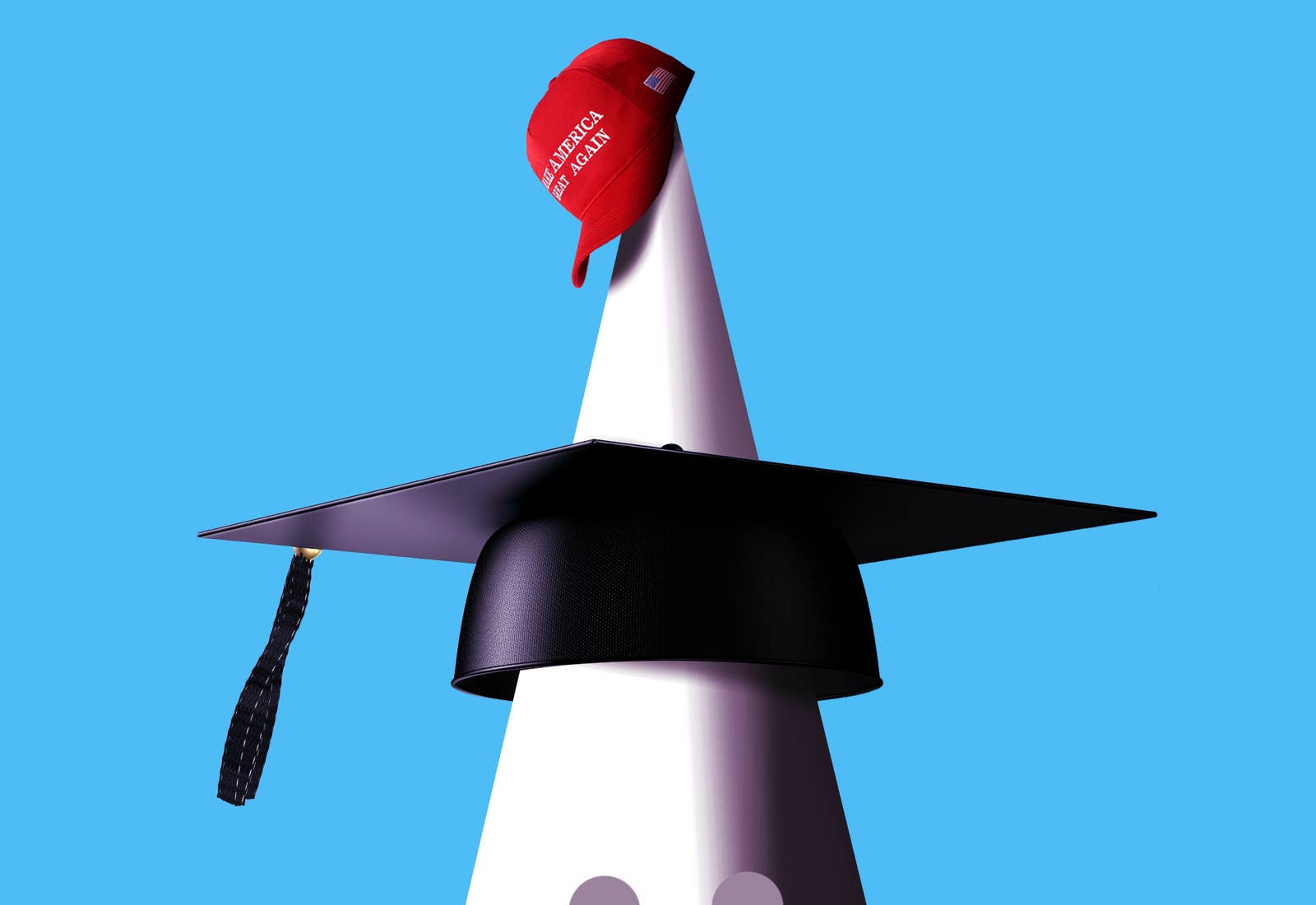 White supremacist propaganda and other racist messages flooded college and university campuses in the months following the election of Donald Trump. In the first comprehensive review of hate speech at higher education institutions since the 2016 election, BuzzFeed News has confirmed 154 total incidents at more than 120 campuses across the country. More than a third of the incidents cited Trump's name or slogans; more than two-thirds promoted white supremacist groups or ideology.
The spree of hate speech, the majority of which came in the form of graffiti or flyers, reflected an emboldening of young people who subscribe to racist beliefs that no longer seem so taboo during the first year of the Trump presidency — and an extension of the racist bullying that occurred among even younger students in elementary, middle, and high schools. As college students began the fall semester, many found themselves at the frontline of the battle over free speech at institutions that pride themselves on fostering open dialogue and debate.
This battle reached a new level of intensity in August when hundreds of white supremacists converged on the college town of Charlottesville, Virginia, to protest the city's decision to remove a statue of the Confederate Gen. Robert E. Lee, holding torches around the monument while chanting, "You will not replace us," "Jews will not replace us," and the Nazi slogan "Blood and soil." The demonstration escalated into a bloody brawl with counterprotesters, which ended in tragedy when one white supremacist drove a car through a crowd, killing a 32-year-old woman and injuring dozens more.
To some University of Virginia students in Charlottesville, the explosion of violence just before the start of the semester was a horrifying crescendo to the increasingly vocal expressions of hatred since the fall of 2016. School officials had been sensitive to the possibility that the election — and the emotions around it — could cause problems: Three campus police officers were put on paid leave for yelling "Make America Great Again!" through the speakers of their patrol vehicles on the day after Trump's victory. But that incident paled in comparison to the menacing messages that hit the campus that school year. Two weeks before the election, somebody painted the Star of David and the word "Juden" on an apartment building that housed students. A few days before the election, two Muslim students discovered that "terrorist" had been scrawled on their dorm room door, and three days after the election, a gay student found "kill yourself, faggot" written on his. Shortly after the election, a student working in the campus library received a call from a man spewing misogynistic comments, including calling her a "cunt," and claiming that Trump's victory had given him the right to do so.
"It's scary," said University of Virginia student Ian Ware, one of the students whose door was vandalized. "It was kind of a whirlwind time at UVA. Shit was going down every five minutes."
Business cards left in the campus library stated: "America was 90% white in 1950. It is now 60%. MAKE AMERICA GREAT AGAIN. Trump is the first step, we're next!"
The school founded by Thomas Jefferson was one of many to experience a shock of hate speech over the past year. BuzzFeed News reviewed hundreds of reports submitted to the Documenting Hate project, a database of tips about hate crimes and bias incidents set up by ProPublica and shared with other news organizations. Of the more than 400 alleged incidents, BuzzFeed News was able to follow up on 154 through interviews, public statements, police reports, and local news stories. Seemingly every sort of campus was struck, from Ivy League universities to community colleges, big state schools to small liberal arts institutions.
"It kind of shocked me," Jack Levin, a professor at Northeastern University in Boston who has studied hate crimes, said of the wave of bias incidents at institutions of higher learning after the election. "There's something new here. Emboldened hatemongers now feel that this is perfectly fine. What is happening on college campuses didn't start there but is a product of the hate that is increasing all over."
At Iowa State University less than a week after the inauguration, business cards were left in the campus library stating: "America was 90% white in 1950. It is now 60%. MAKE AMERICA GREAT AGAIN. Trump is the first step, we're next!" At the University of Arizona two weeks after the election, somebody posted flyers along a bike path reading, "I want you to speak english or get the fuck out." At Lindenwood University, near St. Louis, a Latina student returned to her dorm to find that her roommate had built a makeshift wall between their beds, alongside a note that read, "Trump won so here is a little preview of what's to come."
White supremacist groups, such as Identity Evropa and American Vanguard, posted recruitment flyers at more than two dozen schools. Posters at the University of Wisconsin–Madison urged students to "fight anti-white racism on campus" and at the University of Texas complained about "anti-white propaganda in college."
At Canisius College in Buffalo on the day after the election, somebody hung a black doll from a noose in an elevator. At the University of Colorado, a young man barged into a Latina professor's classroom, shouting, "Shut up!" and "Go back to Mexico!"
At American University in Washington DC this week, on the same night a black professor introduced the school's new Antiracist Research and Policy Center, Confederate flags affixed with cotton bolls were posted in at least three buildings on campus.
While most of the incidents involved hate speech, there were at least several instances of racist violence.
Students who had arrived at their campuses expecting to find an atmosphere of inclusion instead feel anxious and afraid.
At Baylor University in Texas, a black student said she was pushed to the ground by a white student who told her, "No niggers allowed on the sidewalk," and "I'm just trying to make America great again." At San Jose State, San Diego State, and the University of Kentucky, Muslim students reported that they were accosted by men who pulled off their hijabs. At Cornell University this fall, a group of white students jumped a black student after at least one of the called him a "nigger," according to video footage obtained by the Cornell Sun. One Cornell student was arrested. No arrests have been made for the other attacks.
The incidents have made students who had arrived at their campuses expecting to find an atmosphere of inclusion instead feel anxious and afraid.
Maggie Chamberlain, a Mexican-American studying sociology at Texas State University, recalled seeing a flyer outside a classroom the morning after the election that read: "Now that our man Trump is elected and Republicans own both the Senate and the House — time to organize tar & feather vigilante squads and go arrest and torture those deviant university leaders spouting off all this diversity garbage." That afternoon, as she walked back to her dorm from lunch, two white guys in a red pickup truck drove by her and screamed out, "This is white America — get out!"
"I was really emotional," she told BuzzFeed News. "I was crying."
As she shared her experience with others, she found that she was not the only being targeted.
"We had a lot of students coming out and saying they were harassed," she said.
For Ava Knoske, a student at Clemson University in South Carolina, the disappointment she'd felt seeing KKK recruitment flyers posted around her campus was compounded by the way her classmates reacted: "It's honestly a majority of just, 'Suck it up, it doesn't mean anything,' which is incredible to hear," she told BuzzFeed News. "It's disheartening."
Colleges typically responded to bias incidents quickly and to the satisfaction of their students. Most students who spoke with BuzzFeed News for this story commended their school leaders for how they handled the situations. In nearly every case, university presidents sent off mass emails condemning the hate speech and asserting that officials were making efforts to track down the culprits. But perpetrators were caught in less than 5% of cases involving vandalism or threats. At least three investigations led college officials to conclude that a racist incident was a hoax.
In some instances, racist incidents sparked a show of unity among students, as was the case at Baylor, where around 300 students walked out of class and marched in support of Natasha Nkhama, a black sophomore who had been assaulted in a racist attack days after the election.
In Berkeley, California, the response to hate speech was more extreme. Before a scheduled speech at UC Berkeley by right-wing commentator Milo Yiannopoulos, protesters broke windows and lit fires. When the university canceled the speech, Trump tweeted that the school "does not allow free speech and practices" and threatened to pull federal funding from the public institution.
The interim president of Iowa State University sent a letter to his students stating, "This is terrorism masquerading as free expression."
In the days after the Charlottesville protests, as white supremacist leaders vowed to march on other college towns, university leaders across the country took a stand. Texas A&M, the University of Florida, Michigan State, the University of North Carolina, and Louisiana State University rejected efforts by white nationalist leader Richard Spencer to organize speaking events.
In response to the Charlottesville march, Benjamin Allen, interim president of Iowa State University, sent a letter to his students stating, "This is terrorism masquerading as free expression."
"We must not ignore what has happened nor pretend it does not impact us," Allen said. "We recognize that this was not a localized gathering; people traveled across the country to attend, demonstrating that racism and bigotry are still poisoning our country."
Fourth-year UVA student Diane D'Costa, who is of Indian descent, had watched the white supremacist march from her dorm room in the middle of the Charlottesville campus. To her, the torches and the chanting were a reminder that her university offered only a temporary reprieve from the harsh realities she and her classmates faced off campus.
"These people from outside came and infiltrated our space," she said. "It felt like a foreign land and a foreign place. Imagine being surrounded by people who hate you and want to see you dead." ●