President Obama Delivers Emotional Speech Outlining Gun Control Actions
"The gun lobby ... cannot hold America hostage," Obama said Tuesday. These are the most aggressive actions Obama has taken since the 2012 Sandy Hook shooting in Connecticut.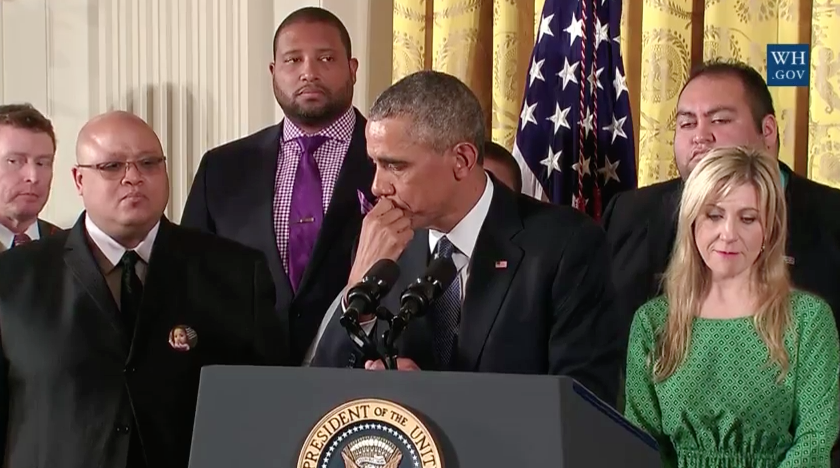 President Barack Obama shed tears at the podium Tuesday as he delivered a speech outlining a series of executive actions designed to expand background checks on firearm sales including online and at gun shows.
The president began to cry while mentioning the children killed during a mass shooting at Sandy Hook school in Newtown, CT in December 2012.
"[F]irst graders in Newtown," he said. "First graders. Every time I think about those kids it gets me mad...and by the way it happens on the streets of Chicago every day."
The actions revealed Tuesday come one week after Obama announced a task force to come up with ways to curb gun violence. These are the most aggressive actions Obama has taken since the Sandy Hook school shooting — where 20 children and six adults lost their lives — after which Obama tried to get broader background checks legislation passed through Congress but failed.
He spoke about the increasing number of mass shootings that have taken place in the U.S. in the last five years and said that we have "to do something to try to prevent the next one."
"Just because it's hard, that's no excuse not to try," Obama said.
U.S. Attorney General Loretta Lynch said Monday that Obama's actions will focus on revamping the national firearms background check system so as to keep guns out of the wrong hands.
Lynch added that federal officials will now closely monitor online gun sales as many of the transactions are happening on the "dark web."
Along with the proposals to expand background checks, Obama said he will commit $500 million for access to mental health services.
He also said he would like to see advances in gun safety technology.
"If there's an app that can help us find a missing tablet, which happens to me often...if we can do it for your iPad there's no reason we can't do it for guns," Obama said. "If a child can't open a bottle of aspirin, we should make sure they can't pull a trigger on a gun."
Obama insisted that despite pushback from Congress, the actions he plans to take are legal and within his authority.
"I believe in the Second Amendment. No matter how many times people try to twist my words. I taught constitutional law, I know a little bit about this," Obama said. "We can find ways to reduce gun violence consistent with the Second Amendment."
During the speech, Speaker of the House Paul Ryan put out a statement criticizing Obama and vowing that whatever actions the president took, Republicans would push to repeal them.
"No matter what President Obama says, his word does not trump the Second Amendment," the statement said. "We will conduct vigilant oversight. His executive order will no doubt be challenged in the courts. Ultimately, everything the president has done can be overturned by a Republican president, which is another reason we must win in November."
During his speech, Obama criticized congressional Republicans, accusing them of pandering to the gun lobby and suggesting that those who oppose gun control legislation are merely trying to win elections.
"The gun lobby may be holding Congress hostage right now, but they cannot hold America hostage," Obama said.
The executive actions come as Obama enter the last year of his two-term presidency; he noted during the speech, "I'm not on the ballot again. I'm not looking to score some points."
On the question of why he was taking these actions now, the president invoked the words of Dr. Martin Luther King.
"We need to feel the fierce urgency of now," Obama said, adding, "because people are dying."
Shortly after the president's speech, the executive director of the National Rifle Association's institute, Chris W. Cox, released a statement responding to Obama's remarks.
"American people do not need more emotional, condescending lectures that are completely devoid of facts," Cox wrote, calling Obama's executive action "political rhetoric," and not a "meaningful solution to our nation's pressing problems."
Cox went on to say that the actions Obama announced he was to take would not have prevented any of the shootings he mentioned, and that his speech represents a "fundamental lack of seriousness."
Read the full statement below:
Once again, President Obama has chosen to engage in political rhetoric instead of offering meaningful solutions to our nation's pressing problems. Today's event also represents an ongoing attempt to distract attention away from his lack of a coherent strategy to keep the American people safe from terrorist attacks.

The American people do not need more emotional, condescending lectures that are completely devoid of facts. The men and women of the National Rifle Association take a back seat to no one when it comes to keeping our communities safe. But the fact is that President Obama's proposals would not have prevented any of the horrific events he mentioned. The timing of this announcement, in the eighth and final year of his presidency, demonstrates not only political exploitation but a fundamental lack of seriousness.

The proposed executive actions are ripe for abuse by the Obama Administration, which has made no secret of its contempt for the Second Amendment. The NRA will continue to fight to protect the fundamental, individual right to keep and bear arms as guaranteed under our Constitution. We will not allow law-abiding gun owners to become scapegoats for President Obama's failed policies."