Crack-Smoking Mayor Rob Ford Tackles Councillor, Loses More City Powers
Steamrolling a female council member didn't help turn votes in the Toronto mayor's favor at Monday's heated meeting.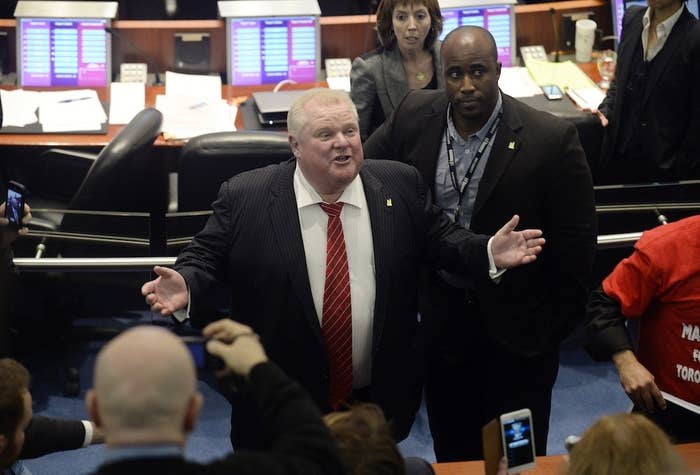 The Toronto City Council voted to strip Mayor Rob Ford of more power on Monday, in light of the mayor's ongoing drug and behavior troubles.
Ford has now lost the authority to dismiss or appoint the city's deputy mayor or any executive committee members. His office's budget was also cut by 60%.
Deputy Mayor Norm Kelly will serve as chair of the executive committee and handle any civic emergencies, the council ruled. The mayor's staff will have the choice to work under either Ford or Kelly.
In his bizarre closing remarks, Ford talked about hockey and his father's faith, and compared his situation to the Gulf War.
"This, folks, reminds me of when — and I was watching with my brother — when Saddam attacked Kuwait. And President Bush said, 'I warn you, I warn you, I warn you, do not.' Well, folks, if you think American-style politics is nasty, you guys have just attacked Kuwait," he continued. "Mark my words, friends, this is going to be outright war in the next election, and I'm going to do everything in my power — everything in my power — to beat you guys."
He continued talking, though his microphone had been cut off.
"I apologize to anyone that I offended when I rushed over there, because my brother was in an altercation," he said. "It was a complete accident, I do sincerely apologize to you, Councillor McConnell."