U.S. Unemployment Falls To Lowest Level Since 2008
U.S. unemployment falls to 5.9% — the lowest percentage in six years.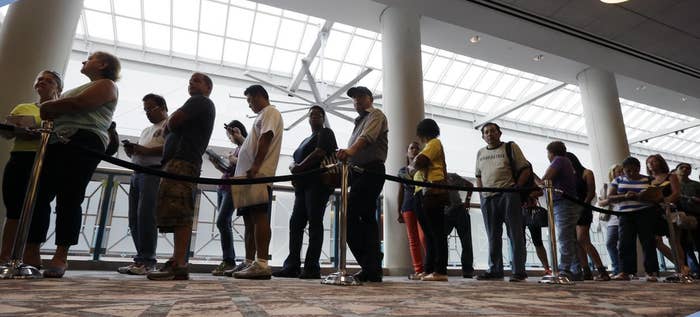 U.S. unemployment fell below 6% for the first time in six years, according to a new jobs report released by the Bureau of Labor Statistics Friday.
According to the report, 248,000 jobs were created in September — an improvement from 180,000 jobs in August.
The report indicates that the U.S. economy is growing, strengthened by a bump in the financial markets. The Dow Jones industrial average was up over 150 points following the announcement.
Rep. Debbie Wasserman-Schultz, chair of the Democratic National Committee, released a statement on Friday's numbers, calling the report "unprecedented," but added the caveat that a lingering party divide in Washington prevents further economic growth.
"Today's jobs report is just further proof of what we already know – Democrats have led our nation to unprecedented job growth and the lowest unemployment rate in six years, yielding expanded opportunity for American families," Rep. Debbie Wasserman-Schultz, chair of the Democratic National Committee, said in a statement.
Wasserman-Schultz added, "The only thing standing between our country and more economic opportunity is Republican obstructionism."
"While we're glad to see some Americans finally finding work, we can't lose sight of the fact that we should have been at this point years ago. Slow job growth may be good enough for Democrats, but Republicans know we can do better," said Chairman Republican National Committee Chairman Reince Priebus in a statement on the September report.
The Dow jumped 166 points following the September jobs report.