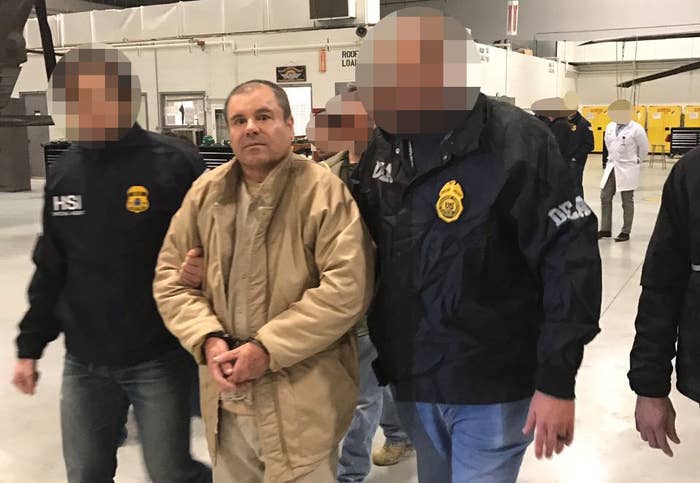 Joaquín "El Chapo" Guzmán, the world's most notorious drug trafficker, entered a plea of not guilty to 17 charges in Brooklyn federal court Friday.
The 59-year-old Mexican head of the Sinaloa cartel appeared in court one day after his extradition to the United States. Guzmán, wearing a dark blue jail jumpsuit, was led into the courtroom in handcuffs to be arraigned. He was represented at the proceeding by two federal public defenders and aided by an interpreter during the hearing.
After entering the not guilty plea, Guzmán's attorney waived his client's opportunity to petition for bail, but reserved the opportunity to do so at a later date.
Earlier in the day, at a press conference US law enforcement officials, who have long sought the extradition of Guzmán, said that Thursday's extradition from Mexico did not come as a surprise, however, they were not notified beforehand he would be arriving on American soil.

"We did not know it was going to happen yesterday," Deputy Assistant Attorney General Kenneth Blanco of the Justice Department's Criminal Division said at a press conference Friday announcing charges against "El Chapo" Guzmán.
Guzmán arrived in New York on Thursday, transported on a Mexican police plane, then was brought to an undisclosed location within the New York City jail system where he is being held.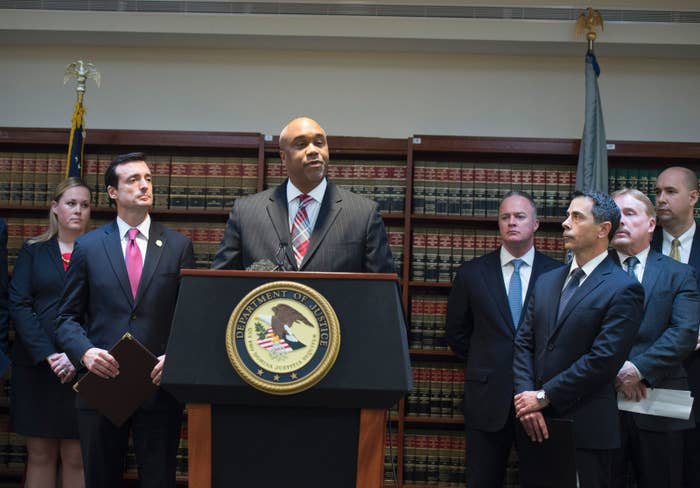 According to the indictment, Guzmán faces one count of leading a continuing criminal enterprise as leader of the Sinaloa cartel in Mexico, among other charges. If convicted, he faces a life sentence. As a condition of his extradition, US Attorney in the Eastern District of New York Robert Capers said, US law enforcement agreed to take the death penalty off the table as a potential sentence.

In addition to the criminal charges that Guzmán faces, which also include running a drug conspiracy to import and distribute tons of heroin, cocaine, methamphetamine, and marijuana, the US government is seeking $14 billion in forfeiture from Guzmán.
The charges against Guzmán cite drug trafficking activity dating back to the 1980s when Guzmán first rose to prominence as the preferred Mexican drug trafficker to the US by the ruling factions of the drug trade in Colombia that included Medellin cartel leader Pablo Escobar. On Friday, Capers described Guzmán as "a small cancerous tumor that metastasized and grew into a full blown scourge."
In addition to the indictment in Brooklyn federal court, Guzmán faces indictments in federal court districts around the country, including in Illinois and California.
Capers said that the indictment is a joined case with the Southern District of Florida. He said he believes that the case in Brooklyn "packed the most forceful punch," noting that he expects if the case goes to trial prosecutors could call as many as 40 witnesses to give an "intricate look into the organization" of the Sinaloa cartel and "the devastation it had wrought." Pressed by reporters to provide more detail on why Guzmán will face justice in Brooklyn, Capers simply added, "Because it's Brooklyn."
The US Attorney said that the other indictments are not being rolled into the New York case at this time and remain open.
Over the years, Guzmán has become as notorious for escaping incarceration as for his criminal activity. On two occasions, Guzmán escaped Mexican prisons with the help of corrupt law enforcement, once through an elaborate underground tunnel dug under the prison.
Asked about their confidence that US law enforcement would be more effective in holding Guzmán, Angel Melendez, special agent in charge of ICE Homeland Security Investigations in New York City, said Friday, "I assure you no tunnel will be built."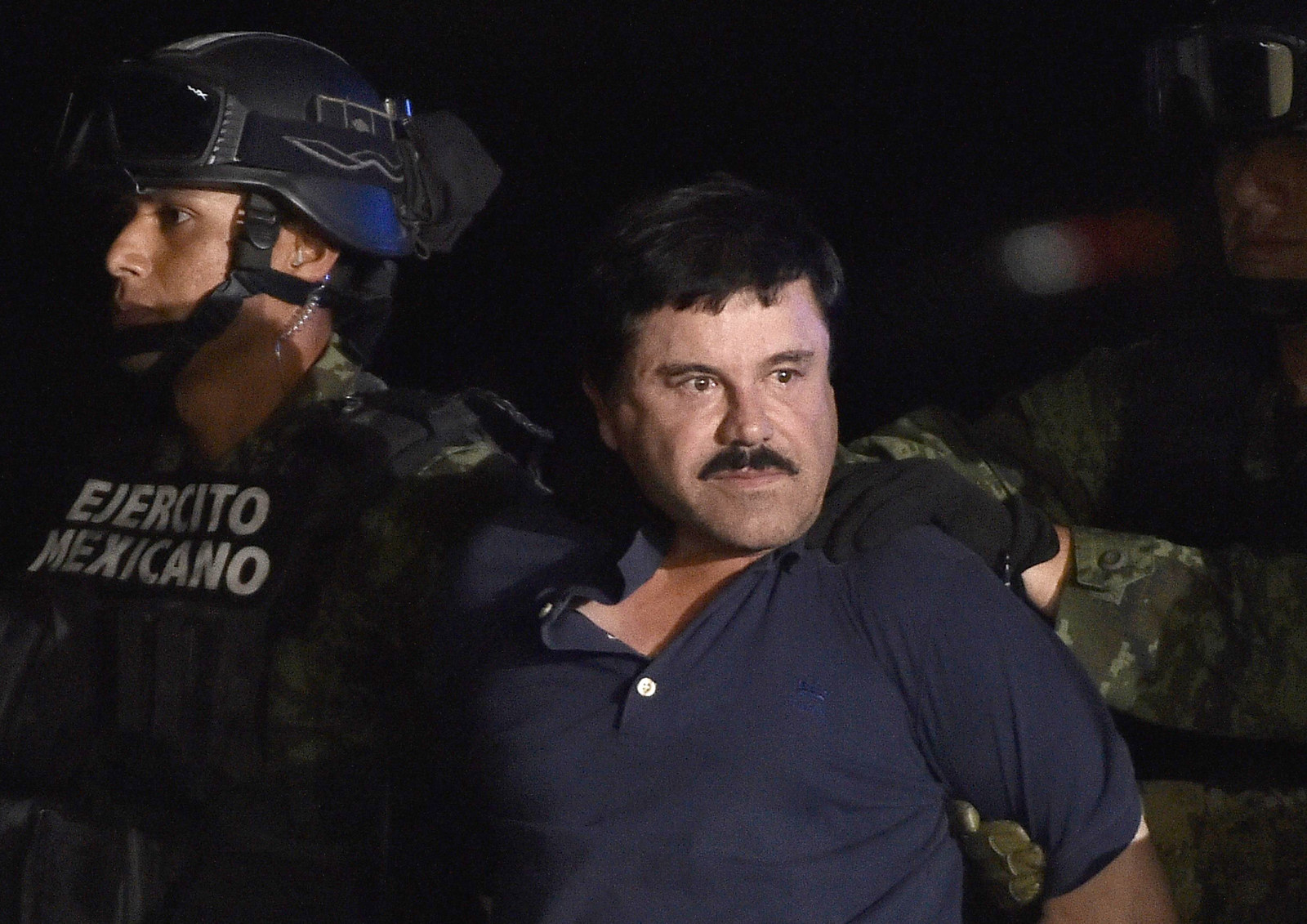 In a 56-page memorandum published in support of Guzmán's pretrial detention, the feds refer to "El Chapo" as "the most notorious drug trafficker in the world," adding that the case against him "encompasses nearly thirty years of Guzmán's drug trafficking activity."

According to the court records, Guzmán got his start in the 1980s when Colombian cartels who controlled major parts of the drug trade relied on Mexican traffickers to get the narcotics into the U.S.
Guzmán quickly set himself apart from other Mexican transporters with his efficiency in transporting drugs into the U.S. through its borders along states including California, Texas, and Arizona, and then quickly returning the proceeds to the Colombians. His prowess earned him the nickname "El Rapido."
Guzmán's success allowed him to begin to negotiate directly with the Colombians and deepen relationships with other Mexican traffickers, including Mayo Zambada, who he formed an alliance with and who is a codefendant in the U.S. case against Guzmán.
His growing power also turned his rivals into enemies and tensions boiled over in 1993 with a bloody battle between Guzmán and other Mexican drug traffickers that resulted in the high profile killing of Cardinal Juan Jesus Posada Ocampo, who was shot 14 times at close range on May 24, 1993 at Guadalajara airport.
After the assassination, the Mexican government undertook its first nationwide manhunt for Guzmán. He fled to Guatemala but was apprehended and sent to a maximum security prison in Mexico.
Despite being behind bars, Guzmán was able to expand his operation thanks to the leadership of his brother. Throughout the1990s, new extradition laws made Colombians grow more weary of U.S. prosecution and allowed their Mexican partners, like Guzmán's organization, to expand the scope of their business if they were willing to take on more risk. Thus, the Mexicans began to invest in wholesale cocaine shipments and take on a more integral role in moving the drugs from Colombia to the United States.
Then, in 2001, Guzmán famously escaped prison while hiding in a laundry cart with the help of prison officials that he had turn corrupt while on the inside. He fled to the mountains of Sinaloa, where as his business continued to thrive he was protected by heavily armed bodyguards who carried military grade weapons. In addition to the armed guards, Guzmán himself was known for carrying a gold plated AK-47 and a gold and diamond-encrusted .45 mm handgun.
As his business grew, so did Guzmán's sophistication for transporting product. According to U.S. law enforcement, the Sinaloa cartel ran a multitude of ports on the southern border of Mexico that were used for transporting drugs by fishing vessels, airplanes and even submarines that were capable of carrying up to six-tons of cocaine on board.
The growing success, U.S. law enforcement says, also led Guzmán to expand to new supply markets. In the 2000s, he established sources of supply for chemicals in Africa and Asia so that he could break into the growing market for methamphetamine in the U.S.
To keep himself protected, officials say, Guzmán paid cash bribes and corrupted officials "at every level of local, municipal, state, national and foreign government." And, along with his veritable army of guards, he employed "sicarios" or "assassins" to carry out acts of violence against rivals, traitors, and potential witnesses against him.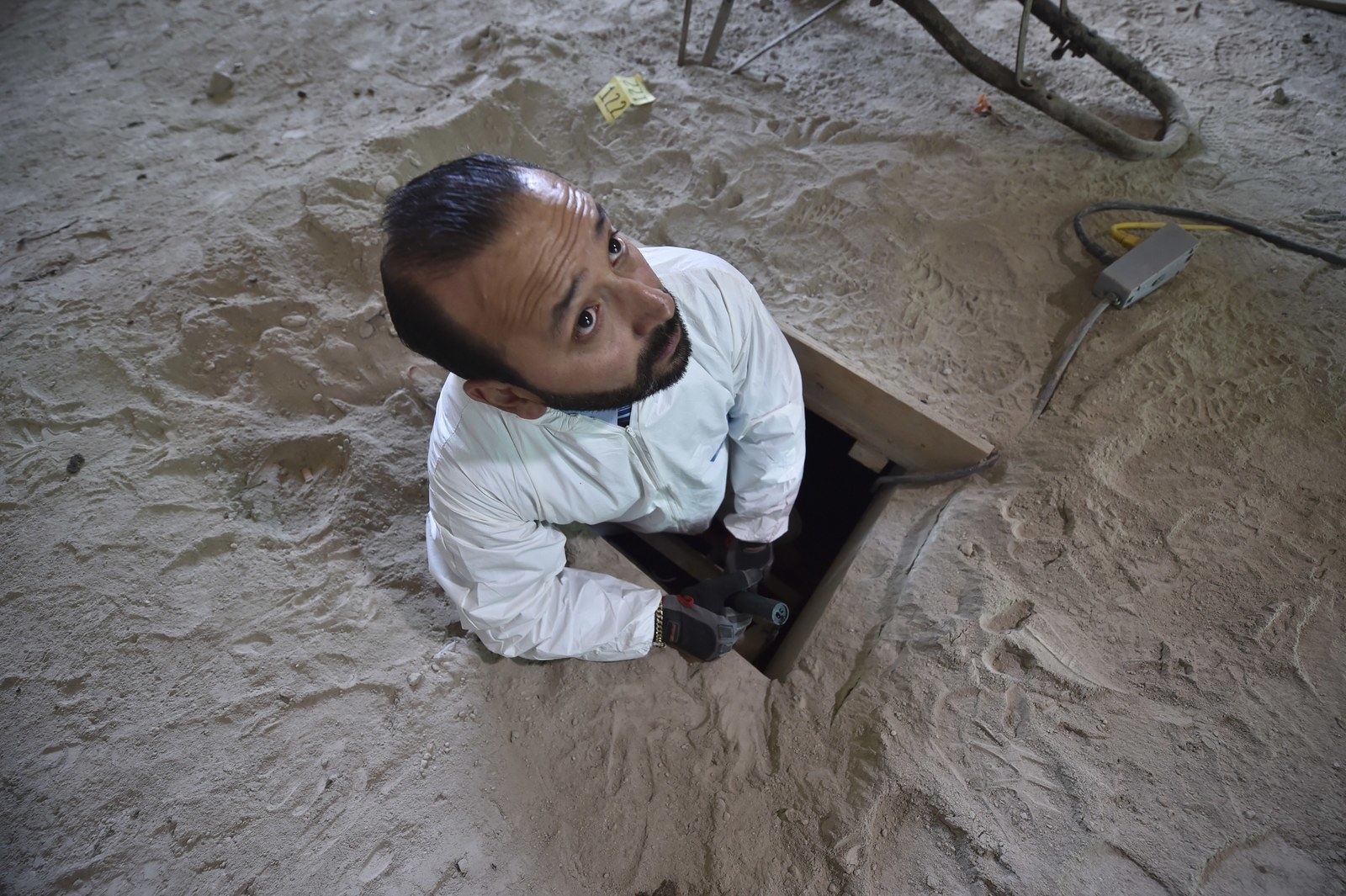 In early 2014, Guzmán once again evaded capture. Mexican special forces had tracked him to a house in Culiacan, Mexico, but when they arrived he is believed to have fled using a concealed hatch under the bathtub and into an underground maze that he had constructed within the city's sewer system.
On February 22, 2014, Guzmán was finally arrested again at an apartment complex in Sinaloa. According to court documents, at the time of his arrest Guzmán controlled almost all of the western hemisphere's cocaine trafficking from South America to Canada.
After his arrest, Guzmán was incarcerated in a Mexican maximum security prison. Then, on July 11, 2015, Guzmán escaped again after a year-long scheme where his associates dug a tunnel from a seemingly abandoned home a mile away that led directly into the shower in his prison cell. It wouldn't be until nearly six months later, on January 8, 2016, when Guzmán was captured during a military raid on an apartment in Sinaloa that resulted in a fierce gun battle and several deaths.