Tsarnaev Lawyers Reveal Harsh Twitter And Facebook Posts From Possible Jurors At Boston Bombing Trial
Dzhokhar Tsarnaev's defense team are using nasty tweets and Facebook posts to discredit possible jurors in the Boston Marathon bombing trial.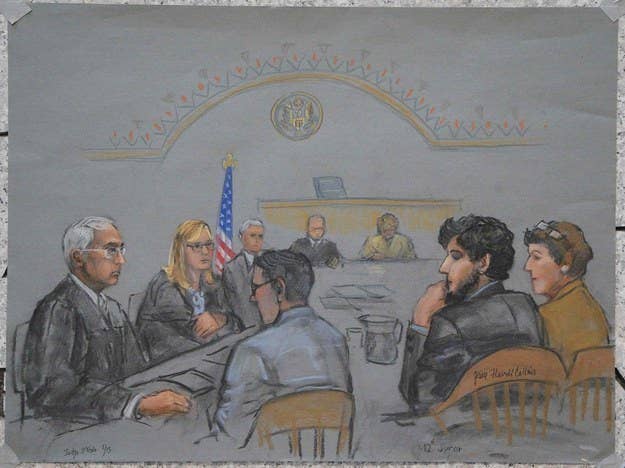 The 12th day of jury selection in the Boston Marathon bombing trial for Dzhokhar Tsarnaev culminated with a heated squabble between his lead defense attorney and a possible juror.
The exchange started with a simple follow-up question from attorney Miriam Conrad, who asked the juror — a middle-aged white man identified as Juror 251 — if he ever posted anything on Facebook about Muslims. The juror replied, "Probably."
Conrad then produced printouts of an image of Calvin from the famous Calvin and Hobbes cartoon, draped in an American flag, urinating on an image of the black logo of the terrorist group ISIS. Conrad asked him if he posted it to his Facebook account.
"It was funny when I got it, and I sent it back out," Juror 251 replied.
"Actually, it was your profile image, right?" Conrad asked.
"If you go back I change my profile picture every week!" Juror 251 protested.
The potential juror grew increasingly angry and raised his voice at Conrad in an attempt to prove he was just joking when he made the picture his profile image.
"There's a lot of funny stuff on there! I'm a funny guy," he added. "Most of my stuff on Facebook is a joke, because it's Facebook!"
The line of questioning, however, probably wasn't needed to eliminate Juror 251. At one point during questioning, he gave a very unconvincing depiction of his knowledge of the events — even asking what day the bombing happened and at what time.
However, the verbal altercation between Conrad and the man did reintroduce two concerns often cited by the defense in their argument that Tsarnaev cannot get a fair trial in Boston: first, that there are potential biases out there in the community and they can be found on social; and second, that there's not enough time to find them all.
"Were you trying to make a point about Muslims?" Conrad pushed.
"You know, maybe I was!" Juror 251 retorted.
At one point, as Conrad grilled Juror 251, federal prosecutor Bill Weinreb objected, stating that it wasn't a cross-examination.
"I'm really just trying to find out how you feel about Muslims," Conrad said.
"I really don't know any, so I don't. But if they're hurting Americans, I have an opinion!" Juror 251 said.
Earlier on Friday, Tsarnaev's defense team revealed a profane tweet from another possible juror after prosecutors objected to a third request for a change of venue, which would move the trial to another city.
The juror, whose Twitter handle was redacted, tweeted on April 19, 2013 — the day Tsarnaev was captured while hiding in a boat in the town of Watertown — "WOOOOOHOOOOOO YOU GOT TAKEN ALIVE BITCH!!!!! DONT FUCK WITH BOSTON!!!!!."
Tsarnaev's defense team did not respond to BuzzFeed News' inquiry to confirm that the tweet was posted by Juror 140, who had been brought back in for jury questioning last week, only to be eliminated before being questioned. The defense had produced a tweet from Juror 140 showing, as Tsarnaev lawyer David Bruck put it, "obscene exultation" on the day Tsarnaev was arrested.
Juror 140 had indicated on their questionnaire that they felt neutral toward the case.
But even though introducing nasty social media posts appears to be a compelling way to slow down the jury selection process, it remains to be seen if the defense team can scour jurors' Facebook and Twitter accounts fast enough.
Judge George O'Toole — who has denied Tsarnaev's first two requests to move the trial— appears intent on seating a jury in Boston, with 114 total possible jurors being brought in so far. And as of Friday, O'Toole has been sitting on Tsarnaev's third motion for a change of venue for a week, giving no indication of when he will issue a ruling.