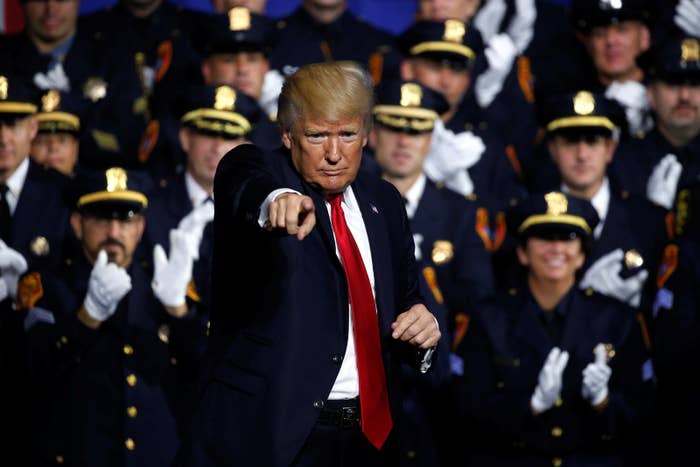 In a speech meant to highlight his efforts to crack down on gangs and undocumented immigrants, President Trump heaped praise on his homeland security secretary in what would become a prophetic moment after he was named the White House chief of staff a short time later.
Upon returning from the speech, Trump tweeted that Homeland Security Secretary John Kelly would be replacing Reince Priebus.

"He is a Great American and a Great Leader. John has also done a spectacular job at Homeland Security," Trump said on Twitter. "He has been a true star of my Administration."

Earlier in the day while addressing a crowd of law enforcement officials in Long Island, Trump also praised Kelly as "truly, one of our stars," noting a reduction in illegal border crossings from Mexico.
"John Kelly is one of our great stars," the president said.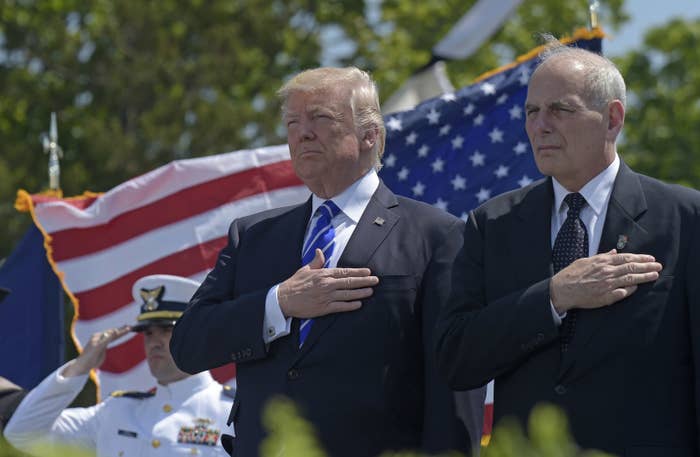 After some applause, Trump turned to his acting director of Immigration and Customs Enforcement (ICE), Tom Homan, and congratulated him on a job well done, calling him "a tough cookie."
Another top law enforcement official who was notably left out of the praise was his Trump's attorney general, Jeff Sessions.

The speech was billed as a chance for Trump to press his strategy for combating violent gangs he says are populated by immigrants from Central American countries, most notably, the transnational gang MS-13. Trump made mention of ICE's efforts to deport members of MS-13, then turned to Homan and jested that the remaining members in the gang would "be out quickly, right?"
It might have been an appropriate time to mention that Sessions was, as he spoke, on the ground in El Salvador reportedly helping to coordinate hundreds of arrests and deportations of MS-13 gang members.
Only hours before Trump spoke on Long Island, Sessions gave a speech in El Salvador at the International Law Enforcement Academy graduation. In the speech, he highlighted that "approximately 700 gang members charged in the last 48 hours," calling it "bold and decisive action like this that will ensure that good prevails over evil."
And in an April visit to Suffolk County, Sessions also vowed to "eradicate" MS-13. In the months since, Department of Justice has brought federal gang conspiracy and murder charges against dozens of MS-13 gang members.
Family members for some of the victims were at Trump's speech.
Freddie Cuevas, father of 16-year-old Kayla Cuevas, who was beaten to death by gang members along with another teenage girl, Nisa Mickens, while walking home from school, told BuzzFeed News that the White House reached out and invited the family to attend.
During his speech, Trump made mention of the two girls, who were killed in September 2016. Cuevas called that a "good thing" that showed "the administration is aware of the fact. It's a big thing for the man to say what he said."
But instead of mentioning the Justice Department's strides against MS-13, Trump highlighted the approximately 1,000 arrests and 600 pounds of drugs taken off the streets by ICE agents. After highlighting those actions, Trump renewed his call for Congress to authorize funding to hire 10,000 more agents for ICE, which currently employs around 6,000 agents.

He also said there was a strong connection between undocumented immigrants filling the ranks of gangs like MS-13, a claim not backed up by an analysis from the Washington Office on Latin America.
"They have transformed peaceful parks and beautiful, quiet neighborhoods into blood-stained killing fields," Trump said. "They're animals. We cannot tolerate, as a society, the spilling of innocent, young, wonderful, vibrant people, sons and daughters, even husbands and wives."

He also encouraged authorities to rough up alleged gang members when they're arrested, something local agencies said they were strongly against.
"When you see these towns and when you see these thugs being thrown into the back of a paddy wagon, you just see them thrown in, rough, I said, 'Please don't be too nice,'" Trump told the crowd.

Kayla Cuevas' mother, Evelyn Rodriguez, told BuzzFeed that Trump may not be the best speaker, "but he says it directly."
"That's what a lot of people don't get, he's extremely open and I'm all for it," she said.