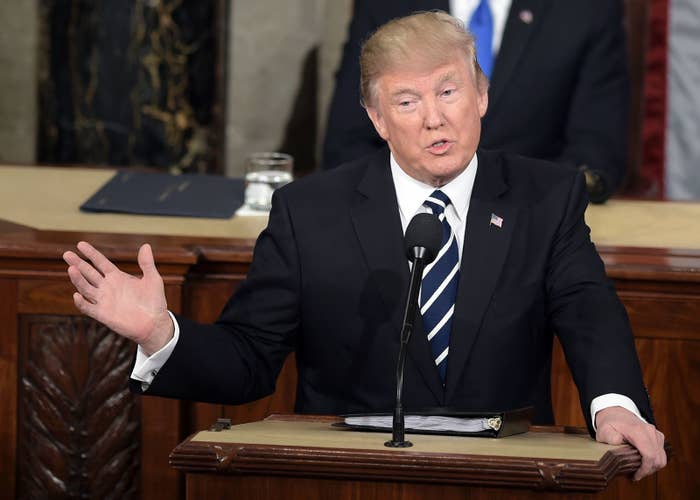 Donald Trump began his first major address as president Tuesday night by condemning recent incidents of hate around the nation.

"Tonight, as we mark the conclusion of our celebration of Black History Month, we are reminded of our nation's path toward civil rights and the work that still remains," Trump said at the top of his nationally-televised remarks. "Recent threats targeting Jewish Community Centers and vandalism of Jewish cemeteries, as well as last week's shooting in Kansas City, remind us that while we may be a Nation divided on policies, we are a country that stands united in condemning hate and evil in all its forms."
On Monday, bomb threats were called into 30 Jewish community centers and schools in at least 18 states, bringing the total number of anti-Semitic threats across the US and Canada this year to 100.
Trump has been criticized for not addressing the attacks head-on.
Earlier on Tuesday, Trump suggested the bomb threats might have been "to make people — or to make others — look bad" and added "sometimes it's the reverse," according to Pennsylvania Attorney General Josh Shapiro.

"He just said, 'Sometimes it's the reverse, to make people — or to make others — look bad,' and he used the word 'reverse' I would say two to three times in his comments," Shapiro said. "He did correctly say at the top that it was reprehensible."
The FBI says that it is investigating the bomb threats for possible civil rights violations.
Trump's mention during Tuesday's speech of a "shooting in Kansas City" actually references a shooting that happened last Wednesday, Feb. 24 in Olathe, Kansas — about 31 miles from Kansas City.
Adam Purinton has been charged in the shooting of two Indian men, one of whom died during the attack, who the 51-year-old reportedly told "get out of my country" before opening fire. A third man was shot after trying to subdue the shooter and suffered nonfatal injuries.
Later that night, Purinton was apprehended after fleeing 80-miles to a Missouri Applebee's restaurant, where he confessed to the shooting. He also told the bartender, according to her 911 call, that he thought the two Indian men, Srinivas Kuchibhotla and Alok Madasani, were Iranians.
Trump and the White House were slow to condemn the incident, telling the press that it was too early to pass judgment on what Purinton's motive was in the attack.
The FBI announced Tuesday that it is officially looking at the shooting as a hate crime.