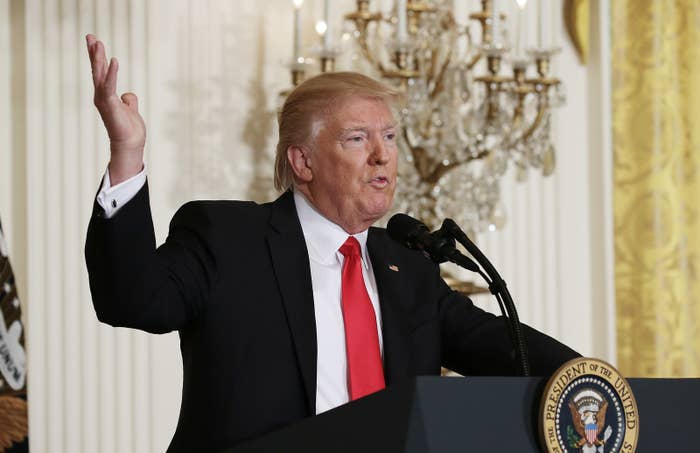 During a lengthy — and dizzying — news conference Thursday, Donald Trump was asked by reporter April Ryan if he would meet with the Congressional Black Caucus.

Trump responded, "Well, I would. I tell you what, you want to set up the meeting? Do you want to set up the meeting? Are they friends of yours?"
Ryan, a longtime White House correspondent, clarified that she is a reporter, but Trump persisted.

"Let's go, set up a meeting. I would love to meet with the black caucus," Trump said. "I think it's great. The Congressional Black Caucus. I think it's great."
Watch the entire exchange:
Trump's remarks to the veteran reporter set off a firestorm on Twitter.
Ryan tweeted this response to Trump.
It was the second time this week that Ryan found herself in a heated exchange with the Trump campaign. Earlier this week, she told the Washington Post that White House aide Omarosa Manigault made "verbal threats" against her and had collected "dossiers" of negative information on journalists.
The official Twitter account for the CBC tweeted that the group actually sent Trump a letter on Jan. 19, the day before his presidential inauguration.
The letter states:

During your campaign, you pledged to address a number of issues being faced by African-Americans. Unfortunately, your "New Deal for Black America" represents the same old "Trickle Down" economics assumptions that didn't work for our communities in the 1980's or in the 2000's when these failed experiments were tried before. Furthermore, your insistence on reducing the African-American experience solely to the conditions faced by many in our inner cities is ultimately unproductive. 39 percent of African-Americans live in suburbs compared to 36 percent who live in inner cities. The remaining 25 percent live in small metropolitan areas and rural communities. For more than 45 years, the Congressional Black Caucus (CBC) has worked to improve conditions for African-Americans from all walks of life. Collectively, our Members represent 78 million Americans, 17 million of whom are African-American. Our districts are rural as well as urban. Some of our Members represent majority-minority districts while others do not. If you are serious about addressing issues in the African-American community, you would be wise to tap into the decades of expertise held by Members of our Caucus.
Trump used the question about the Congressional Black Caucus to make the claim that Rep. Elijah Cummings, who is also a top Democrat on the House Oversight and Government Reform Committee and former chairman of the CBC, canceled a meeting with the president.
Trump said Cummings "was all excited and then he said, 'Oh, I can't move, it might be bad for me politically. I can't have that meeting.'"
Trump added, "I was all set to have that meeting. We called him and called him. Very nice guy. He wanted it, but we called, called, called, called. They can't make a meeting with him. Every day I walk in I say, 'I would like to meet with him, because I do want to solve the problem.' But he probably was told by [Senator Chuck] Schumer or somebody like that — some other lightweight — he was probably told, 'Don't meet with Trump. It's bad politics.' And that's part of the problem with this country."
Cummings put out a statement Thursday refuting what Trump said.
"I have no idea why President Trump would make up a story about me like he did today," Cummings said. "Of course, Senator Schumer never told me to skip a meeting with the president."
He added:
I was actually looking forward to meeting with the President about the skyrocketing price of prescription drugs. What I have been doing for the past several weeks is working closely with my partner on these efforts, Senator Bernie Sanders. My goal was to finalize our proposal to allow HHS to negotiate lower drug prices so I could present it to the President. The President has said many times that he supports this proposal, so I wanted to have our bill ready to get his support.

I also sincerely have no idea why the President made this claim in response to an unrelated question about the Congressional Black Caucus. I am sure members of the CBC can answer these questions for themselves.

The skyrocketing price of prescription drugs is an issue that affects every American family — not just people of color — and I hope the President will make good on his promise to finally allow HHS to negotiate lower drug prices on behalf of American families. I look forward to meeting with him on this issue and others.
Ryan spoke to CNN on Thursday about the press conference and was asked about Trump's remarks that she should "set up a meeting."

"As far as facilitating that meeting or convening that meeting, that is not my place. I believe that they — every White House has someone to deal with this kind of meeting or this kind of bringing together of people," Ryan told CNN's Brooke Baldwin.
Ryan said she thought the press conference was "hastily put together."
"We found out this whole press conference was called when President Trump walked into the oval office and told a member of his senior staff essentially today is the day, I want to hold this press conference," Ryan said.
Asked if during her 20-plus years working as a White House correspondent if she had ever seen anything like Thursday's press conference, Ryan said, "Never."

BuzzFeed News reached out to the White House and asked if they wanted to clarify Trump's remarks to Ryan.

UPDATE: April Ryan reports that the White House has reached out to the CBC to set up a meeting.