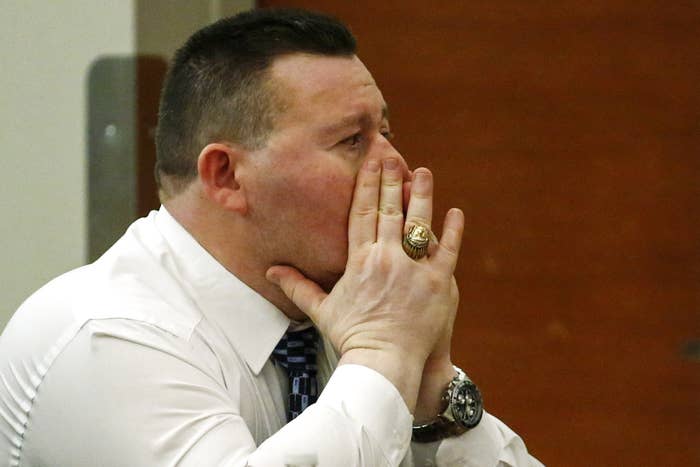 In the government's opening statement in the trial of nine New York prison guards accused of assaulting inmate Jahmal Lightfoot so badly that his face was swollen beyond recognition, attorney Pishoy Yacoub quoted from the sinister remarks allegedly made by the corrections officers before beatdown.
"I want to see that mother fucker's teeth on the floor," the assistant district attorney said, quoting an officer. "Kick his fucking teeth in."
The Rikers Island officers charged in the alleged attack are accused of pulling Lightfoot out of line and beating him during a unit-wide strip search that occurred after another inmate slashed someone in the jailhouse shower.
Lightfoot was supposedly singled-out after he locked eyes with Eliseo Perez, Jr., assistant chief of security at Rikers, who then ordered that he be taken to a private search pen.
After Perez gave the order, Lightfoot was taken into the private room where five corrections officers were waiting for him. Two officers held his arms and legs while three others, "went to town on his face, kicking his face like a football for a field goal," Yacoub said.
The officers face multiple criminal counts that include gang beating and assault, and tampering with evidence. If convicted the officers could each face up to 15 years in prison.
If convicted, several of the officers – who still work at Rikers – will be automatically fired. Perez retired from the department of corrections the month after the incident.
During the incident, Lightfoot suffered two fractured eye sockets, a broken nose, and had to be admitted to the hospital for treatment.
Yacoub told the jury that that the prosecution will show them photos of Lightfoot's face taken approximately an hour after the beating.

"Swelling beyond belief. Face so swollen you're not going to be able to see the eyes," Yacoub said describing the injuries.
Yacoub said that after the beating, the officers conspired to falsely report that Lightfoot had attacked one of the charged officers – Alfred Rivera – inside the search pen and slashed him on the arm with a knife.
He also said they waited 18 hours to report the incident when protocol says that officers are required to report any incident within two hours.
Yacoub added that Rivera's injury was merely a cut or a scrape that amounted to nothing more than a "little boo boo."
After the beating, other officers filed reports saying they heard their fellow officers say "drop the weapon" to Lightfoot while he was in the pen with the five corrections officers.
After the incident, the officers said they recovered a sharp object inside the pen. Yacoub said that the prosecution will put an expert on the stand who will testify that a test on the knife for Lightfoot's DNA came back negative. The prosecutor also said that the alleged weapon "is a piece of metal that comes off a knife that supposedly every corrections officer has."
After the government's opening statement, attorneys for the nine officers got up and delivered opening remarks on behalf of their clients.
Louis Albert, who represents Rivera, called the government's opening a "very dramatic presentation." He said his client never claimed in his report that Lightfoot slashed him.
"It says grazed or scraped," the attorney said.
He also said that his client would not contest Lightfoot's injuries. He added that Lightfoot healed within a month.
"He's going to tell you he hit him, several times in the torso and face, he didn't kick him," Albert said. "I suggest that if that happened his injuries would be a lot worse."
Albert also went after Lightfoot's character during his opening and asked the jury to consider his credibility.
"He, in fact, was a soldier in the bloods gang," he said.
Lightfoot was convicted for robbery charges and served three and a half years before being released on parole. Yacoub said that he intends to testify in this case.
The trial comes during a time when Rikers is under intense scrutiny for the practices of it corrections officers. Bronx district attorney Darcel Clark, who has vowed to clean up corruption at Rikers, was seated in the front row of the courtroom Wednesday.
Because there are nine defendants in the case — with nine different attorneys — a lengthy trial, lasting at least two months, is expected.