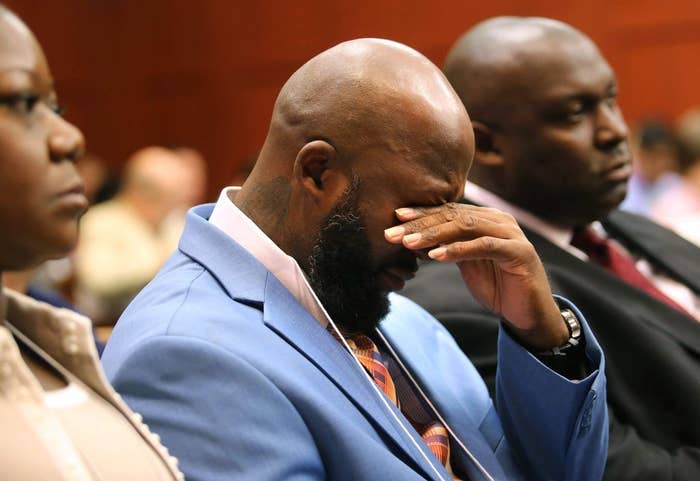 One day after learning the Justice Department would not bring charges against the killer of his son, Tracy Martin told BuzzFeed News that "the bar is too high" to meet the criteria of a federal hate crime.
"We knew that to get sufficient enough of evidence, Trayvon would have to be here to tell his story," he said.
Martin said he braced himself going into the meeting Tuesday along with Trayvon Martin's mother, Sybrina Fulton, the family's attorneys, and five top officials from the Justice Department.
"They expressed their sympathies," Martin said of the DOJ officials. "Their feeling was that they weren't able to come up with enough evidence."
Martin said the investigators did determine that there were questions that the state of Florida did not ask during their investigation of his son's killer, George Zimmerman.
According to Martin, the Justice Department determined that some statements Zimmerman gave since the 2012 shooting were fabricated.
"They knew that [Zimmerman's] account of the situation, that the way that he said it, it wasn't true," Martin said.
After the Justice Department's announcement not to charge Zimmerman on Tuesday, the family said in a statement they were "disappointed" in the decision, but thanked the DOJ for its investigation.
At a press conference Wednesday, Fulton lashed out at the federal government, insisting Zimmerman got away with murder.
"He took a life, carelessly and recklessly, and he shouldn't deserve to have his entire life walking around on the street free. I just believe that he should be held accountable for what he's done," she said.
Now that the federal investigation of his son's death has concluded, Martin told BuzzFeed News that the family will not bring a civil suit against Zimmerman.
"The state tried and failed. The Justice Department didn't feel there was enough evidence, there's nothing left to do but continue to fight for kids like Trayvon," Martin said.