Attorney: Tony Robinson's Friends Questioned For Hours After Shooting Without A Lawyer
An attorney told BuzzFeed News that two of Tony Robinson's friends were questioned for hours — without a lawyer — after the unarmed black teen was shot in Madison, Wisconsin. New witness-provided video shows lawyers trying to get to the boys at a police precinct, only to be turned away by officers.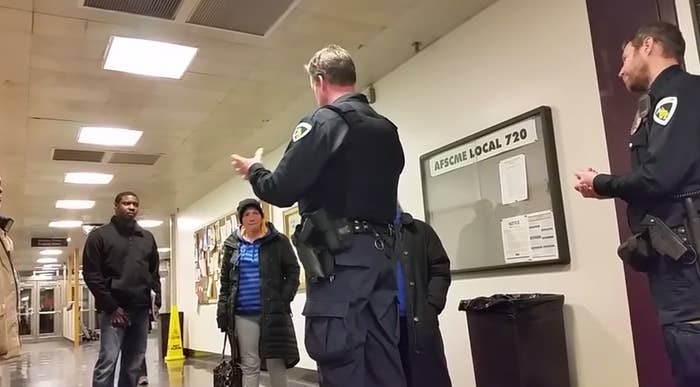 New video provided to BuzzFeed News shows family members and legal counsel struggling to gain access to two young men who were taken in for police questioning shortly after Tony Robinson was shot and killed by a Madison, Wisconsin, police officer.
Robinson, 19, was shot and killed by Madison police officer Matt Kenny on Friday night, March 6, inside a house. He was unarmed. Kenny, a 12-year veteran of the MPD, has been placed on unpaid administrative leave during the investigation.
Anthony and Javier Limon, friends of Robinson, live at the home where Robinson was shot. Neither of the two brothers were inside the residence during the deadly shooting, witnesses told BuzzFeed News.
After the shooting the two brothers were driven to the Central Station of the Madison Police Department in a police car and questioned for hours without an attorney, according to Craig Spaulding, who told BuzzFeed News that he is like a "surrogate dad" to the two boys.
Spaulding added that as they were being driven away, Anthony Limon yelled to him that he wanted a lawyer brought to the station.
"I said, 'Don't say a word, we're going to get you an attorney, don't say anything,'" Spaulding said. "Anthony said, 'All right, all right, I'm OK. Get me an attorney.'"
Attorney Everett Mitchell told BuzzFeed News that he received a phone call from Anthony while he was at the station, saying that he needed a lawyer. Afterward, Mitchell drove to the police station and told a Madison police officer that Anthony had called him and requested to see an attorney.
When Mitchell arrived at the station, he said police told him that he would have to wait to speak to the boys because investigators from the Wisconsin Division of Criminal Investigation — the state law enforcement agency heading up this case — were on their way to meet with Anthony and Javier. Mitchell said that he waited about an hour for the DCI investigator to come speak with him.
Mitchell told BuzzFeed News that the two boys were questioned by investigators for "at least four or five hours."
According to a new bill signed into law by Wisconsin Gov. Scott Walker in April 2014, all officer-involved shootings in the state are required to be investigated by an outside agency — not the department where the officer(s) involved work.
The first video shows a contentious exchange inside the police station between several lawyers and family members of the boys, a Madison police officer, and a DCI investigator.
On tape, the officers insist that the boys need to request a lawyer in order for one to be present during questioning.
Mitchell can be seen on tape telling the officers that the boys called him to come down and represent them. "They called me up, that's how I got down here," Mitchell said.
In the second video — shot after the officers said they informed Anthony that an attorney was available if he wanted him present for questioning — a Madison police officer tells the group that Anthony was asked if he was fine talking to two agents by himself. "Anthony just said, 'I don't need him back here. I'm good talking to [the investigator] by myself,'" the officer says.
The officer insists that even though Anthony might have requested an attorney initially, "he changed his mind."
The Madison Police Department referred BuzzFeed News to Anne Schwartz, communications director for the state's Attorney General Brad Schimel, to comment on the investigation.
Schwartz responded to BuzzFeed News' request for comment by referring to the press release outlining their investigation that states, "If details of the investigation are shared with the public, then the veracity of any subsequent statement could be questioned because it would be impossible to determine whether the statement was informed by the media coverage rather than the witness's personal observations."