The St. Louis Police Posted A Really Insensitive Message About Tamir Rice
"Kids will be Kids?"
The St. Louis County Police tweeted this morning about Tamir Rice, the 12-year-old Cleveland boy who was shot and killed by a police officer on Nov. 23.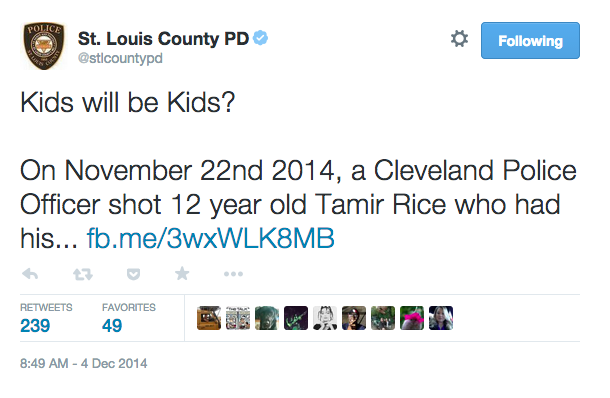 The link in the tweet goes to a longer message on the department's City of Fenton Precinct's Facebook page and asks parents to share this message with their children. The Facebook post has been removed.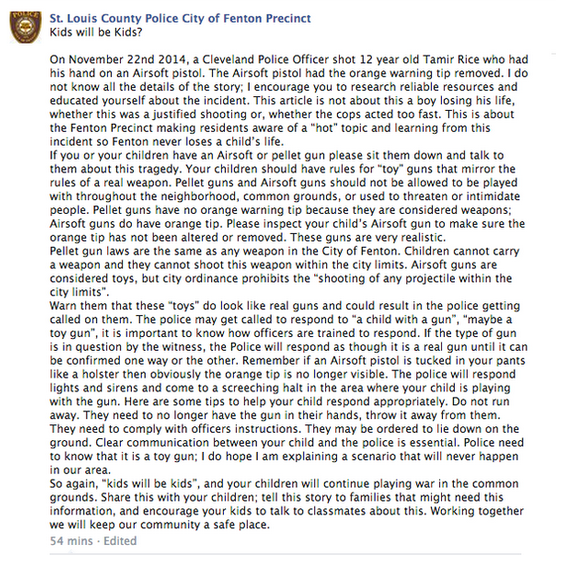 Rice was shot while playing with an airsoft toy pistol in a Cleveland park by rookie officer Tim Loehmann. The incident is currently under investigation.
St. Louis County police spokesperson sent BuzzFeed News the following statement from Chief Jon Belmar apologizing for the post:
On Thursday, December 4, 2014, an officer assigned to the St. Louis County City of Fenton Precinct made a post on the precinct Facebook site that spoke about the death of 12 year-old, Tamir Rice of Cleveland, Ohio. The intention of the post was to inform citizens about the potential danger of airsoft or pellet guns resembling real guns. However, the post was a misguided communication strategy and was offensive to many people.

As Chief of Police, I apologize to Tamir's family and anyone who was offended by the post. While the post did not originate from the Chief's Office and I was unaware of its presence prior to its release, I realize the message was insensitive to Tamir's family and the sorrow they are currently experiencing. The post conveyed the message that my officers respond to calls involving a child with a gun with indiscretion and little regard for life. I want to emphasize that my officers respond to calls with discernment, and have the highest regard for human life. We train officers to take all facts and circumstances into consideration when making decisions about using force.

The Facebook post has been removed and because of this incident, the social media policy has been altered in order to prevent future occurrences. I know social media is an effective way to provide the public with information, and I will make every effort to ensure that we do it in a responsible manner. Our continued thoughts and prayers go out to Tamir's family in this trying time.