The Sad, Slow March To Justice For Maria Hamilton
One year after her son was shot 14 times and killed by a police officer, Maria Hamilton struggles to get closure.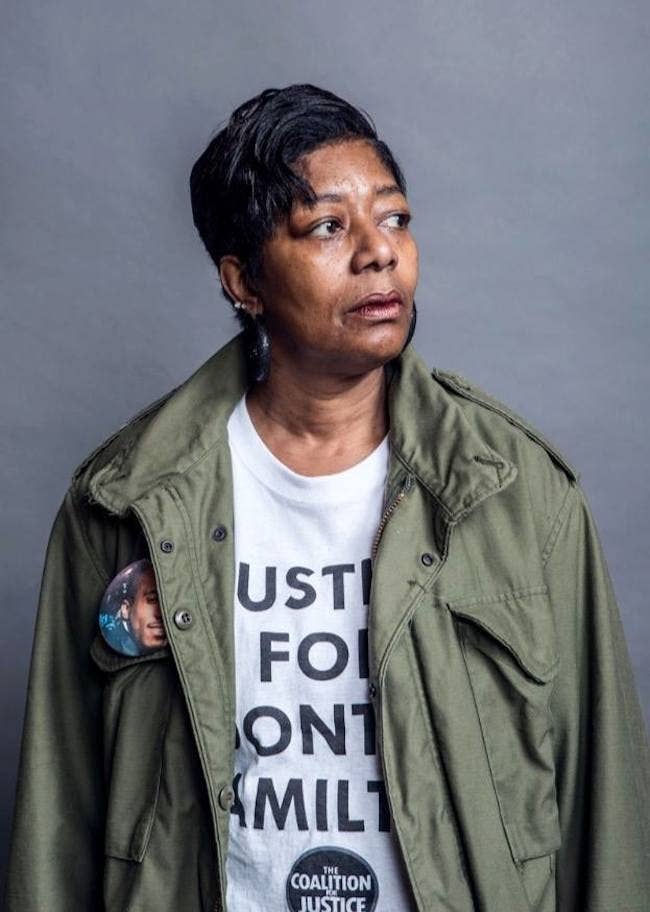 About a month and a half ago, Maria Hamilton pulled up to a stop sign while driving through Milwaukee.
"I made a complete stop. Then as soon as I turned the corner, he put his lights on," Hamilton told BuzzFeed News.
A Milwaukee police officer pulled her over, claiming she "jumped out in front of him." Hamilton said she was driving in front of the officer's car the entire time and never cut him off. She said the confrontation was heated until the officer recognized her.
"I turned to look at him and he saw my Dontre Hamilton pin. He kind of put two and two together. Told me to go on my way and have a good night," Hamilton said.
April 30, 2015, marks one year since Hamilton's 31-year-old son Dontre was shot and killed by former Milwaukee Police Officer Christopher Manney in Red Arrow Park.
A year earlier, on the evening April 30, 2014, Dontre Hamilton, a diagnosed paranoid schizophrenic, was sleeping on a park bench when employees from a nearby Starbucks called the police because they thought he was disturbing the peace. Two officers responded and informed the baristas that Dontre wasn't doing anything illegal.
Officer Manney showed up after, roused Dontre, and tried to pat him down. The two men got into a struggle and Dontre allegedly swiped Manney's baton and hit him with it. Manney fired his gun, hitting Dontre 14 times and killing him.
The tragedy reverberated through the community and made national news as details of what actually happened that night in the park emerged.
Four days after the incident, Kelly Brandmeyer, another Starbucks employee who witnessed the shooting, posted her version of the incident online. Brandmeyer wrote how the two other officers who showed up before Manney told her co-workers who called it in that there was no disturbance ("He's doing nothing illegal, there was nothing to enforce, and we should stop calling"). She also wrote how she tried to count Manney's shots ("I counted 3…then 5…then 10 all in quick succession").
"The reason why I did it was I wanted to make sure I got my side of the story got out before the police could," Brandmeyer told BuzzFeed News.
Brandmeyer said the response to her putting her witness account online was mixed.
"Half the people were like, 'You're so brave for writing it,' and the other half were like, 'That guy got what he deserved — fuck him,'" Brandmeyer said.
It took six months, but Manney was fired in October 2014 for executing an illegal pat-down on an "EDP" (emotionally disturbed person). Milwaukee Police Chief Ed Flynn called the pat-down a violation of department procedure, but wouldn't damn Manney's use of deadly force.
Dontre's death was one of the first shootings investigated after Wisconsin Assembly Bill 409 was signed into law by Gov. Scott Walker, dictating that all police shootings in the state be investigated by an outside agency, not the department where the officer works.
Dontre's death was investigated by the Wisconsin Division of Criminal Investigation. However, the two lead case agents on the investigation were former Milwaukee Police Department officers, Gilbert Hernandez, a 35-year MPD veteran, and David Klabunde, a 25-year MPD veteran.
Three days before Christmas on Dec. 22, 2014, District Attorney John Chisholm announced that no criminal charges would be filed against Manney.
In his report, Chisholm called the incident "a tragic incident for the Hamilton family and for the community." But, based on DCI's investigation, he had determined Manney's actions to be "justified self-defense."
"Society has slapped me in the face with my son's blood," Hamilton said, recalling the decision not to charge Manney.
The firing of the officer that killed her son brought little joy and no closure to Maria Hamilton and her family.
Asked if the pain from Dontre's death is still as strong one year later, Hamilton told BuzzFeed News, "Even more so."
Talking about how Dontre's death changed her family, Hamilton said, "We all have our days. We used to get together every weekend. We were cooking, dancing. Now we take the time to comfort each other."
Hamilton said that some of the hardest challenges have fallen on her 9-, 10-, and 12-year-old grandchildren who miss their "Uncle Macho" and are sometimes teased about Dontre's death by other kids at school.
"They have problems with kids saying things to them at school: 'He was homeless,' 'He was crazy,'" Hamilton said.
In March 2015, Manney appealed his firing before the Milwaukee Fire and Police Commission. During his testimony, Manney maintained his story that on the night of the incident Dontre gave him a crazy look that caused him to fear for his safety. In a memo Manney wrote after the shooting, he called Dontre's look a "1,000-yard stare."
"[Manney] did the "1,000-yard stare" at the hearing," Hamilton said. "I was appalled to have to sit through that. That he would shoot a man 14 times and want to be back out on the street."
The FPC upheld Police Chief Ed Flynn's decision to fire Manney and city officials responded with support.
Mayor Tom Barrett said in a statement, "I think this sends the message to our police officers that it's important to follow the rules that we have, the training they receive."
Chief Flynn defended his decision to fire Manney yet again in an April 9 op-ed for Time.com, writing that his firing was the "appropriate sanction. … bad police performance that's not motivated by malice needs to be dealt with very sternly, including termination. But not every police error is necessarily something that should result in jail."
BuzzFeed News requested to speak with Flynn for this story. MPD Spokesperson Mark Stanmeyer responded, "This topic has been extensively covered in the past year and we have nothing new to add."
Manney has 10 days from the FPC's decision was filed on April 28 to file yet another appeal. His lawyer did not respond to an email asking if he plans to do so.
In the meantime, the Hamiltons continue to wait for the decision of a federal investigation by U.S. Attorney for the Eastern District of Wisconsin James Santelle that will determine if Manney violated Hamilton's civil rights.
Asked if she is at all confident that the Santelle will charge Manney, Hamilton said, "I have no confidence. The right thing has not been done since April 30, 2014. Why would it happen now?"
Santelle's office declined a request to speak with BuzzFeed News for this story.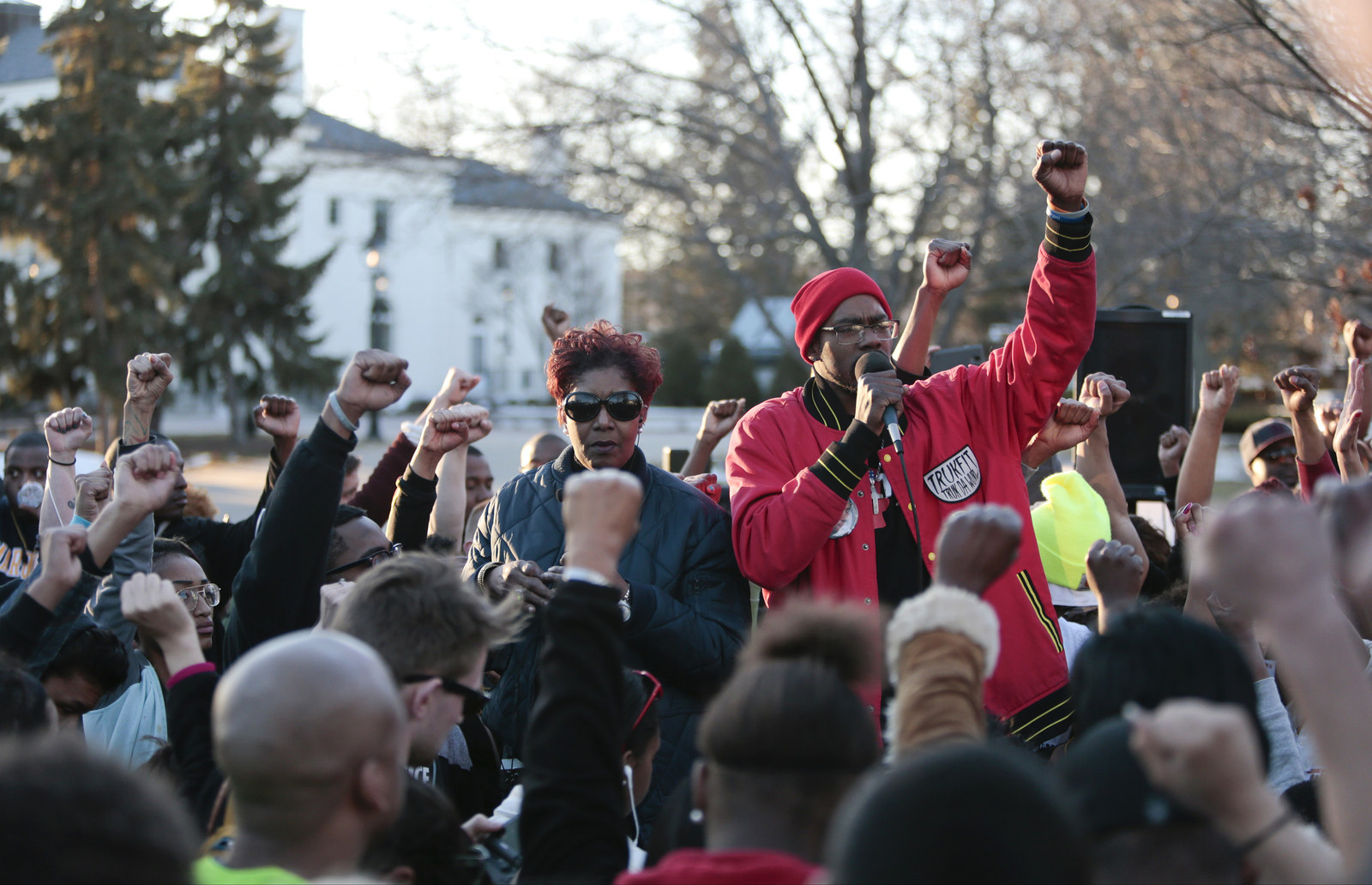 On May 9, Hamilton and the group she founded after Dontre's death, Mothers for Justice United, will march on Washington, D.C. It's her birthday and also the anniversary of the day she buried Dontre. Recently, someone reached out to her, asking her to cancel the event.
"I actually got an email to cancel my march because they thought what's happening in Baltimore could spill over into D.C.," Hamilton said.
She has no intention of canceling the march that she says will be a culmination of a 10-day celebration of her son Dontre's life — family and supporters are kicking off their remembrance festivities on April 30 with a demonstration in Red Arrow Park on the anniversary of Dontre's death.
"It's going to be a celebration from midnight [on April 30] to the march on May 9," Hamilton said.
Hamilton's lawyer, Jon Safran, says he expects that the U.S. attorney's decision to come in the next couple weeks.
Recalling how the DA's decision on not to charge Manney came three days before Christmas, Hamilton expects it will probably come at the most inconvenient time possible for her and her family.
"I wouldn't be surprised if we got their call at the march or on the way to the march," Hamilton said.