The attorneys for a Jewish woman suing a white supremacist have so far tried, and failed, to track down Andrew Anglin, the man behind the internet's most popular neo-Nazi website, to serve him with a lawsuit alleging that he was responsible for a harassment campaign that included death threats and online attacks directed at the woman's 12-year-old son.

Richard Cohen, president of the Southern Poverty Law Center, who filed the lawsuit last month on behalf of plaintiff Tanya Gersh, told BuzzFeed News that they have reason to believe that Anglin is currently residing in his home state of Ohio. He said that they have sent a process server "multiple times to multiple locations" but "have been unsuccessful" in serving Anglin.
"At at least one place in Ohio [our process server] heard voices inside, but when he knocked nobody came to the door," Cohen said.
BuzzFeed News reached out to Anglin, who published the Daily Stormer, by email but did not hear back.
This lawsuit against Anglin stems from a December 2016 post on the Daily Stormer goading readers to engage in a "troll storm" against a Jewish realtor in Montana named Tanya Gersh.
In the post, Anglin claims he was convinced Gersh was "extorting" Sherry Spencer, the mother of leading white supremacist Richard Spencer.
A month earlier, in November 2016, Spencer called Gersh after hearing about a planned protest outside a building that Spencer owns in downtown Whitefish, Montana. The demonstrations were being planned in response to a viral video of her son, Richard, leading a "Hail Trump!" chant, and offered to help Spencer sell the building. Gersh says that she advised Spencer to sell her property.
According to the lawsuit, Gersh and Sherry Spencer began to discuss working together to sell the property. But then a month later, Sherry Spencer apparently had a change of heart, and published a post on Medium accusing Gersh of extortion.
In his December 2016 post, titled "Jews Targeting Richard Spencer's Mother for Harassment and Extortion – TAKE ACTION!," Anglin wrote, "Let's Hit Em Up. Are y'all ready for an old fashioned Troll Storm? Because AYO - it's time, fam." The post contains a substantial amount of contact information for Gersh — who he calls a "whore" — her husband, and one of her sons, a 12-year-old who Anglin calls "a scamming kike" and "creepy little faggot."
Anglin asked his readers to contact the Gershes and "make your opinions known." He asked them to call the them, email them, tweet them, or "if you're in the area, maybe you should stop by and tell her in person what you think of her actions." He explicitly wrote that no one should do anything violent, but added, "It is very important that we make them feel the kind of pressure they are making us feel."
In the lawsuit filed on April 18, Gersh alleges more than 700 instances of harassment directed at her and her family in connection with the "troll storm" orchestrated by Anglin. These include emails to her reading, "Ratfaced criminals who play with fire tend to get thrown in the oven," and "This is the goylash. You remember the last goylash, don't you Tanya? Merry Christmas, you Christ killing Jew," and one that simply reads "Death to Tanya" repeated in the message about 100 times.
She also claims she received phone calls at home where, for example, when she picked up a caller said, "You should have died in the Holocaust with the rest of your people" and another call consisting only of the sounds of guns being fired. In addition, the complaint shows that trolls targeted her 12-year-old son, including tweeting at him, "psst kid, there's a free Xbox One inside the oven" with a photo of an oven in the tweet.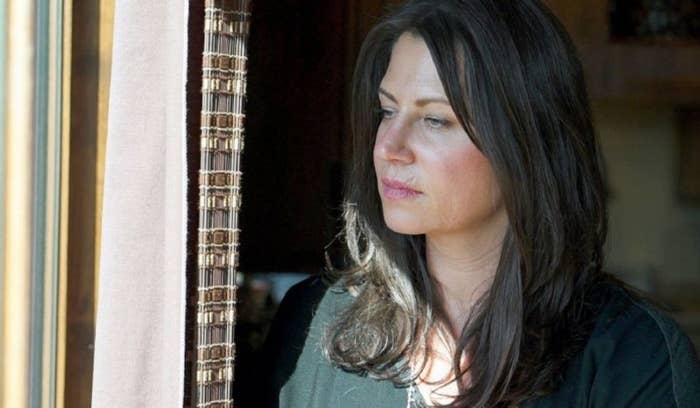 "We know that Anglin knows all about the lawsuit because he's writing about the lawsuit and collecting money for the lawsuit," Cohen said.

Indeed, the Daily Stormer has posted about the lawsuit, calling for readers to help Anglin raise a "huge chunk of cash" for his legal defense, adding that if he doesn't raise the money, "The Daily Stormer will disappear."
So far, the fundraising campaign has raised more than $111,000 of a $150,000 goal on the website WeSearchr. This campaign is being run by another notorious internet troll, Andrew "Weev" Auernheimer, who contributes to the Daily Stormer, including authoring the prominently featured fundraising post on the site.
"This fundraiser is the first step in the just punishment of the wicked Jews," Auernheimer told BuzzFeed News in an email.
"The casting out of these parasites from their homes in accordance with the doctrines of Martin Luther shall begin with the lying extortion artist Tanya Gersh and her scheming rat son," he added. "Her lies are now on paper, and she shall be subject to sanctions and legal penalties for her crime of perjury."
Asked if he knows where Anglin is presently, Auernheimer said he had no idea where he lives and has never been to his residence.
The man behind the platform Auernheimer is using to host the campaign, WeSearchr, is Charles C. Johnson, another internet troll with ties to the Alt-right movement. Johnson confirmed the authenticity of the fundraiser in an email to BuzzFeed News, adding that several lawyers have expressed interest in representing Anglin.
On Anglin's fundraising efforts, Cohen said that he was not surprised to learn he was trying to raise money for his defense.

Cohen also noted that the Montana federal judge in the case has set a preliminary hearing in the case for the end of July, though he said that may have to be moved if Anglin continues to evade service. Cohen said he hopes to go to trial within a year.
"I hope he uses the money to get a lawyer and defend himself," Cohen said. "We're interested in meeting him in court."