This is a Facebook post from accused Las Vegas shooter Jerad Miller on May 8: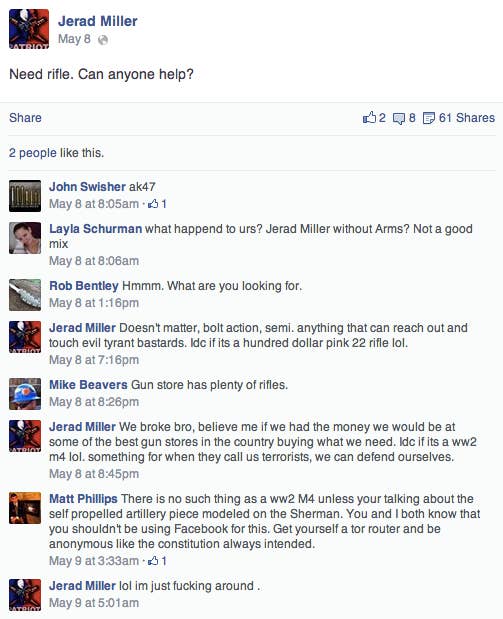 Facebook recently announced that it was cracking down on illegal gun posts, officially adding guns and ammo to the list of adult items it said it would be more closely monitoring on Facebook and Instagram.
Facebook's new gun policy, which went into effect in March, is still in the early stages of execution and Facebook will only remove a post or contact a user about a post if it is reported to them.
Gun control advocates also expressed outrage over Miller's post about obtaining a rifle.
Dan Gross, President of the Brady Campaign to Prevent Gun Violence said, "In March, we said Facebook's new gun policy didn't go far enough and we are sickened to learn that the Las Vegas shooter attempted to obtain a rifle through Facebook. The post has remained live on Facebook for a month, demonstrating the inadequacy of Facebook's gun policy."
BuzzFeed shared the post with Facebook, who provided the following statement:
"Any time we receive a report about a post discussing the private sale of a firearm, we send a message to that person reminding him or her to comply with relevant laws and limit access to that post to people over the age of 18. We do not permit people to post offers to sell regulated items that indicate a willingness to evade or help others evade the law."
UPDATED — June 9, 8:30 p.m. ET: A Facebook spokesperson responded to BuzzFeed with an additional comment:
"While this online discussion is certainly disturbing in light of recent events, we have not been made aware of any connection to an actual gun transaction offline."
BuzzFeed reached out to the Las Vegas Police Department to ask if authorities contacted Facebook as part of their investigation into the Millers and we are waiting to hear back.