Social Media Manager Hunted Down By FBI Accused Of Building Improvised Explosive Device
UPDATE: Court documents detail suspicious items found in Ryan Chamberlain's apartment, including a rocket motor, an unidentified powdery substance, and a glass jar filled with ball bearings.
The unsealed FBI complaint detailed the materials found inside Chamberlain's apartment and stated that investigators believed they could be used to construct an improvised explosive device capable of killing or maiming people. Read the full complaint.
FBI complaint details the materials found inside Chamberlain's apartment that investigators believe could have been used to make and detonate an IED.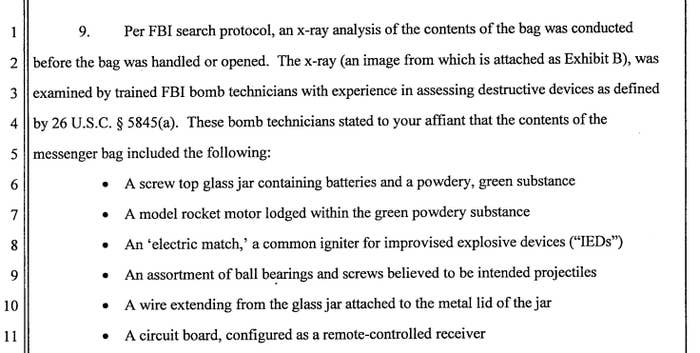 Ryan Chamberlain was charged Tuesday in San Francisco federal court with possession of an illegal destructive device.
Chamberlain, who appeared in court wearing the same clothes he was arrested in Monday night, will remain in custody until at least Thursday morning when a detention hearing will be held.
At a press conference earlier in the day, the FBI and SFPD would not comment on Chamberlain's arrest beyond stating that the investigation is ongoing.
Following his arrests, friends of Chamberlain started an online campaign to raise money for his defense.
Ryan Chamberlain, the social media manager who was wanted after explosive materials were found in his San Francisco apartment, has been captured after a three-day manhunt, the FBI announced Monday.
The arrest came after Chamberlain's car, a white 2008 Nissan Altima, was located Monday near Crissy Field, south of the Golden Gate Bridge in San Francisco.
The FBI announced a nationwide manhunt Monday for a San Francisco man after a raid on his apartment on Saturday revealed explosive materials and possibly deadly chemicals.
Authorities released this photo of 42-year-old Ryan Chamberlain, who is 6 foot, 3 inches and 225 pounds, who they consider armed and dangerous.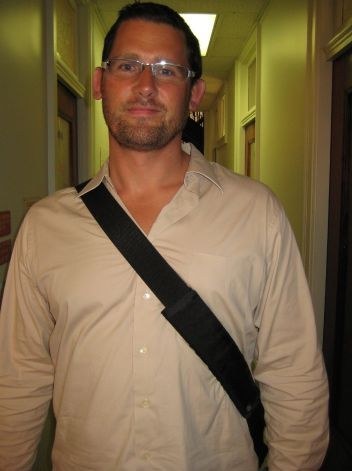 Dozens of federal agents, hazardous material crew members, police, and firefighters raided Chamberlain's residence Saturday at 1831 Polk St. in San Francisco. The warrants with information pertaining to the seizure have remained sealed.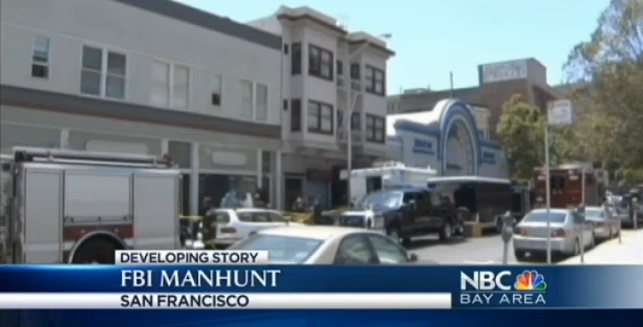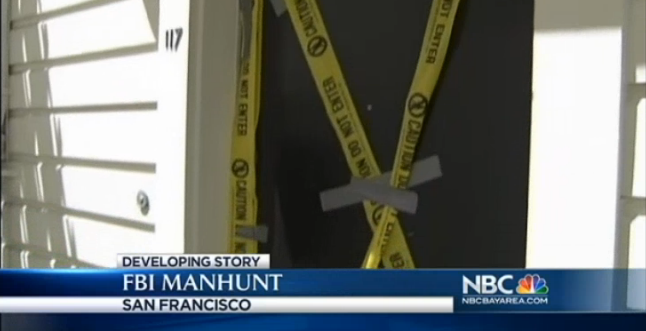 Authorities declined to describe the type of chemicals that were found in the apartment, but FBI spokesman Peter Lee did confirm to local media that explosives were found inside.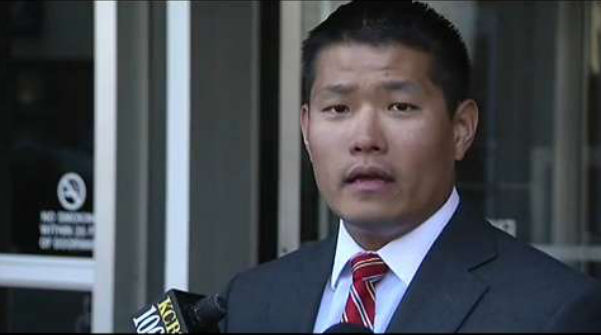 Chamberlain, a self-described "political junkie and oft-times operative," worked as a music writer before switching to public relations, according to a now-removed online bio.
According to reports, Chamberlain was well-known in the Bay Area political and PR scenes. Several of his former colleagues in the industry told local media that they found the reports on Chamberlain shocking. PR pro Alex Clemons, who worked with Chamberlain at the company Barbary Coast, told NBC Bay Area, "The only thing menacing about Ryan is the fact that he starts each day being 6 foot 3." One colleague said after Chamberlain lost his job last year at sports marketing company Project Sport he "got weird."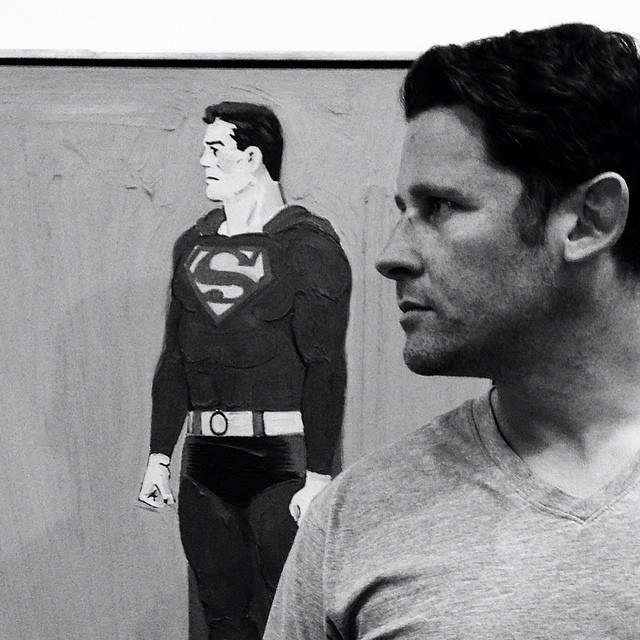 Chamberlain's full bio from his About.me page:
Communications hack. Social-Media-ist since "social" was over here and "media" was over there. SF politial junkie and oft-times operative. Save-the-world type. Early-adopter geek wannabe. Cheerleader for running and pro-cycling. Mouthpiece for movie-music. Starter-upper. Die-hard Giant.
According to Chamberlain's LinkedIn profile, throughout his career he worked as a journalist, PR executive, digital interactive director, and entrepreneur. It says he has experience managing more than 30 social media channels.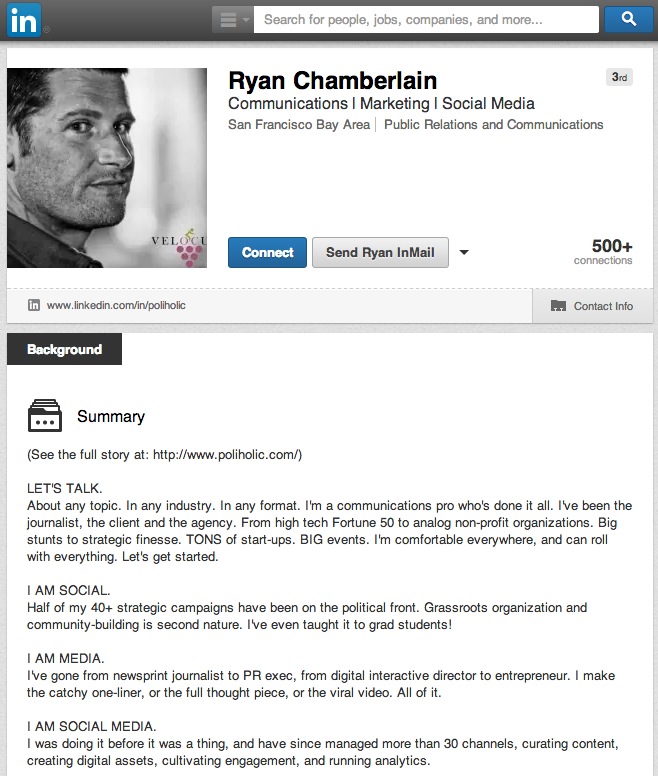 His personal website touts his experience working with high-profile San Francisco political candidates, including Gavin Newsom.
While the FBI conducts its search, most of Chamberlain's digital footprint currently remain intact — including his Facebook, Instagram and Twitter.
His most recent Facebook posts are normal and mundane. On May 29, just two days before the raid on his apartment, he posted a link to a post about iconic songs of the summer from the popular blog LaughingSquid.com. That same day, he linked to a SFeater.com write-up on a new bar near his his apartment.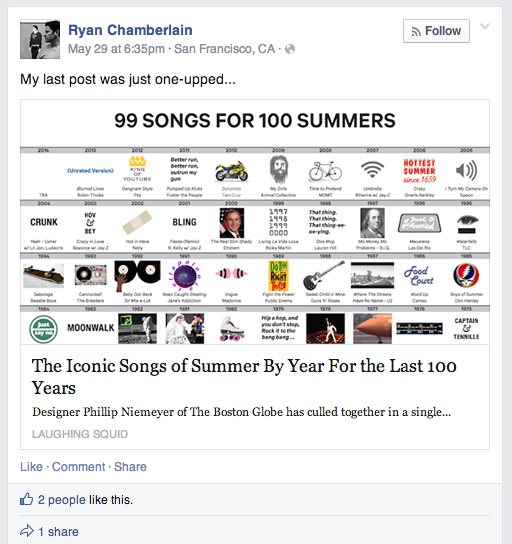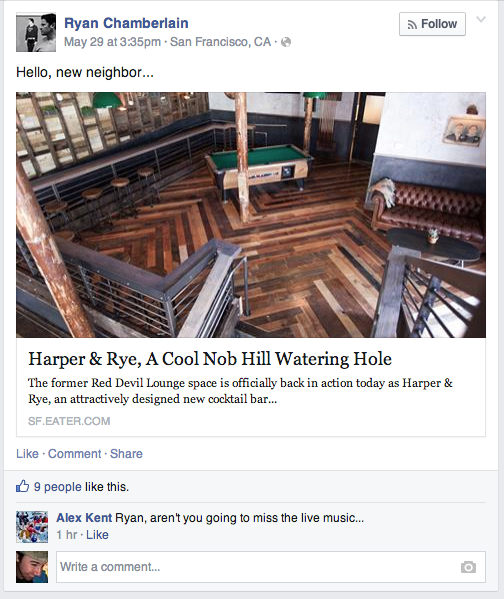 Other Facebook users have started to attempt to reach out to Chamberlain in the comments of his recent updates.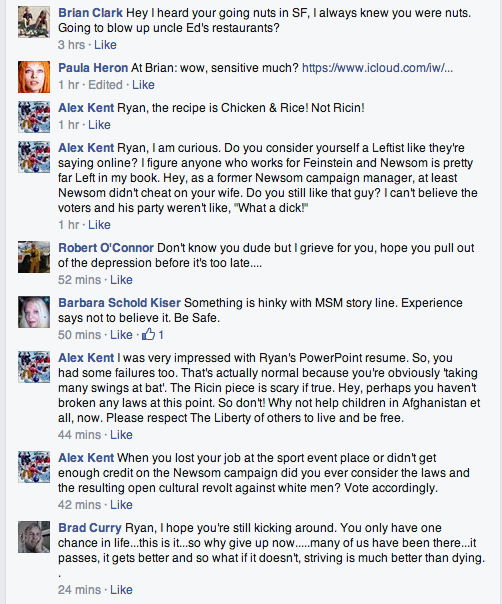 Update — June 2, 3:13 p.m. E.T.: Ryan Chamberlain's social media accounts were updated Monday afternoon, including a tweet from his @poliholic account referencing a letter and denying reports that he is armed.
A good-bye note was posted Monday by iCloud user Ryan Chamberlain, the San Francisco Examiner reported. "I owe everyone an explanation," the writer said. "I've timed this note on a Hootsuite delay, and now it's live, which means I wasn't around to stop it from posting."
Read the full letter below:
You're reading this. That means we probably don't know each other anymore, and I owe everyone an explanation.

I've timed this note on a Hootsuite delay, and now it's live, which means I wasn't around to stop it from posting.

I guess it starts with depression. I think I've been depressed for as long as I can recall. You don't really know that for a while, until you're older. Everything in life is defined by the other things around it. Up helps define down. Left defines right. And that's the case here.

When you're 9 years old, 12 years, 17 years...we all go through the typical range of growing-up emotions. But it's not until you get some wisdom later in life that you have something to compare that to. Then you can say, "man, I was silly to think that," or in my case, "man, I was depressed."

And that's gone on an on throughout my life. I've hit some really dark moments. Dad was hard. Tyra was hard. Azure was hard. Getting left out of the Newsom win was hard. But I was always able to override it by forcing some common sense onto my brain, knowing I had lots of years ahead of me, and toughing it out. And every time I would crawl out of it. But every time it would somehow come back. It's happening again?!? Again?!? What did I do to deserve this!?!.....I'd hit the bottom again. And every time it was darker than the time before. This time, it was really bad.

The catalyst this time was the loss of about everything that mattered to me.

I've isolated two things I need: a person and a purpose. All I've ever wanted was someone to be madly in love with, to go through life with in that great, dedicated relationship. Then, all i needed was a great reason to get up everyday. Some great work to do. That's pretty easy. Everyone wants that. Lots of people get it.

But it always eluded me. I'd give my all to a girl and she'd take it and run. I'd bust my ass at a job, but the company would fail, the economy would drop out, the campaign would lose...or it would win and leave me behind. As I hustled year in and year out, fought through another failed relationship with someone who cheated and/or left, and scrambled for another half-ass job that didn't work out, my mental state got more stressed and more panicked. I don't know if my depression caused the outcome, or if the outcome built on the depression, but the result is the same.

When 2013 came, it did me in. I've been fighting and fighting to get out of it. But it wrecked me. And it led to what happened today.

In the span of a few months, everything that mattered to me betrayed me. First, mom. My mother consistently sent word of her work building an Apocalypse bunker. She's become a religious addict, certain that the Rapture is coming any day now. Every conversation turned to an extreme religious belief. Dad left a long time ago, no brothers & sisters, and now here's mom making it evident that she can't be reached, that I'd never have that relationship I saw between so many friends and their parents, and that I was absolutely alone. I always longed for someone permanant in my life, who'd undeniably say "I've got your back, I won't let you fail, no matter what." But that's just not there. My family are wonderful people, but their world is isolating, their hearts are closed, and I just can't seem to get near them. I wrote mom a lot these thoughts here a couple months ago, but it went nowhere. I don't know what else to do.

Second...I'd met The One. I was sure of it. You meet enough people, date enough, and you know what's right when you see it. It was perfect. Everything was perfect. Then she stopped. For no reason I could tell. She just stopped. But she didn't stop completely. She hovered around, kept the perfect right at my fingertips for weeks, but just out of reach. All while letting a different someone else have it...someone else always around the next corner, on the other end of another text message. I realize this sounds like the trival heartbreak whine of a 16 year old, but I can't help it. This one got in my psyche and wouldn't leave.

Third, my oldest friend in the City...my best friend...pulled my world out from under me. I'd been giving anything of myself I could for Project Sport, trying to build something great together with a "family" of my own. We finally made it. Something we created was sold for over $1 million...but I saw none of it. None of us who dedicated ourselves to its success did. We worked for cheap or free, we put our hearts into it. But when the success came, it never left the top of the ladder. But okay...I get it...instead of rewarding the people who got you here, we'll use that money to start a company...we're going to make this real: The Project Sport Family. Then five months into it I was cut out. Even then, I let myself believe we'd just hit a rough patch, and I agree'd to play the loyal chump and keep giving to it, even without pay. I believed the "Family" rhetoric, that my team would be fighting for me and for the project. In truth, I was still being pushed out, only slower. My ability to make any contibution was marginalized, I was useless, and I was gone.

Any of these are things are just life though. A person should be able deal with this. People deal with cancer, or they go to war. This should be do-able. Stop whining. But all of this at once, for the umpteenth time in my life -- really, this is happening AGAIN?!? -- at the hands of the people who mattered to me the most...this betrayal, abandonment, isolation and lonliness. I couldn't take it this time. I already had a tendency to slip into depression; this one hit me hard.

I got dark. I got real dark. I explored myriad ways I could put an end to what I was going through. I binged-watched dark TV, sometimes didn't get off the couch for days, and scoured the Internet absorbing fuel for morbid fantasies. Some of that activity seemed to attract the attention of some visitors today...who have made it rather evident that this is the end of the line for me.

Which is too bad, because I was still fighting. One day at a time, I was pushing through. The loss of Project Sport seemed to take my whole social circle with it -- suddenly no one I knew through that life was talking to me anymore -- but I made new circles. My Natalies, and all the people I've met though them...you're amazing. And I can't say enough about my Gator crew and the people I've met through them. You've kept me alive. I wish I could have met you all years ago. I'm so sorry about this. I'm sure this will completely blindside you all. Whenever you saw me I was on top of the world, because you pulled me up there. You never knew what hit me the minute I left to go home alone.

And maybe I was getting closer to finding work? I was going to be at the end of my rope soon anyway -- despite today's visit -- when my last $5K ran out next month, but I was still pushing. At 40+ years old with a random patchwork of a resume, I've been virtually unemployable. I've gotten nowhere in a year of looking. But now finally, in these last couple weeks, there have at least been some nibbles. Maybe something would have worked soon...