The victim of an alleged sexual assault by three high school football teammates in Idaho penned a poem about the incident. The 18-year-old, who has a mental disability, wrote "the World is not used to people like me."
The 18-year-old and his lawyer sent the poem to BuzzFeed News. It references the alleged October 2015 assault in the Dietrich High School locker room after football practice.
Three white teenagers are charged with attacking the victim, who is black, shoving a coat hanger into his anus, and kicking it several times.
BuzzFeed News is not to naming the victim because the alleged sexual assault occurred when he was a minor.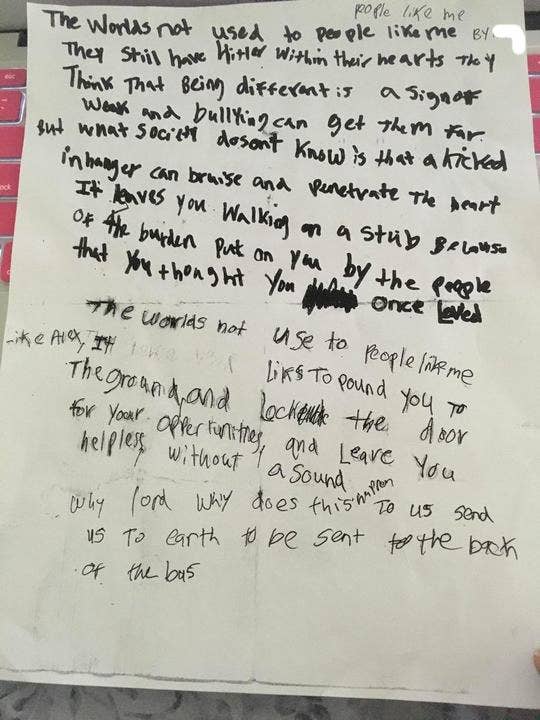 Here is the complete text of the poem:
The Worlds not used to people like me
They still have Hitler within their hearts they
Think that being different is a sign of
Weak and bullying can get them far
But what society doesn't know is that a kicked
in hanger can bruise and penetrate the heart
It leaves you walking on a stub because
Of the burden put on you by the people
That you thought you once loved

The Worlds not use to people like me
Like Alex, it likes to pound you to
The ground and lock the door
For your opportunities and leave you
Helpless with a sound

Why lord why does this happen to us send
Us to earth to be sent to the back
Of the bus
The attorney for the victim's family, Lee Schlender, told BuzzFeed News that the victim wrote the letter last week after he checked into a mental health facility for treatment.
Two of the teens charged in the alleged assault, John R.K. Howard, 18, and Tanner Ward, 17, are being tried in adult court and could face life in prison if convicted.
The victim's family is also suing the school district, high school principal, and the high school's football coaches in civil court. The family claims that the harassment against the victim went on for months leading up to the assault and none of the adults in power did anything to stop the abuse.
UPDATE: Howard was scheduled to be arraigned on the charges against him Friday, but the prosecutors from the Idaho state attorney general's office motioned to continue the hearing. A new hearing has been scheduled for July 29.