Target Asks Customers Not To Bring Guns Into Stores Anymore
Target has responded to the pressure to change its open-carry policy after incidents in two stores.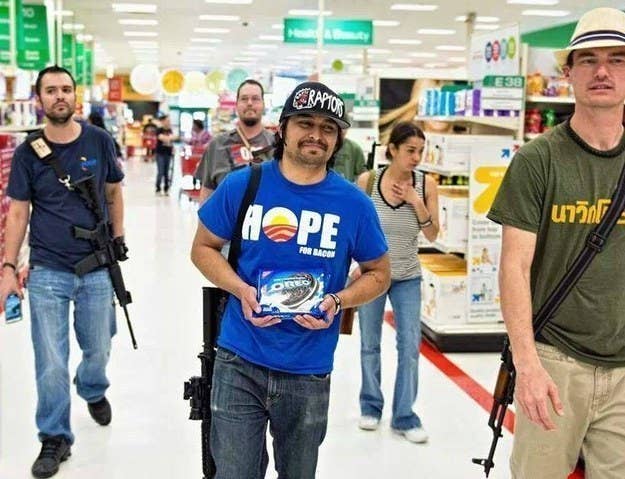 After recent incidents involving guns in its Texas and South Carolina stores, Target is now asking that its customers refrain from bringing firearms into its stores "even in communities where it is permitted by law."
Today, Interim CEO John Mulligan, shared the following note with Target employees on the company website A Bullseye View:
The leadership team has been weighing a complex issue, and I want to be sure everyone understands our thoughts and ultimate decision.

As you've likely seen in the media, there has been a debate about whether guests in communities that permit "open carry" should be allowed to bring firearms into Target stores. Our approach has always been to follow local laws, and of course, we will continue to do so. But starting today we will also respectfully request that guests not bring firearms to Target — even in communities where it is permitted by law.

We've listened carefully to the nuances of this debate and respect the protected rights of everyone involved. In return, we are asking for help in fulfilling our goal to create an atmosphere that is safe and inviting for our guests and team members.

This is a complicated issue, but it boils down to a simple belief: Bringing firearms to Target creates an environment that is at odds with the family-friendly shopping and work experience we strive to create.
The pressure on Target to make the policy change increased last month after the organization Moms Demand Action surfaced photos of gun activists from the group Open Carry Texas carrying assault weapons while shopping in the baby clothes section of Target.
The next day, a loaded handgun was found in the toy section of the Myrtle Beach, S.C., Target. Following the reports, Open Carry Texas accused gun control activists of planting the gun in the store to further their agenda.
The incidents spurred a petition signed by hundreds of thousands of Americans asking Target to stop permitting guns in stores.
Target joins national food chains Sonic, Wendy's, Starbucks, Jack in the Box, Applebee's, and Chipotle, which have all changed their open-carry policies in the past year.
"Moms are thankful that Target responded quickly to the call of nearly 400,000 Americans and asked customers to keep their firearms at home," said Shannon Watts, founder of Moms Demand Action for Gun Sense in America.
"Such positive safety changes made by some of our country's leading retailers are proof of the influence of women and mothers," continued Watts. "As we look toward election season, we hope our legislators are taking notice that when woman and mothers collectively raise our voices — and soon cast our votes — we are determined to leave an impact."
John Pierce, OpenCarry.org co-founder and spokesperson, told BuzzFeed Wednesday that its disappointing that Target gave into the pressure but said that he doesn't think its a victory for the gun control groups, calling the change a "non-policy."
Pierce, who pointed out that OpenCarry.org only advocates for carrying properly holstered handguns, said he would tell members of the movement, "If you don't want to conceal your firearm, I would suggest you not spend your money at Target."
Pierce, who is a practicing attorney residing in the southwestern part of Virginia, said he believes that the country's divide on gun rights issues is very much a cultural split.
"We very much have two Americas. If you live in New York, Boston, Chicago or Baltimore — most of the Northeast and parts of California — you have no idea how prevalent law-abiding gun ownership is. It's almost as if you live in Europe or the former Soviet Union where gun rights are concerned."
Open Carry Texas sent BuzzFeed the following statement and also posted it on Facebook:
"Open Carry Texas regrets Target's decision to "respectfully request that guests not bring firearms to Target." While this is not a ban on legally possessed firearms in its stores, we will continue to honor our months long policy of not taking long arms into Target stores or any other business. Time and time again, businesses that have asked guests not to bring legally possessed, self defense firearms into their establishments have seen their employees and customers victimized by criminals preying on the openly defenseless. Open Carry Texas is laser focused on our statewide goals of making Texas the 45th state to recognize the right to openly carry firearms and the 32nd to do so without a licensing requirement. Engaging in the businesses of interfering with or making a scene at private corporations is something to which Open Carry Texas has never lowered itself, a practice we will maintain."