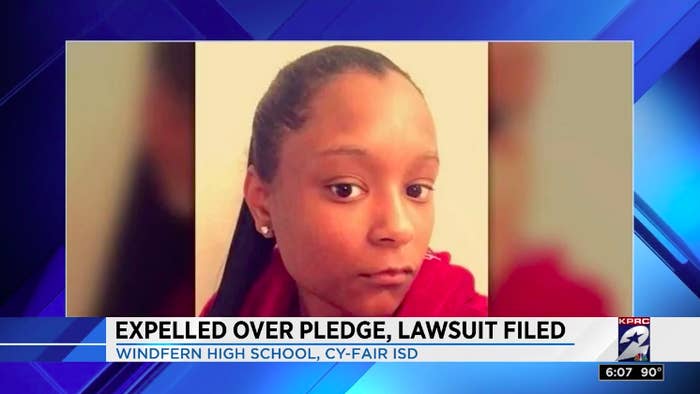 A Houston high school student who was suspended for several days after refusing to stand during the Pledge of Allegiance has filed a federal civil rights lawsuit against the school's principal and the school district.
On Monday, Oct. 2, Windfern High School student India Landry was sent to the school's principal office for texting on her cell phone. While in the office, according to the complaint, the Pledge of Allegiance came on over the school's intercom and Landry continued sitting.
When Principal Martha Strother asked Landry to stand, the 17-year-old declined. According to the complaint, Strother told Landry, "Well you're kicked outta here." Strother's secretary also allegedly told Landry, "This is not the NFL."
According to the complaint, Landry sat for the Pledge of Allegiance "around 200 times in class through six of more teachers without incident."
Landry was sent home, and three days later she and her mother met with Strother. According to the complaint, Strother told them that Landry must stand for the pledge to be let back into school.
The next day, Friday, Oct. 6 — after KHOU Channel 11 aired a segment on Landry and the controversy — Landry was allowed back in school and told that she could sit during the pledge, according to the lawsuit.
Landry's lawsuit is seeking judgment that the student's civil rights were violated. The family is asking for unspecified damages.
"Students have a First Amendment right to speak or not to speak and choosing to stand for the pledge is a form of expression so the government cannot force you to express yourself when you don't want to," Landry's attorney, Randy Kallinen, told Houston's KPRC Channel 2 News.
Windfern High School told KPRC in a statement that it had not yet been served with the lawsuit and would continue to review the matter internally. The school did not immediately respond to BuzzFeed News' request for comment.