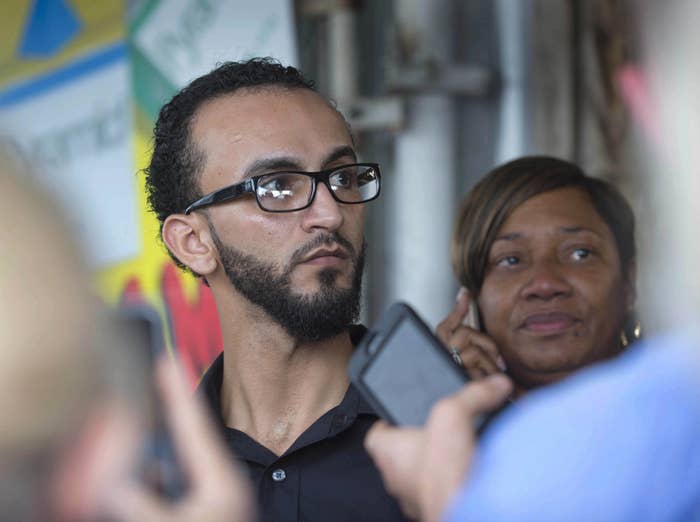 BATON ROUGE, Louisiana — The owner of Triple S Food Mart in Baton Rouge, Louisiana, who was working inside his store Tuesday, July 5, when 37-year-old Alton Sterling was fatally shot by police outside, says he was unaware of any problems being caused by Sterling as alleged in a 911 call placed before the shooting.
According to police, the 911 caller told the dispatch that Sterling, who was outside the store selling CDs, was "brandishing" a gun in the convenience store parking lot. The owner of the store says that he never saw a gun.
"Didn't hear about it. Didn't know about it. I didn't hear nothing. Nobody complained. He didn't get into an argument with nobody. Nobody said anything," said Abdullah Muflahi.
The 28-year-old, originally from Yemen, says he came outside after the police showed up outside his store.
"They started slamming [Sterling] on top of a car. Backed up. Started tasering him. Another cop tackled him onto another vehicle. And that's when they tackled him to the ground and both cops got on top of him," Muflahi told BuzzFeed News.
Sterling was shot multiple times in the chest. He was pronounced dead at the scene.
"I believe he was murdered," Muflahi told NBC News earlier this week.
Muflahi shot one of two videos that have gone viral on social media over the past few days that captured the shooting. In Muflahi's video it appears that one of the police officers pulls a gun from Sterling's pocket after he is shot. [WARNING: GRAPHIC]
Muflahi says he turned his video footage over to the FBI, which is leading a federal investigation into the shooting. His attorney Joel Porter says that they will speak with federal investigators on Thursday about the incident.
On the surveillance footage, captured by a camera mounted on the front of the Triple S with a lens pointed directly at the section of the parking lot where the altercation took place, Muflahi says that Baton Rouge Police came to his store and took the tape.
Muflahi says police never presented him a warrant to take the surveillance footage. A spokesperson for the Baton Rouge Police told BuzzFeed News that the department did get a warrant.
"They just took it. They confiscated it. I haven't heard nothing about it," Muflahi told BuzzFeed News. "I think it shows everything. I think we could get a lot of answers from that."