Six People Were Shot At A Memorial For A Shooting Victim
Witnesses and Chicago police say the victims were ambushed during a memorial for a 20-year-old woman who was killed earlier this month.
Chicago police are calling a shooting outside a vigil that left six people wounded on the city's South Side Wednesday night an "act of retaliation" for a previous shooting.

The incident, which one witness described to BuzzFeed News as an ambush, happened at a memorial gathering for shooting victim Jamayah Fields, 20, who was killed earlier this month.
Local gang intervention activist Jedidiah Brown, 30, who was at the scene Wednesday night, said the shooting happened after someone from an "opposition faction" saw a post on social media that there was a large group of young people gathered outside a restaurant honoring Fields in the Chatham neighborhood.
"They came plotted, scouted, and ambushed this family," Brown said. "This was intentional. That is ridiculous to have a vigil targeted."
The Chicago Tribune reported that a 12-year-old girl is among the victims. However, police said they weren't releasing the identities of any victims because they are considered witnesses to an attempted murder and the possibility of further retaliation remains high.

Detectives continue to meet with community members and canvass for video surveillance footage, and the police department has added patrols in the area.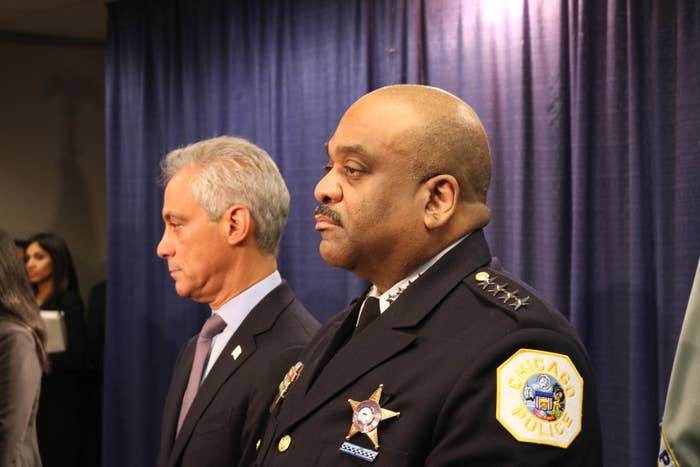 The ambush came the day after the national media spotlight returned to Chicago's tumultuous record of violence. Reports this week show that both the rate of homicides and shootings in January are increasing from the past year, which posted the highest numbers in each category in two decades. On Tuesday night, President Donald Trump tweeted that if the city didn't fix the "carnage" he would "send in the Feds!"

In his tweet, Trump cited violent crime stats that were broadcast earlier that night in a Fox News segment that asked if it would be appropriate to send the National Guard to save Chicago.
"228 shootings in 2017 with 42 killings (up 24% from 2016)," Trump tweeted. The numbers were also reported by the Tribune, which states that shootings are up 5.5% and homicides are up 23.5% compared to January 2016.
Chicago officials, however, dispute the numbers being reported in the media. A Chicago police spokesman told BuzzFeed News that as of Tuesday the city has had 38 homicides in 2017, however, he was not sure where the higher numbers were coming from. Police do acknowledge that the number of killings are indeed up from last year — in January 2016 the city saw 33 deaths during the same time period.
According to a report obtained by BuzzFeed News from the Cook County Medical Examiner, as of Tuesday, there have been 41 homicides in the city for the month of January. Their homicide number is likely higher than the police's because the medical examiner includes so-called justified homicides, such as officer-involved shootings of people who allegedly threatened another person or the officer's life. The police only track what they call criminal killings.
On Wednesday night, Brown, a former candidate for Alderman in Chicago's 5th district now working in gang intervention, said he confronted some of the young people at the vigil who he feared were considering more retaliation given Trump's rhetoric.
"When I was with one of the young guys, I said if you all go and retaliate, they're going to send in the National Guard then we'll all be F'd," Brown told BuzzFeed News. "He said something like, 'I don't give a fuck about the National Guard, we'll take them out too.'"
Brown said Trump's tweet classifying the violence as "carnage" was "basically encouraging the behavior to happen more."
"His tweets are immature. It is the kind of stuff that is creating the violence in Chicago," Brown said about Trump. "It's unnecessary, inciting, and brings a different level of pain."